The Apple Watch Ultra's Oceanic+ App Just Landed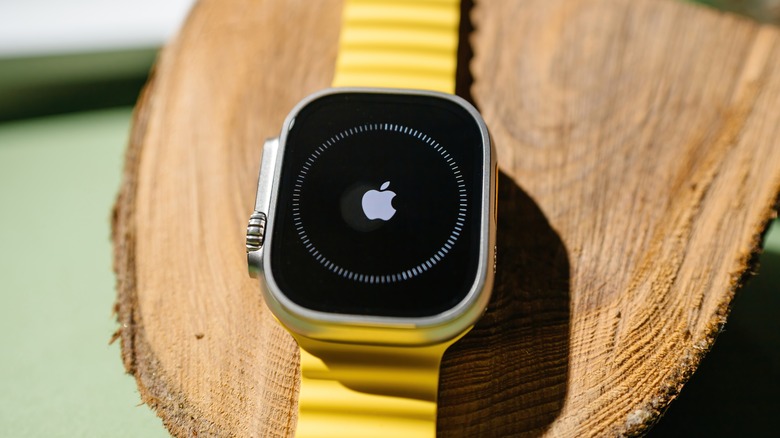 Hadrian/Shutterstock
Apple's best smartwatch, the Apple Watch Ultra, has just received a free upgrade in the form of a companion app — but not everyone is going to need it. In fact, it's a rather niche app, but it fits right in with what Apple itself refers to as its "most rugged watch." The Apple Watch Ultra serves up many upgrades over the cheaper versions, but it's mostly designed to fit those of us who spend a lot of time outside. If you're an adventurer who likes diving, the new Oceanic+ app might tick all the right boxes for you.
We've had the chance to review the Apple Watch Ultra in all of its 49 mm glory. It's large, super bright, and filled to the brim with all kinds of features. However, if you don't usually go on longer hikes, you may not make the most out of the watch. The Watch Ultra is Apple's most durable smartwatch, making it the right pick for those who indulge in extreme sports — even diving. Apple spent a great deal of time talking about the capabilities of the watch when it was first announced, and at launch, it came equipped with an app that was a little barebones compared to what the company has announced today.
Oceanic+ unlocks the full potential of the Apple Watch Ultra
Apple broke the good news in a blog post, talking about the new Oceanic+ app as well as its creation process. Made through a collaboration with Huish Outdoors, the app is meant to turn the Apple Watch Ultra into a proper diving computer fit to serve even serious divers. Prior to the launch of Oceanic+, the watch came equipped with basic software called "Depth." This allowed divers to check current depth, the temperature of the water, maximum depth reached, and how long they've been underwater. The new release expands those options considerably.
Apart from the above, Oceanic+ unlocks a lot of useful trackers. You'll be able to track no-decompression time, how long it will take you to reach the surface, the gas mix currently in use for scuba divers, haptic feedback, a dive planner, and how fast you're ascending when it's time to swim back up to the surface. More importantly, the app comes with color-coded warnings. Moreover, if you use Oceanic+ on the iPhone, it will also provide some extra information about your dive.
The app is available for the Apple Watch Ultra as long as you're running watchOS 9.1 or later. It also needs to be paired with at least an iPhone 8 (or later) running iOS 16.1 and above. You can access a lot of its features for free, but if you want the premium version, it will cost you $9.99 a month, or $79.99 a year.