Miles Teller's Vintage Ford Bronco Truck Is Incredible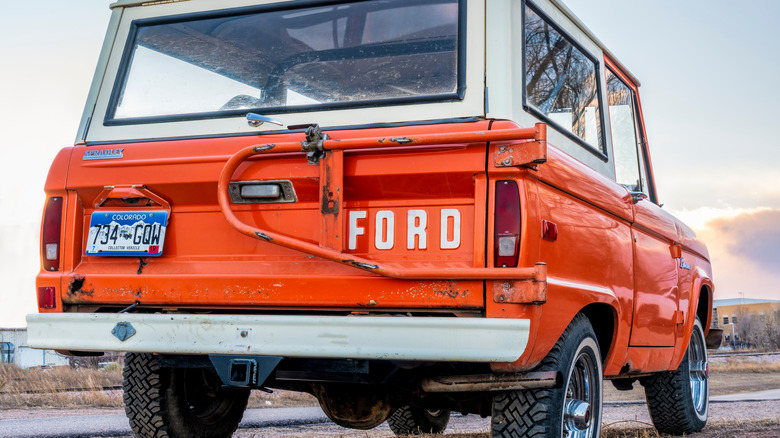 marekuliasz/Shutterstock
Miles Teller was recently seen in a vintage Ford Bronco, and the car has been turning heads ever since. Ford rolled out the Bronco in style decades ago and the SUV-truck hybrid has been a staple in car collectors' garages ever since. HotCars reports that the most expensive pickup truck in the world is a 1969 Ford Bronco, the Baja 1000 winner dubbed Big Oly (selling for around $2 million at an auction in 2022). 
One of the primary draws of the Ford Bronco was its versatility as a family vehicle that could handle off-road capabilities and longer drives. As a direct competitor with Jeep, the Bronco delivered a more comfortable drive and a fantastic visual appeal. That competition seems to be sparked up again with the introduction of the 2021 Bronco lineup from Ford (via Offroad Portal).
Meanwhile, Miles Teller has also been in the spotlight recently. In 2015, he was tapped to play Mr. Fantastic in the Fantastic Four reboot; and more recently, he appeared in "War Dogs" alongside Jonah Hill (2016), and played "Rooster," the son of Tom Cruise's iconic wingman from the first film, "Goose," in the new "Top Gun: Maverick" (2022). This latest film featured a classic Porsche 911S, so it's no wonder that Teller's interests include vintage automobiles.
Teller's Bronco is a classic '60s model in power blue and pristine condition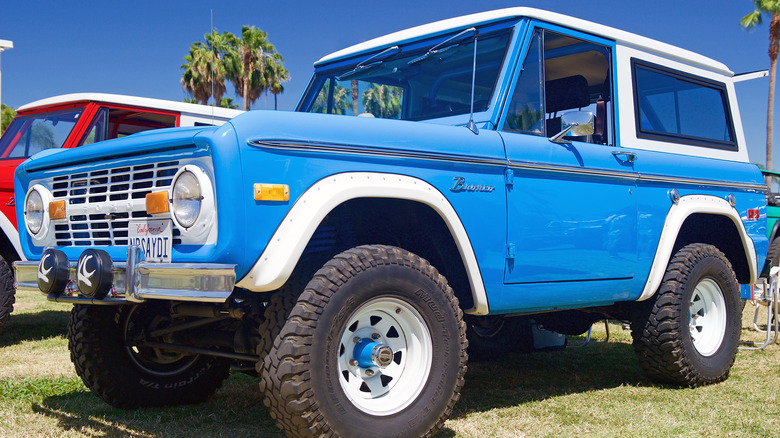 Philip Pilosian/Shutterstock
Miles Teller's vintage Bronco looks to be in immaculate condition, with every detail looked after (via Daily Mail). The car looks fantastic and is likely a dream to handle out on the open road.
Teller's Bronco appears to incorporate time-accurate details from the lights to auxiliary additions like the side mirrors and windshield wipers. Similarly, the windows and windshield are period-accurate for the 1960s models and don't make use of rounded edges or faces. Ford states that the windshield was adjustable for a brilliant day of driving — Laying the windshield down flat against the hood and locking it into place allows for completely free flowing of air through the vehicle. It's unclear whether Teller's Bronco retains this capability, but the car looks stunning, nonetheless.
His Bronco is painted in a light blue shade and the tone simply pops in the sunlight. It's clear that his vehicle is cleaned and polished regularly, including the undercarriage that makes the project of mobility possible. Daily Mail reports that a vintage Bronco (excluding specialty vehicles, like Big Oly) is typically valued between $8,000 and as much as $40,000. This makes owning a piece of history and adding improvements to match Teller's aesthetic something that many car owners can actually accomplish if they wish.
The Ford Bronco has a long and starry past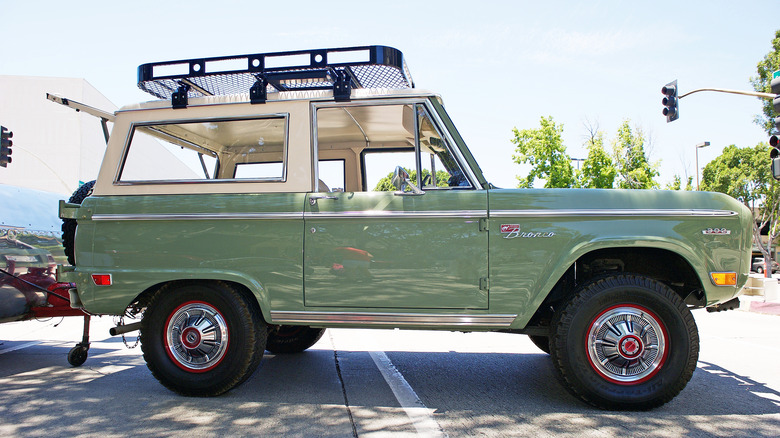 Philip Pilosian/Shutterstock
The Bronco was announced as a new addition to the Ford lineup in 1965 as the world's first Sports Utility Vehicle (via Ford). The vehicle remained in production from 1965 to 1996, and a new addition was recently unveiled for the 2021 production offerings from the brand. Ford Broncos were first introduced as a more comfortable and generally roadworthy option than the surplus Jeeps that had arrived back on American soil after successive action in combat theaters came to a close, particularly in Europe, Korea, and later Vietnam. The San Francisco Chronicle reports that unused Jeeps that never made it over to Europe during World War II were sold off to veterans, and rumors of $100 price tags on any leftover stock persisted for decades.
When the Bronco arrived on the market, it offered a smoother ride, a more comfortable interior, and a sleeker design. The initial offering from Ford included three body designs, including a roadster sporting an open body that was soon discontinued (in 1968), according to Bronco.com. Via the UK's Daily Mail, Miles Teller's Ford Bronco appears to be configured in this setup.
The body style and upkeep routine that Teller likely maintains on the vehicle makes it an incredible vehicle in keeping with the long and historic tradition of the Ford Bronco lineup itself.