The Hardware That Makes The New Honda Civic Type R Magical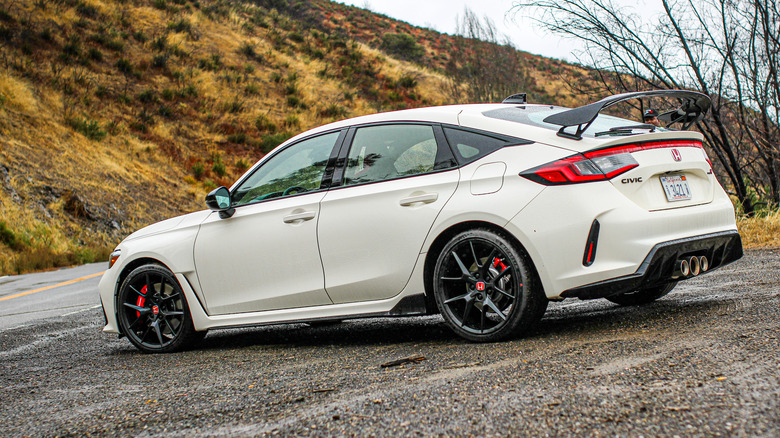 Alex Kalogiannis/SlashGear
It almost goes without saying, but the standout characteristic of the 2023 Honda Civic Type R is how it handles. Yes, we were very impressed with the latest iteration's manual gearbox, but we were most intrigued with how poised the hot hatch was and how the usual understeer inherent in a front-wheel drive car was all but nullified. Honda was very eager to provide details of just what makes it special, and it turns out the secret sauce comes down to good ole science and engineering, baby.
Before we get into the weeds about the car's agility, it's important to quickly highlight the improvements made on the Civic Type R's power unit. With 315 horsepower and 310 pound-feet of torque to give, the Type R is moderately more powerful than the previous version, with a difference 9 hp and 15 pound-feet. A modest bump, but critically, the power is available sooner in the rev band. 
Credit to its improved exhaust system, too, which has an increased flow rate of 13 percent which contributes to the power bump, as well as to a beefier exhaust note. Available traction is maximized by routing all this power to the front wheels through a mechanical limited slip differential.
Sonics and tails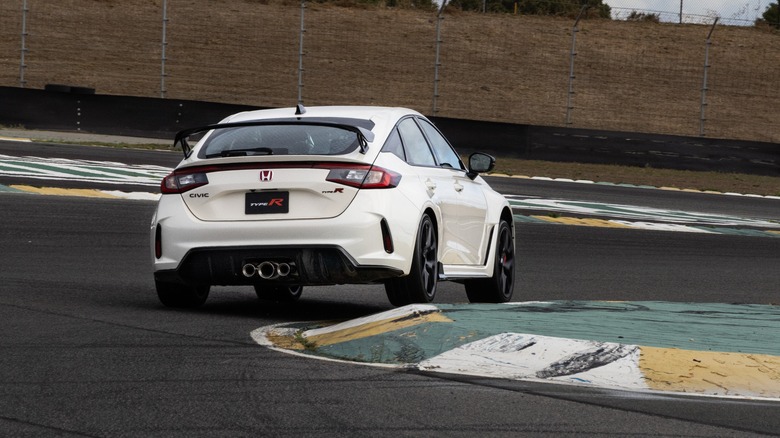 Honda
Better handling starts with the Honda Civic Type R's new bones. Building off of the 11th-generation Civic, the Type R has 3.8 times more structural adhesive than before and has had critical parts of its structure reinforced to withstand the extra work drivers will put it through. Aluminum and high-tensile materials further beef things up while also mitigating any weight gain.
The Type R is extends its wheelbase 1.4 inches and extends the front and rear tracks, an inch in the front and 0.75 inches in the back. What difference does an inch make? When it comes to improving stability and response? Loads.
In the front, the dual axis front suspension features aluminum knuckles, strut forks and lower arms have been retuned to improve handling and ride comfort. Overall, camber rigidity is increased by 16 percent over the previous Type R. Around back, the unique rear suspension tuning gives the sporty hatchback a higher spring and stabilizer bar rate.
Knuckles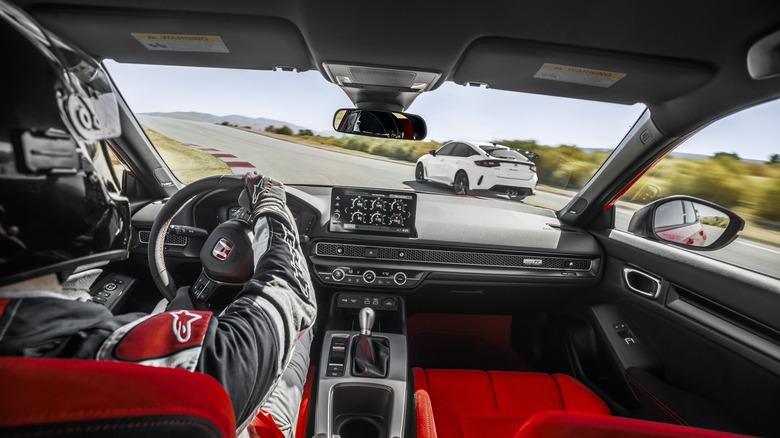 Honda
Much of the wizardry is housed in the specially tuned adaptive dampers that give the Honda street and track satisfaction. It automatically adjust to different optimized damping curves base on steering input, lateral G forces, and suspension stroke.
Let's talk about steering. Improvement over the outgoing model comes in the form of all new hardware that's been completely retuned to be even better. From top to bottom, these components include the aforementioned high-rigidity front and rear suspension knuckles, new bushing material in the back, a stiffer tie rod end, and a smoother steering column bearing. Updates come in the form of the updated MCU, for better control resolution, on-center response and off-center stability.
There's so much work that goes into making a car drive spectacularly that it's easy to overlook many of the contributions, whether it's due to an overshadowing powertrain or excitable design. Underneath the surface is the culmination of a mesmerizing array of calculations, testing and engineering, all of which manifests in a spectacular vehicle like the Civic Type R. Next time you're out carving a corner in such a car, take a moment to give thanks to those unsung heroes who made it possible.