The Most Expensive Car In Rowan Atkinson's Collection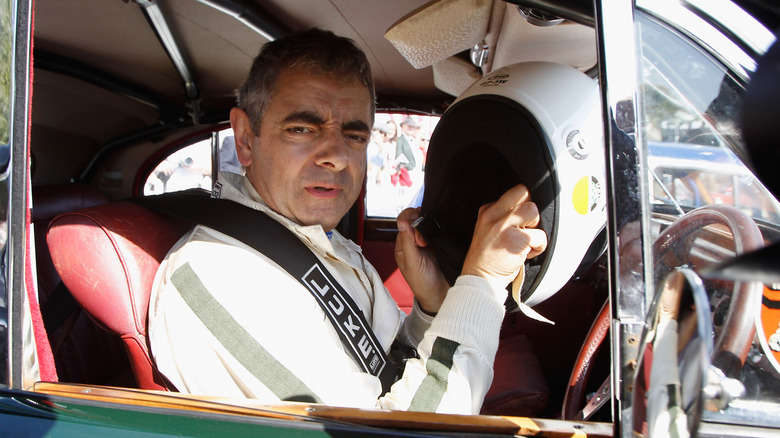 Andreas Rentz/Getty Images
Actor Rowan Atkinson's car collection is as iconic as Mr. Bean's shenanigans, but one vehicle stood above the rest as his pièce de résistance. The Englishman is known to most as a man with many (funny) faces; from portraying a confident yet clumsy spy in "Johnny English," to the affable yet insufferable caretaker in "Bean." What others might not know is that Atkinson is also a car enthusiast, whose taste in luxury automobiles precedes that of his character's trusty black-and-green Mini. For starters, the first car Atkinson bought early in his budding career was already quite the beauty (and beast) — a '77 Aston Martin V8 Vantage (via GQ).
His thirst for glitzy vehicles didn't stop there, though. Atkinson's car collection only grew bigger until he ended up behind the wheel of a McLaren F1 in 1997. The thing is, the British star doesn't collect vehicles just to fill garages. He often races them competitively as well, even earning some trophies along the way. Atkinson's need for speed made the McLaren F1 the perfect dance partner, to the point where the actor drove it so hard, he crashed it... twice. However, that wasn't exactly the end for his famous McLaren supercar. After undergoing painfully expensive repairs — one that led to the most expensive insurance claim in the UK, according to GQ — Atkinson's McLaren F1 was back on its feet. But where to? Where all celebrity supercars that have outlived their purpose go to, of course.
How much is Rowan Atkinson's most expensive car worth?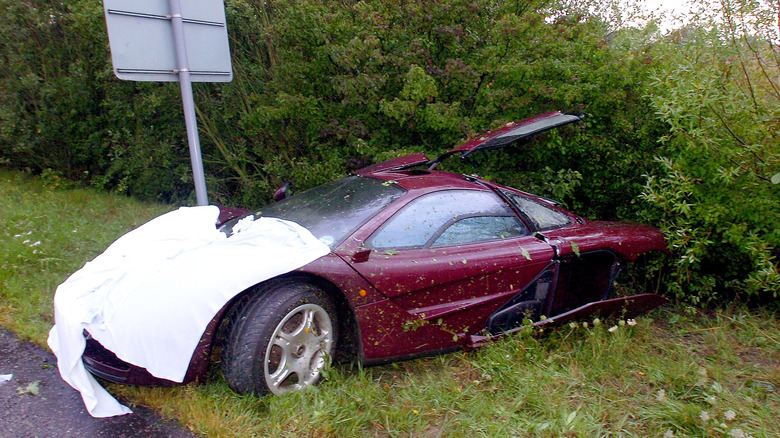 Nti/Getty Images
After owning his famous McLaren F1 for 17 years, the English actor was finally ready part with it — but not without a hefty sum first. If the supercar's repair alone already costs more than $1 million, it shouldn't be a surprise if its value surpasses that. In 2015, the actor took his iconic supercar to a dealership run by David Clark, who put the McLaren F1 up for sale. For a supercar that was originally bought for $960,000 — one with over 40,000 miles and had suffered from two crashes, no less — Atkinson's McLaren F1 had a $12.3 million asking price (via Autoevolution). Despite being over 10 times more than its retail cost, Clark was still able to sell the actor's supercar to "a British buyer who will drive it like Rowan did."
For the car's sake, that hopefully won't include adding more dents and scratches into its previously battered chassis, especially since the McLaren F1 is a pretty analog vehicle. In fact, its lack of any sort of driver assistance is what the actor preferred, as it made him feel like a driver than a "manager" (via The Telegraph). Since he no longer drove it as often, he believed the it was the right time to let his car be enjoyed by someone else. While Atkinson already made considerable profit from it, he could've gotten more if he waited a bit longer.
Mr. Bean's McLaren F1 could be more valuable today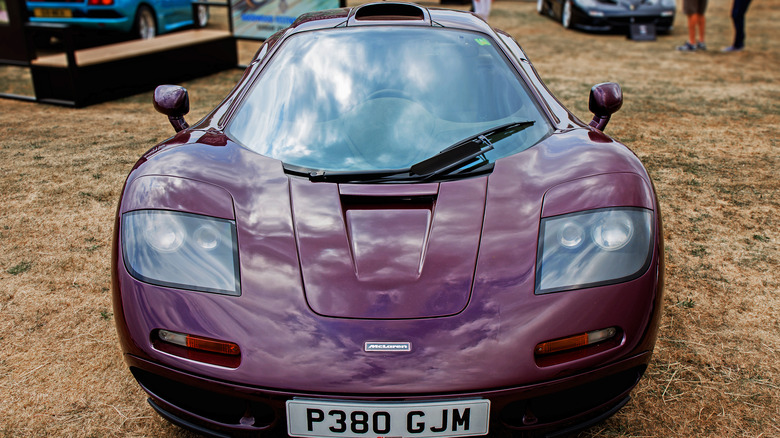 Martyn Lucy/Getty Images
There's no doubt that Atkinson's iconic supercar is among some of the most sought-after vehicles ever made. But six years after the Englishman sold his McLaren F1, a similar example sold for even higher at auction. It sold for a jaw-dropping $20.5 million, making the McLaren F1 one of the most expensive car ever sold — and for good reason. First of all, the "Mr. Bean" star's McLaren F1 is just one of the only 64 examples made for the road, while the rest of the 43 units where strictly meant for the track. Then there's the McLaren F1's record-breaking performance, which was basically ahead of everything else at the time (quite literally too). Its rarity and historical significance made this legendary model notoriously difficult to find in public auctions, even more so in public roads.
For the British comic, however, it was never about cashing in on the car's future value: He simply admired the effort that went into its design, per The Telegraph. Atkinson lauded the McLaren F1's designer Gordon Murray for creating a compact, extremely fast, and durable sports car, with enough luggage room to be driven practically. The actor described its driving experience as akin to the car embracing him, and telling him to take it for a spin. Given its charming personality, Atkinson deemed his McLaren F1 ownership as more of a "partnership." Sure, its value might've appreciated tenfold since its production, but what the celebrated actor had for his equally famous McLaren F1 was priceless.