This 917K Is The Most Expensive Porsche Ever Sold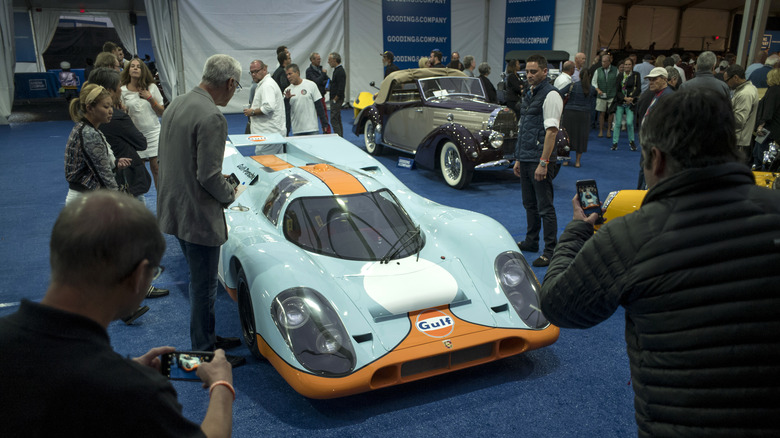 Bloomberg/Getty Images
Porsche is not a budget brand by any means and its least expensive sports car, the Cayman starts at $63,400. The lowest trim of the Porsche 911, Carrera bottoms out at $106,100 before checking any options boxes. When it comes to auction prices, the value goes through the roof. Bring a Trailer hosted an auction for a 1957 Porsche 356A Speedster that sold for $425,000. The 356A is often credited as being one of the first Porsche sports cars. 
A 1987 Porsche 959 Komfort, briefly the fastest production car in the world, broke $2 million at auction earlier this year. Also, this year a 1993 Porsche 911 Turbo S with the optional "Leichtbau" package sold for just shy of $1 million in February. For a historic company with more than enough cars deemed praiseworthy by the automotive public, it's no wonder why Porsches tend to demand a high price at auction.
One Porsche, however, is the undisputed king of not only the brand itself but price as well. That car is the iconic Porsche 917 Le Mans racecar. One such model sold for more money than any other Porsche in existence today.
A Porsche from Hollywood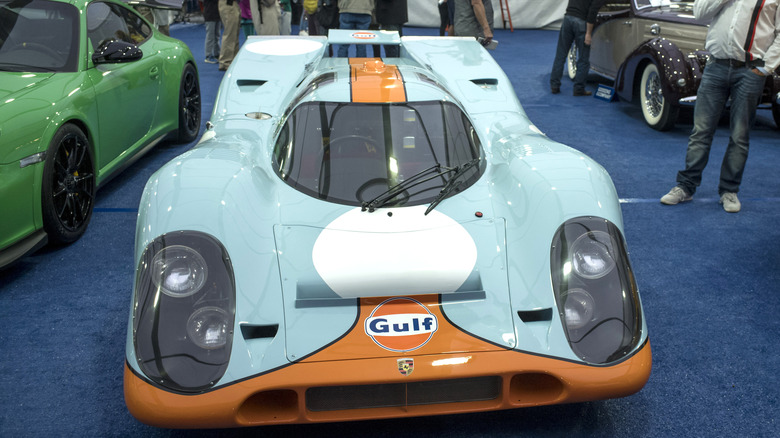 Bloomberg/Getty Images
At the Pebble Beach Auction in 2017, a car deemed one of the greatest race cars to ever drive crossed the bidding block. That car was the 1970 Porsche 917K. Any 917K at auction is a sight to see. It's an almost impossibly low supercar that took part in the 24 Hours of Le Mans, one of the most famous races of all time. But the 917K that went up for bidding over five years ago had some special provenance. Namely, it was used in Steve McQueen's 1971 racing movie "Le Mans."  That piece of trivia and the fact that it's a real Porsche 917K helped the auction price climb to the stratosphere before finally selling for $14,080,000 according to Gooding and Company, the auction house hosting the car.
Even without Hollywood fame, the 917K is an impressive car. It's powered by a 5-liter flat-twelve-cylinder engine that pumps out an astonishing 630 horsepower. Horsepower ratings like that were unheard of over 50 years ago when the car was new. This specific Porsche is finished in classic Gulf livery and is outfitted will all manner of racing kit like a multi-point harness and fire suppression system in case things get hairy while taking the car to its limits.