Rode NT-USB+ Is A Smarter Microphone For A New Breed Of Creators: First Look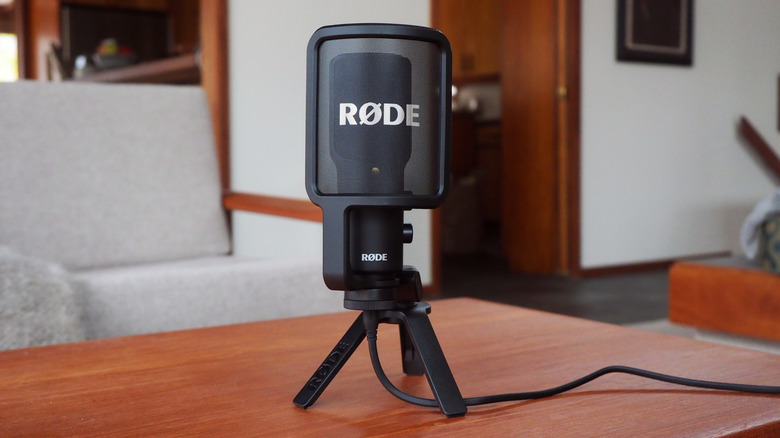 Chris Davies/SlashGear
We may receive a commission on purchases made from links.
The modern creator is no longer locked in their basement or attic, hunched over their PC or Mac. While home studios continue to get more powerful and more attainable, for many it's a smartphone or tablet that becomes the hub of their content creation. That's just the audience Rode has in mind for the new NT-USB+, its latest plug-and-play microphone and the promise of not just high-quality audio recording but a whole processor studio baked into one affordable package.
Launched in 2014, the original Rode NT-USB quickly made a name for itself in the sub-$200 microphone space. Not inexpensive, no, but aggressive nonetheless for anybody looking to upgrade to something for audio recording or podcasting rather than just video calls. Adding to the appeal, Rode's bundled pop-shield and desk stand meant that it was a true out-of-the-box setup.
Time moves on, of course. Though the overall performance of the NT-USB is still well-rated, some parts of the package are feeling a little dated like the absence of USB-C connectivity. Meanwhile, rivals in the space have been cranking up their competition. Enter, then, the Rode NT-USB+. As the name suggests, this is a massage of the original microphone rather than a wholesale reinvention. In some places, the improvements make a noticeable difference. However, there are still a few unchanged aspects where Rode's decisions seem almost frustratingly obstinate.
Ready to go out of the box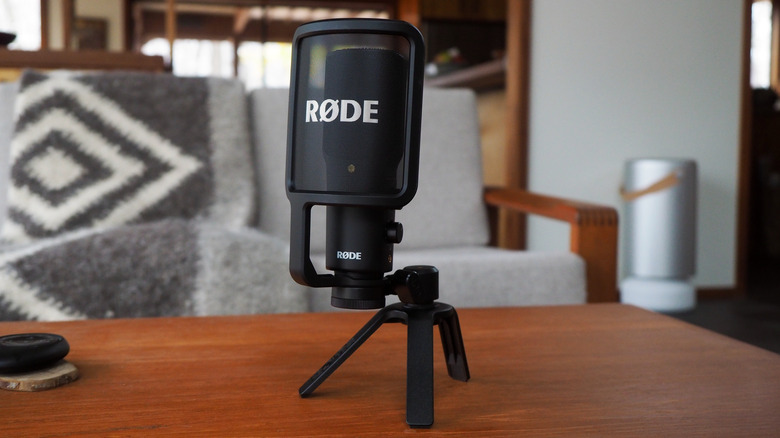 Chris Davies/SlashGear
For $169 — the same as the outgoing mic — the NT-USB+ attempts to settle the big "what should my desk rig include?" question. There's the microphone, yes, but also a tripod, a pop shield, and the USB cable you'll need to connect it to your PC, Mac, iPhone, iPad, or Android device. It works as a microphone, of course, but also as a headphone output.
The microphone itself is built like a proverbial tank. Its 540 grams comes from a tough-as-nails metal body and a sturdy mesh. A blue light glows through the grille when it's powered up. On the bottom is the USB-C port, as well as a screw ring that allows you to remove the preinstalled pop shield.
The pop shield is made of plastic but still feels reasonably sturdy. The tripod mount, meanwhile, is metal. Rode pre-attaches it to a ring mount for the supplied fixed-leg desk stand, both of which are plastic. They feel sturdy too, though there's definitely some wobble overall, and the fact that you can't fold up the tripod's legs means transporting it may be more of a pain. On that note, the padded carry pouch that you used to get with the old microphone is no longer included.
Two missing controls are still missing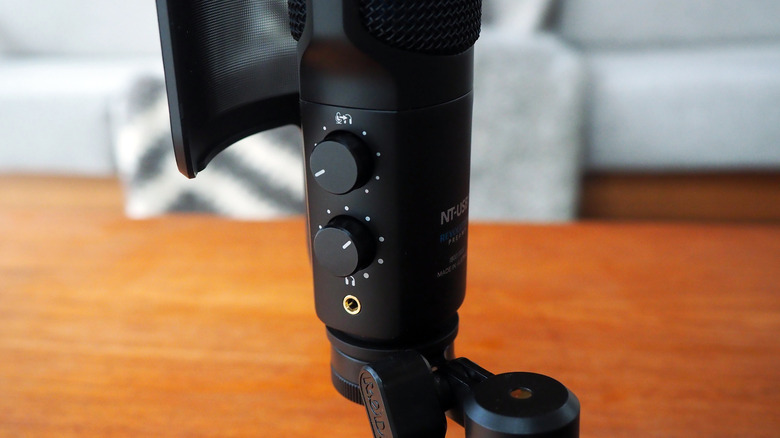 Chris Davies/SlashGear
On the side, there's still a 3.5mm headphone jack, with support for zero-latency monitoring. That basically feeds the audio from the microphone directly into the headphones. It's below two knobs, one of which adjusts headphone level output, and the other the monitor mix.
Sadly, despite no shortage of requests, there's no gain control on the NT-USB+ itself. You'll still need to adjust that within the system settings of whatever you have the microphone plugged into. The monitor mix knob basically controls how much of the microphone you hear versus how much of the computer audio you hear: all of the former if you turn it to the left the whole way, or all of the latter when turned to the right.
The microphone audio that reaches your PC, Mac, smartphone, or tablet, however, won't be affected, regardless of that knob's position, and it's a shame Rode didn't either add a physical gain control or have the mix knob switch between those adjustments. It's also a pity that the other common request for a mute button went unheard too.
Inside is where the big changes lie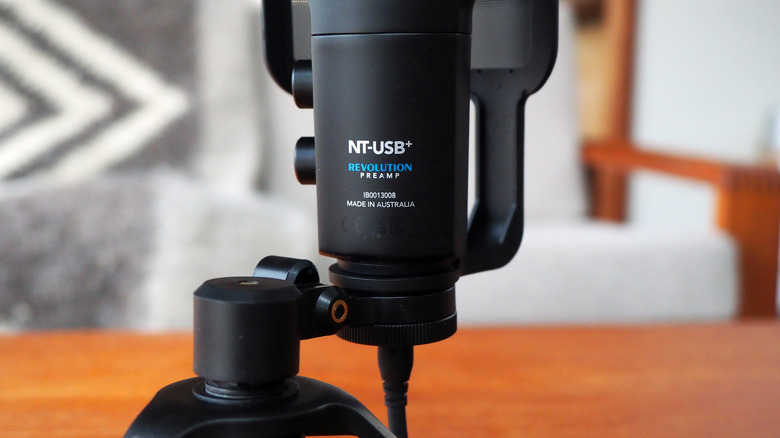 Chris Davies/SlashGear
While the outward changes may not look like much, what's going on inside has been an appreciable step forward. The NT-USB+ pairs its condenser capsule with Rode's Revolution Preamp tech, which we saw first on the RODECaster Pro II. It supports a 20Hz to 20kHz frequency range, with a 97 dB dynamic range at 10% THD. Maximum input SPL has risen a little to 118 dB, from the 110 dB of its predecessor. 
The analog-to-digital converter has been upgraded, too, with 24-bit/48 kHz support. Perhaps most exciting, though, is the internal DSP, which works with Rode's APHEX processing.
For example, you can apply things like Rode's Aural Exciter and Big Bottom effects within the microphone itself. There's also a high-pass filter, a compressor, and a noise gate for trimming background noise. You can access them via the free Rode Central and Rode Connect apps on both desktop and smartphone devices, so even if you're using the NT-USB+ with an iPhone, you can benefit from Rode's well-reviewed processing.
Leveling the creator playing field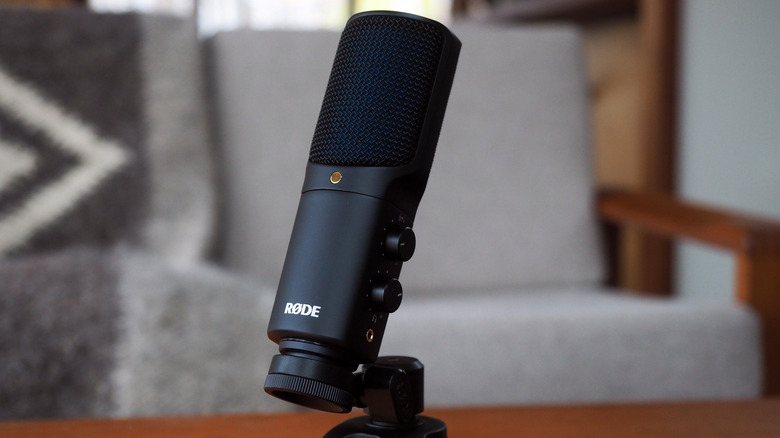 Chris Davies/SlashGear
The overall value, then, hinges on just how much you're going to make use of Rode's added extras. While there's no shortage of USB microphones around these days, most of which sound decent for vocals and even for instruments, few come with the baked-in processing flexibility that the NT-USB+ offers. The fact that you get access to that on mobile devices just as readily as you do on a PC or Mac is another huge advantage.
Then there's the overall package. Rode may have left out the carrying case, but things like a bundled — and high-quality — 10-foot SC290 USB-C to USB-C cable make an appreciable difference when you're just getting set up. Not having to budget for that, or a pop shield, is great, and even if I'd recommend upgrading the tripod to something which better isolates the NT-USB+ from keyboard sounds and similar, the fact you can physically distance yourself with that long cable makes for a solid temporary workaround.
Yes, a gain knob and a mute switch would've been nice, and no, there's no XLR output like you'll get on a (more expensive) Shure MV7, but as packages go, the new NT-USB+ checks a lot of boxes. What really stands out, though, is Rode's modern thinking about just what devices today's creators are really relying on, and the sense that this is a microphone where phone and tablet users aren't treated as second-class citizens.