RODECaster Pro II Is A Twitch Streamer's New Secret Weapon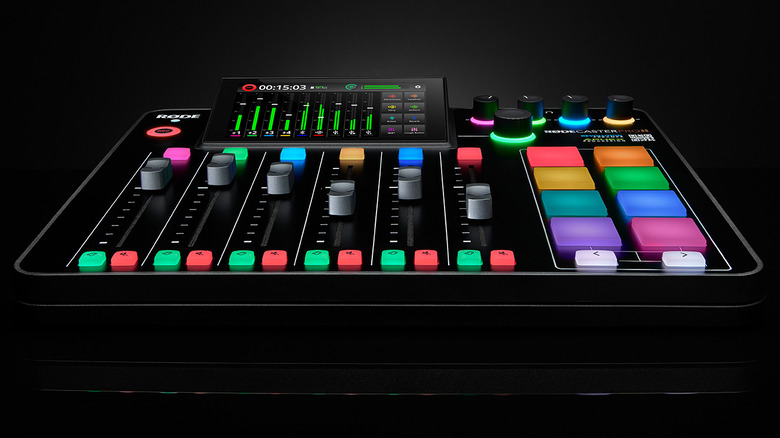 RODE
Twitch streamers, DJs, and even music producers (and composers) can get a lot of use out of a great mixing board. Unlike DJ controller boards like the Traktor Kontrol S8, there are some multi-channel boards that are better attuned to live podcasts and streams, and it sounds like the RODECaster Pro II could be the next big hardware upgrade for streamers and podcasters. At first glance, the RODECaster Pro II looks quite a bit like the previous model, which was initially released in December 2018. The latter has already become the favorite of podcasters, at least according to Podcast Insights. However, the Pro II features a number of unique improvements over the first model, and it does seem more geared toward ease of use rather than a reinvention of the wheel.
The most notable of improvements sit on the top of the board, where you can now visibly see the addition of an onboard GUI for the RODECaster Pro II's effects system. Everything looks much cleaner and snappier than before, especially now that the knobs and mixing board are adorned with colorful LED lights, which could help illuminate the board if you choose to stream in a dark room. As with the original model, you can load up to 64 sounds across eight sound banks and play them off of the included SMART Pads on the right side of the console, but it looks like these are even easier to navigate than before. To that end, RODE has visibly included two buttons underneath the pads to help you shuffle through your sound banks.
RODECaster Pro II only costs $100 over the original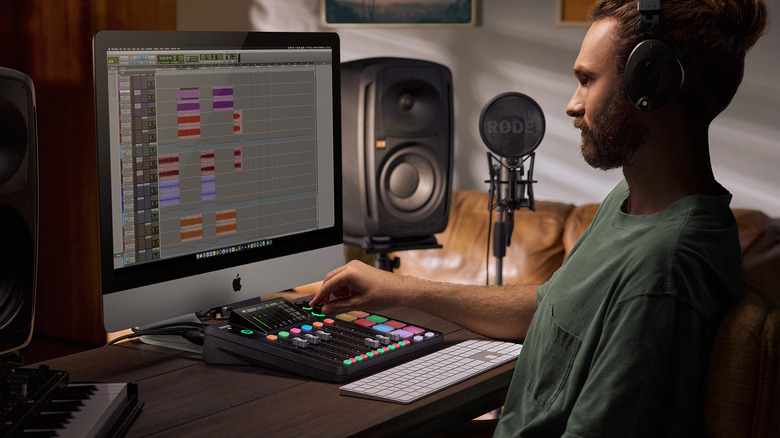 RODE
As mentioned, it doesn't look like the RODECaster Pro II is reinventing the guts that made the original so well-received, but the iterations are definitely noticeable. Aside from making things a bit easier to use, the second edition allegedly includes convenience-oriented features like Wi-Fi and Ethernet connectivity, which is useful for keeping the firmware updated or establishing outbound connections to software, such as Twitch. There are also dual USB-C ports if you prefer physical connections to other devices. RODE stated in its press release that the device even has an MFi certification for iOS devices in case you decide to feed audio from your iPhone or iPad into your stream or podcast.
The pre-amps and mic have also received a boost; RODE says its console can achieve a noise level of -131.5dBV, with 76dB of gain to play with. The nine-channel mixer looks pretty flexible as well, split across six physical channels and three digital channels. It sounds like any of those channels can be assigned however you see fit, which is a slight departure from the original RODECaster Pro; that model only really let you mess around with three of its eight total channels, whereas the rest were confined to specific audio sources. The RODECaster Pro II is available to pre-order for an MSRP of $699 — only $100 over the original's $599 MSRP — and will become available in June.