Why This Special Edition Mitsubishi Lancer Is Banned In The U.S.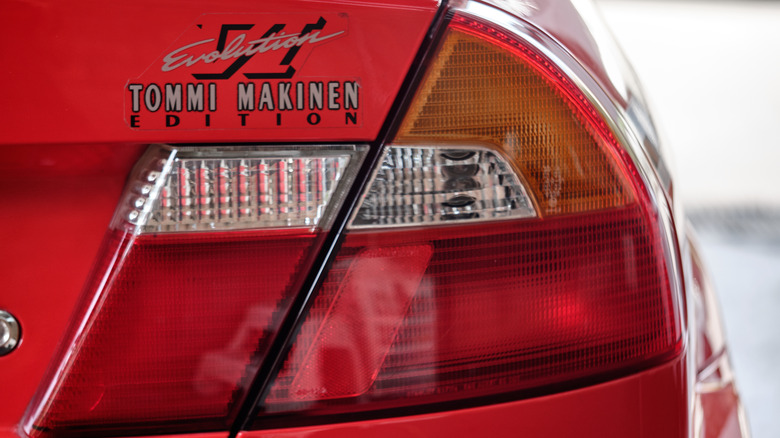 KULLAPONG PARCHERAT/Shutterstock
All ten iterations of the legendary, rally-inspired Mitsubishi Lancer Evolution series are more than just souped-up variants of a standard Lancer compact sedan. It all began with the Galant VR-4 and its potent combination of all-wheel-drive and a 2.0-liter four-cylinder turbocharged engine. The Galant VR-4 is the granddaddy of all Lancer Evos, and Mitsubishi brought it to America in 1991 and 1992 in limited numbers (per Car and Driver).
Younger auto enthusiasts probably first heard of the Lancer Evo in the "2 Fast 2 Furious" Hollywood hit or in the iconic "Gran Turismo" driving game on the original Playstation. Paul Walker's (or Brian O'Connor's) weapon of choice in "2 Fast 2 Furious" was the Lancer Evolution VII, while the Evos in Gran Turismo were the III and IV.
But before the Lancer Evo VII's CT9A Cedia platform debuted on the big screen, this special Lancer Evo struck differently in the heart (and soul) of true-blue rallying enthusiasts and global Mitsubishi fans. We're talking about the Lancer Evo VI Tommi Makinen Edition, possibly the greatest Lancer Evo of them all.
Mitsubishi Lancer Evolution VI Tommi Makinen Edition: Rally warrior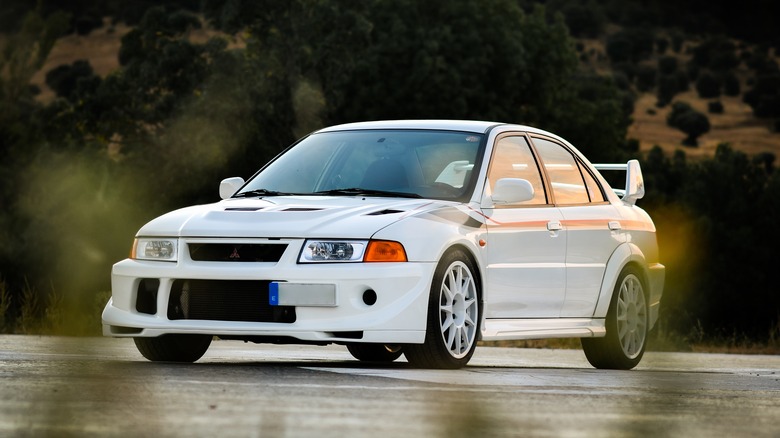 Txus Lopez/Shutterstock
Before we discuss the numbers, it's critical to know the person behind the name. Tommi Makinen is a Finnish rally driver who made a big splash in 1990 by finishing third place in the 1990 FIA Cup Ranking onboard a Galant VR-4 Group N rally car (per Mitsubishi Motors). Makinen officially joined the Mitsubishi Ralliart Team in 1995 and won four consecutive WRC Driver's Championship titles from 1996 to 1999. And with 19 World Rally Championship (WRC) victories under his belt, Tommi Makinen is a legend in the rallying circle and has elevated the Lancer Evo's status to unprecedented heights.
Commemorating Makinen's dominance in the WRC is the Lancer Evolution VI Tommi Makinen Edition. Sometimes referred to as the Evo 6.5 or the TME, it made its maiden Japanese debut in December 1999. Other publications said Mitsubishi only made 2,500 units of the legendary Evo 6.5, but the official TME registry declares 854 units sold in Europe and Australia and 3,238 cars sold in Japan. Still, a mint condition Lancer Evolution TME demands big money: In July 2022, a silver 2001 Lancer Evo VI Tommi Makinen Edition sold at auction for a whopping $168,000 (per Car Scoops).
Motorsports genes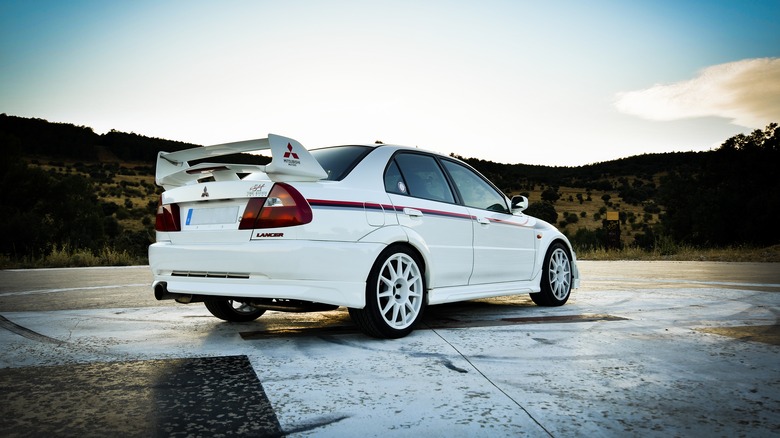 Txus Lopez/Shutterstock
The Mitsubishi Lancer Evolution VI Tommi Makinen Edition is a cacophony of the best names in the motorsports industry. It has a Momo steering wheel, Enkei rims, Brembo brakes, and semi-suede Recaro bucket seats. Under the hood is a 4G63 four-cylinder turbocharged engine making 276 horsepower and 275 lb-ft of torque. The mill sends power to a trick AWD system with Mitsubishi's AYC or Active Yaw Control system – a precursor to modern torque vectoring AWD systems – via a standard five-speed manual gearbox.
Since the Lancer Evo VI generally weighed no more than 1,360 kg (under 2,999 lb.), it handles like a souped-up Lancer on rails. In addition, the mighty 4G63 engine has a high-response titanium turbocharger to improve low and mid-range torque delivery. Other neat features include a redesigned front bumper, an updated muffler, tarmac-tuned suspension, and an optional exterior decals package. The Lancer Evo VI TME never made it officially to U.S. shores and is still illegal to import under the NHTSA's 25-year rule. However, you won't have to wait long since the import ban only lasts until 2024 since Lancer Evo VI (and the TME) production was from 1999 to 2001.