13 Key Things To Consider Before Buying A Camera Bag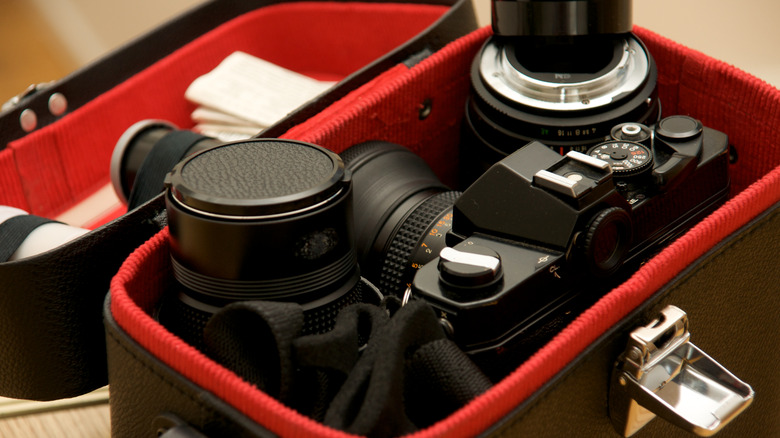 Simon_i/Getty Images
We may receive a commission on purchases made from links.
Coming home with a new camera is such an exciting ordeal. From breaking the seal on the box to the user manual that puts "Lord of the Rings" to shame to the very first click of the shutter, a new camera will make an eager child on Christmas morning out of even the most mature adults. There's a lot you should know about using a camera and taking care of it so that it gives you plenty of good years, but even with all the caretaking in the world, you'd be putting your investment at risk if you don't have quality, protective housing for your gear.
There are enough options for camera bags to make your head spin, and it won't take long to realize that you bought a bag ill-suited to your needs. Thorough research is an absolute must, and the right choice will come down to what type of photography you do, your budget, and a number of other factors. After making that jump from smartphone shooting to carting around a camera, here are a few things to consider if you want your camera bag to be just as good of an investment as the cargo it will carry.
Is there space for a backup camera?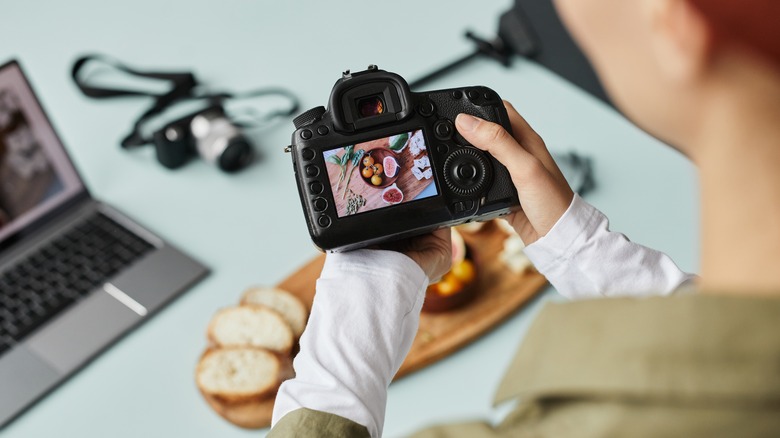 SeventyFour/Shutterstock
Many photographers choose to carry a second camera body in case of emergencies. If you're wondering why a backup camera is a good idea, you're fortunate enough to have never been in a scenario where an unexpected error message stares you down from the screen while a bride and groom wait patiently posed a few feet away. If people pay you to capture their once-in-a-lifetime moments, you definitely need a plan B. Really, a second camera is a good idea in just about any setting; who wants to miss the perfect shot?
For the times when you're carrying two bodies but packing light on other accessories, like flashes and lenses or travel tripods, we recommend the Lowepro ProTactic BP 300 AW II. Like all the best camera backpacks, the large compartment can be customized with Velcro-secured inserts to snugly fit two bodies. The side zipper openings make for speedy access to your backup shooter in case things go awry. 
Do you carry a laptop?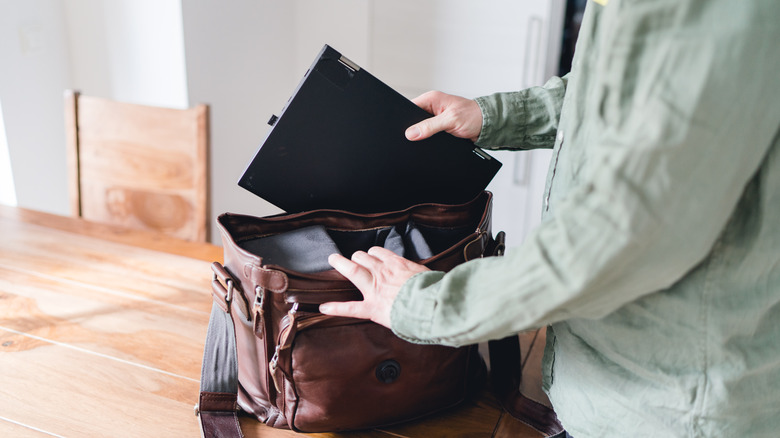 Michelle Mahlke-sloniecki /Getty Images
Depending on who you ask, bringing a laptop when you go shooting is either an invaluable asset or dead weight. If you need to edit photos on the fly, a designated place for your computer or tablet is a necessity. The best camera bags with laptop compartments keep your electronics separated from your camera gear so neither suffer dents or scratches at the hands of the other.
It's important to make sure the specs of your camera bag's laptop pocket fit the size of your device. We like the Tenba DNA 16 DSLR Backpack for prime laptop storage, since it fits up to 16-inch laptops. Many other well-liked models, like the Gitzo Adventury 30-liter, only accommodate up to 13 inches. Another thing we encourage camera bag shoppers to keep in mind is where the laptop will be stored, especially with backpacks; some, like the Gitzo, require the entire main compartment to be opened to access the laptop. The Tenba, on the other hand, can be accessed from a direct opening to its compartment. Laptops are stored in the same spot in both examples — the backside of the bag, nestled against the wearer's back — so having that convenient access point wouldn't sacrifice security for the computer or tablet.
What non-gear things do you travel with?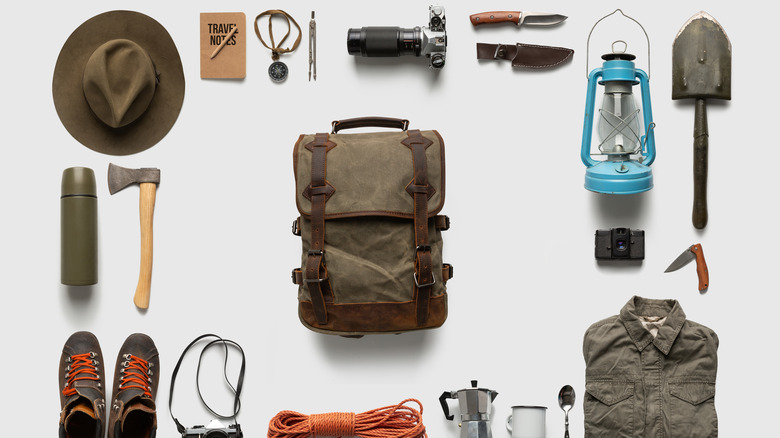 Mykolastock/Shutterstock
If you're a shutterbug of the outdoors, you probably need to load your pack up with extra socks, emergency provisions, and waterproof housing for your gear. You need plenty of non-camera compartments for all of the non-camera things you can't embark on a photography excursion without. This could include a large pocket that could store a towel, pair of shoes, or extra pair of clothes, the likes of which we see in the MOSISO Camera Backpack (which also finds room for a 16-inch laptop as a bonus).
There's also the Toxic Valkyrie, which has not only a secret pocket for your cash and passports but also a "frog" compartment specifically designed to keep wet clothes away from your camera and electronics. The Mountainsmith Tanuck 40 has an interior water reservoir, complete with exit straw. No matter what you need, there's probably a camera bag out there that has a designated pocket for it. We're not advocating for stuffing your pack to the brim — no hiker wants to be an over-packer — but you should certainly take into consideration what types of things you often need whenever and wherever you shoot.
Is your shooting mostly indoors or outdoors?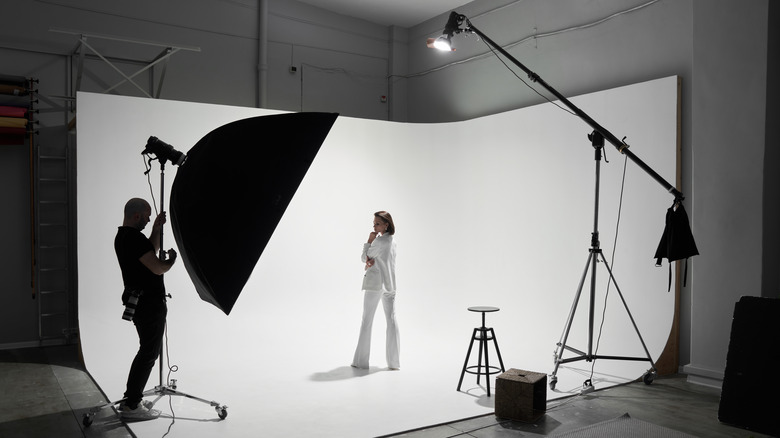 ivan_kislitsin/Shutterstock
If the primary target of your lens is a bird in broad daylight, it's unlikely that you need to carry a speed light, umbrella, or any other equipment for flashes or indoor lighting. In fact, if you keep your camera equipment to an absolute minimum for hikes or other outdoor adventures, you may benefit from something like the Camera Pod from Hyperlite Mountain Gear, an ultra-compact pack that is meant to protect just one camera body and lens and can be clipped to backpack straps or belts. 
However, if you're more of a habitual studio shooter and are going from job to job with all kinds of flashes, bulbs, and adapters, a briefcase-style camera carrying case may provide easier storage and better protection of auxiliary photography equipment. Some smaller backpacks, messenger bags, or sling camera bags don't come with enough specialized storage for lighting equipment and the wrong bag could leave those expensive bulbs and lights being jostled around.
Some very intense, padded, reinforced cases are out there, but the Amazon Basics Hard Camera Case will work perfectly for everyday protection. It comes in three sizes, has thick, protective foam inserts, and is waterproof. We wouldn't recommend sailing to the Arctic with it, but it'll do for more low-stakes, everyday ground travel — you could toss this case in the trunk and rest assured that your gear will come out unscathed.
Should any of your lenses be stored separately?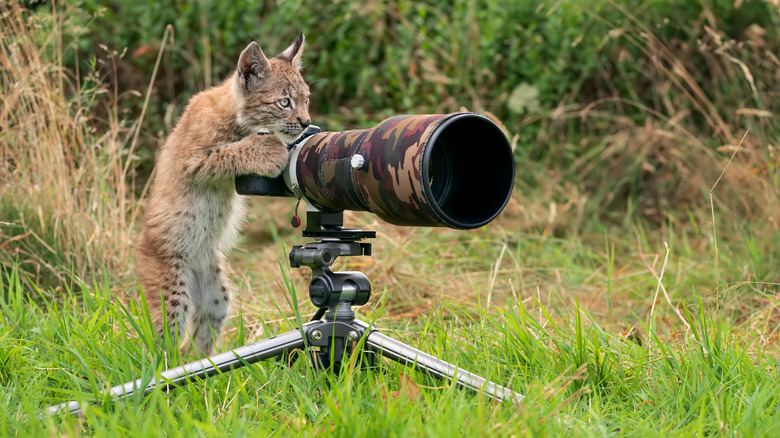 Stanislav Duben/Shutterstock
Everyone has seen those photographers on the sidelines of a professional football game balancing a colossal lens on a monopod — or a wildlife photographer on Animal Planet with a huge lens peeking out from their ghillie suit. Even if you don't carry massive lenses like these photogs, if one is significantly bigger than the others and throws off the proportions of the storage in your bag, it may be easier to store it independently. With how pricy telephoto lenses and longer-focal-length prime lenses are, it would give you peace of mind knowing nothing can scratch or dent that $10,000-$20,000 glass, too.
Some of these high-end lenses will come with a case by default, but if you got the lens secondhand or for whatever reason don't have storage, you can easily find one by searching for the manufacturer and the model — for "Canon EF 400mm f/2.8L IS carrying case," for example. Independent lens cases can be hard-packed with a handle, like a small briefcase, or they can be soft-walled pouches that could be clipped to your primary bag. Even mid-range lenses are deserving of protection, in our opinion, and there are plenty of third-party cases out there for those. One of the best value options appears to be the BPAULL lens pouch on Amazon. If you're going to buy a lens worth a couple of monthly car payments — or the entire car — we recommend doing thorough research on the best way to safely transport it.
Do you fly with your gear often?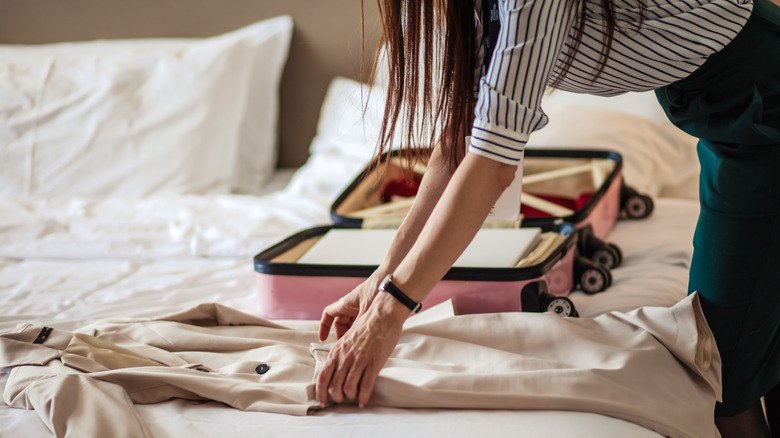 UfaBizPhoto/Shutterstock
Jet-setting shutterbugs must take extra caution in protecting their equipment from the risks of traveling by plane. If you photograph destination weddings, are a photojournalist sent out on assignment, or just like to get quality pictures while on vacation, you should take this into consideration when camera bag shopping. Generally speaking, we think the best practice for ensuring the safety of your gear is to bring it as a carry-on, but frequent fliers know that one of the hazards of flying economy is that, when the plane is too full, attendants will first ask for volunteers to check their carry-on bags — and then will start designating volunteers if no one offers to send their bag to the cargo area. 
You want to be prepared in case your equipment is banished to the underbelly for the flight. We recommend durable, high-quality, thickly-padded cases like those made by Pelican or Vanguard. These hardy, weatherproof camera cases can be quite the investment, but they'd pay off. For example, the 1510 Protector Carry-on Case is carry-on size compliant, sealed with a watertight silicone ring, maintains interior pressure with an equalization valve, and is graded to withstand temperatures ranging from -40 to 210 degrees Fahrenheit. The case comes with a built-in padlock too, but keep in mind that this can be a headache if the lock isn't TSA-compliant. Checking gear wouldn't be a problem — you could probably drop a Pelican case in the river and your camera would come out perfectly dry.
How much protection do you need from the elements?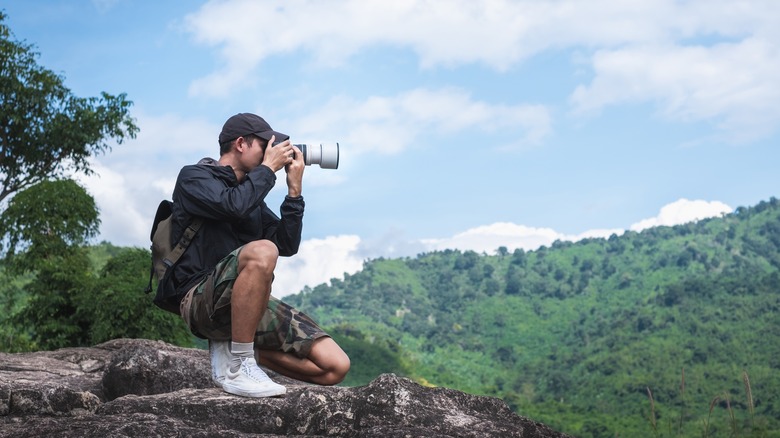 Jirasak JP/Shutterstock
A camera that never leaves air conditioning doesn't need as much protection as one that photographs elk in a Montana winter. If your photography voyages lead you to subfreezing environments, precautionary measures to safely stow gear are a very smart idea. Previously, we described the Pelican Protector, which promises to protect equipment up to -40 degrees Fahrenheit — and this remains a great option if you face very extreme elements and aren't frequently getting your camera out and putting it back. For many outdoor adventure photographers, who frame their shots while creeping up to the edge of a cliff or balancing precariously on a snowboard, a briefcase camera bag just isn't the most practical solution, no matter how rugged it is. 
Let's say you're a normal person who isn't plunging into 40-below temperatures to photograph ... whatever is worth plunging into 40-below temperatures for. But you are an all-weather hiker and don't want to fret over how your camera is faring in 30-, 20-, or even 10-degree weather. The f-stop Mountain Series Lotus Backpack comes with a hefty price tag, but for good reason. It comes with heavy-duty, weatherproof zippers, elements-resistant ripstop nylon, and thermoplastic polyurethane. Even if this pack isn't quite in your budget, many others come with a waterproof cape or rainfly that protects the bag and contents from rain and snow. Precipitation is not your camera's friend, so you should guard it from moisture well. Be sure to look for the dust-proof rating and crush-resistant factors, too!
Are you willing to maintain leather?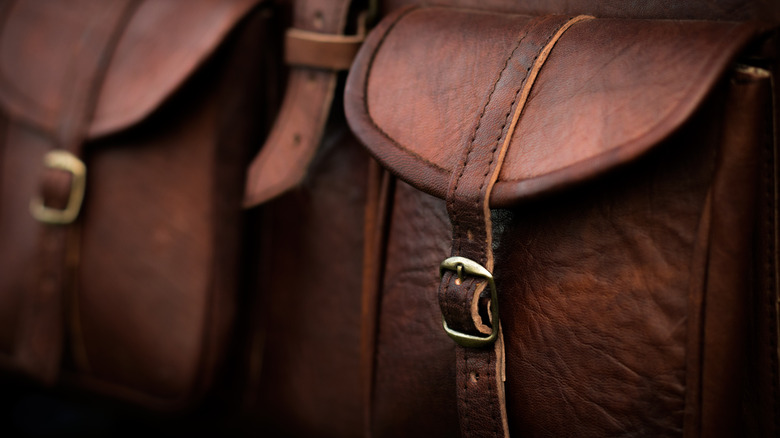 Lawrey/Getty Images
Look, we understand the draw of leather. It's classic, sophisticated, sleek, and refined. Having at one point fallen victim to the appeal ourselves, we understand that walking around with a leather messenger bag feels like being a reporter on the streets of Metropolis. But let us tell you what Clark and Lois won't: coffee, rain, dust, dirt, and grime will not be kind to that supple, authentic leather. We're not saying a quality leather camera bag is bad; quite the opposite, actually. When leather ages well, it ages beautifully, but when it doesn't — it starts to look quite haggard, quickly.
Aspinal of London recommends that leather camera bags be wiped with a soft brush or cloth at least once a week, and never overfill the bag to prevent stretching. It's also smart to prevent long-term exposure to sunlight and heat sources, and avoid surfaces that can scratch the material. There are many unexpected, seemingly normal things that can mess up your bag's leather — hanging it by the handles, letting it come into contact with fabric dyes, or storing it in a way where buckles and zippers can leave imprints on the bag — so if preserving your leather camera bag is a priority, you will be in a constant state of precautionary awareness. Get a leather conditioning kit, too!
Leather spans a vast price spectrum, but the Leftover Studio 13-inch Camera Bag is a great entry-level option. It's a stylish messenger bag that holds one camera, a few lenses, and a laptop.
Is the storage customizable?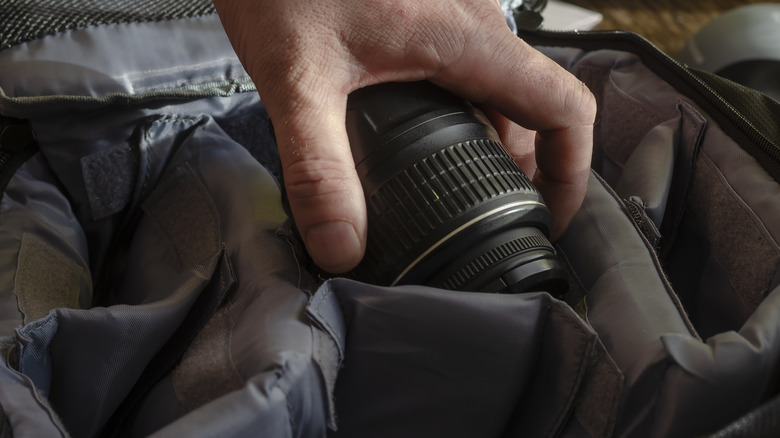 Mikhail Dmitriev /Getty Images
Every centimeter of storage space in a camera bag is valuable. If the storage compartments in the bag are fixed and can't be customized, it more than likely won't fit your unique storage needs. Many backpack-style camera bags come with hook-and-loop dividers that give you freedom in deciding how many compartments you need. Ideally, there is always some sort of padding between each item in your bag to prevent damage, so if you pack a lot of smaller lenses and/or two bodies, looking for this type of customizable pack is important.
This is just one of the critical components to look for in a camera bag with good storage. Modular attachments, water bottle and tripod storage, and room for personal accessories like chargers, food, sunglasses, etc. will all contribute to the storage score of a camera bag. The f-stop bag referenced earlier is a spectacular example of infinite modular storage, with its MOLLE webbing, internal attachment points, and accessory loops. Another great check-every-box example is the McKinnon 35-liter Camera Pack from Nomatic. It offers a very spacious main compartment with customizable sections, side zippers that expand the pack to 42 liters, a secondary large compartment for clothing, large side pockets for water bottles and tripods, a quick-access laptop sleeve, and numerous smaller personal compartments. If you can't fit it in a pack like this ... you don't need it!
Do you need quick access to your camera?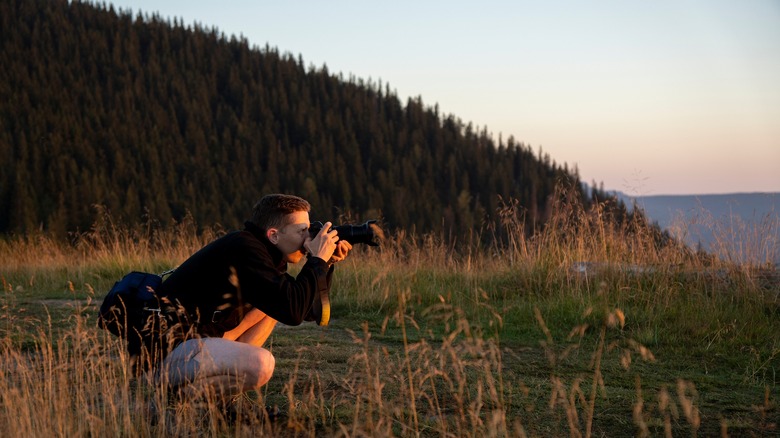 dr.D/Shutterstock
Having quickdraw access to their camera is important for many photographers. There are ways to do this without letting the camera hang from a neck strap, or even hip holsters like Spider's, which can leave the gear very vulnerable in certain shooting scenarios. The Nomatic McKinnon Sling can be opened with one hand for quick and effortless camera access. 
Bags that give you quick access to the camera are usually referred to as holster bags or toploaders. These bags allow the camera to be stored with the preferred lens attached. Whether you prefer to draw your camera from the hip, the neck, or the chest, most toploaders (Lowepro offers a number of good ones) can be worn as a cross body, a belt attachment, around the waist, or clipped to the straps of a backpack. 
The problem is that toploaders come with little to no storage. If you want to quickly get your camera out but have lots of things you need to carry, some backpacks allow for quick access, like the MindShift Gear Backlight 26-liter backpack. The wearer of this backpack could slip off the shoulder straps and spin the pack around (it is secured with the waist belt) to quickly grab what they need. 
Where do you want to carry the weight?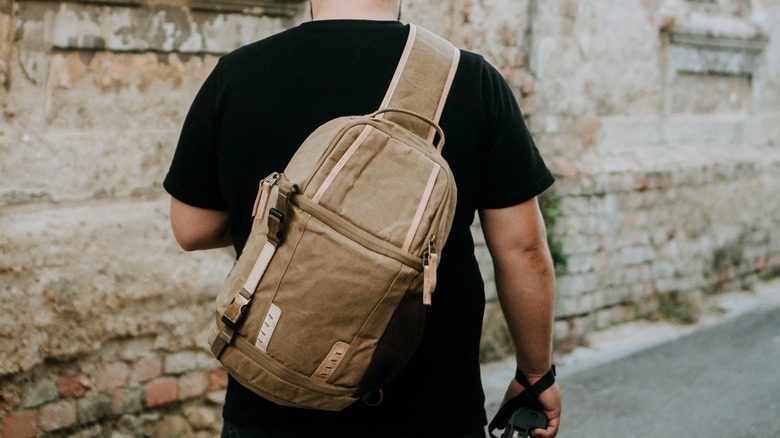 Wirestock Creators/Shutterstock
Briefcase and suitcase style camera bags take all the stress off your hips, back, and shoulders, but there's a sacrifice in convenience and mobility. Backpacks keep your hands free, but often at the price of your lower back's comfort. Messenger bags or sling bags like the pictured one may distribute the gear weight perfectly for one photographer, but too much strain on the neck and shoulder of another. 
Knowing where you want to uphold the majority of your pack's weight plays a big role in knowing how to pick the right camera bag. Some higher-end backpacks, like the f-stop we can't stop talking about, are built with internal aluminum boning similar to a hiking pack. Or, if your photography packing list is short, a waist bag like this one from Manfrotto puts the weight of one body, a couple of lenses, and sparse accessories on the waist and hips instead.
Is there quality in the details?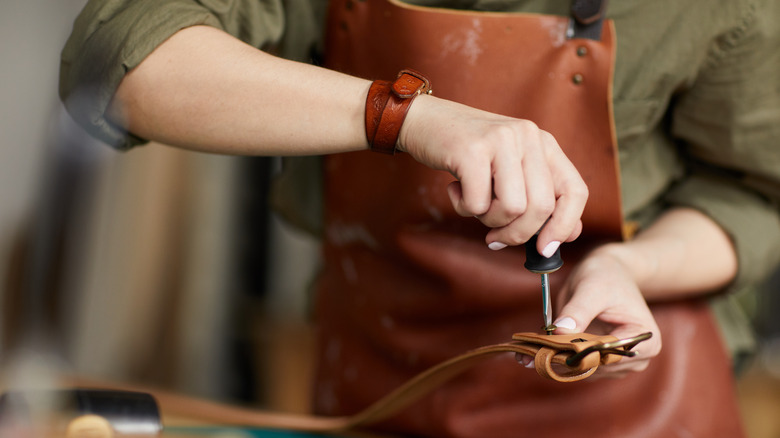 Seventyfour/Getty Images
When you buy a new camera bag, you are entrusting every stitch, buckle, and zipper with some precious and expensive cargo. There is no shortage of options for camera bags under $30 on Amazon, but if you must stick to this tight of a budget, study the reviews carefully and look for signs that the bag is not well made. 
The worst time for a camera bag's zipper to break, strap to snap, or pocket to blow out is when it's carrying your stuff. Stainless steel hardware will hold up better than plastic, ripstop and ballistic nylon is more durable than regular, and clean, precise stitches will withstand time and fraying the best.
This explains why budget is another important consideration if you have the means to make even a small investment in your camera bag. A camera bag of high craftsmanship will also be thoroughly reinforced and padded to protect your belongings. If the material of the pack looks thin, flimsy, or lacking structure, it's best to steer clear of this bag. There are tons of great options in the $50 to $100 range that don't come with quite as many bells and whistles as a $300 pack will, but still were made with the structural integrity to keep your gear safe. 
Why is the kit bag not enough?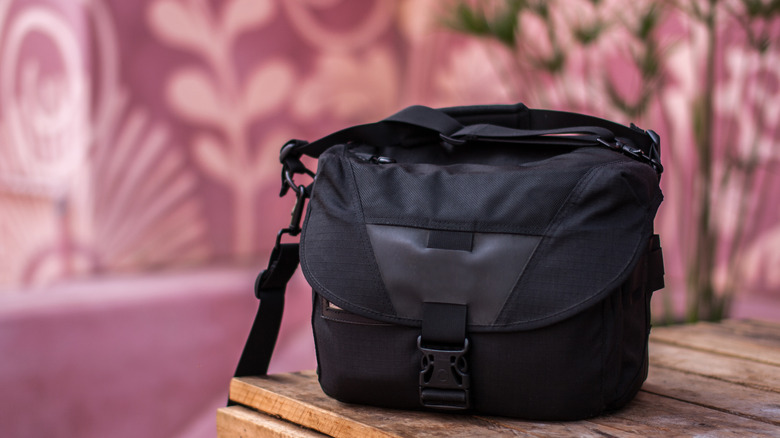 Maodoltee/Getty Images
It's easy to be dazzled by the sheer amount of stuff there is out there to buy when you start a new side gig or hobby. If you've just come home with your first-ever camera, it's worth taking a moment to contemplate why you've outgrown the kit bag before dropping dollars on a new one. Starter bags from the manufacturer may not look the coolest and don't have much for features, but they'll serve you well in protecting the gear until you've established a stronger interest in photography and have accumulated too many lenses and accessories for the pack you have.
So, if you haven't asked yourself already, the final question before placing that order should be this: Why can't I use the kit bag? Is it too small? Am I carrying more than I need? Do I plan to camp, hike, or snowboard with this camera? If no sound answers jump out at you, leave that sparkling new bag in the cart for a while and let the kit bag live out its life. You will outgrow it soon — but let it have its moment.