Renault, Qualcomm, And Google Join Forces On Software-Defined Car Tech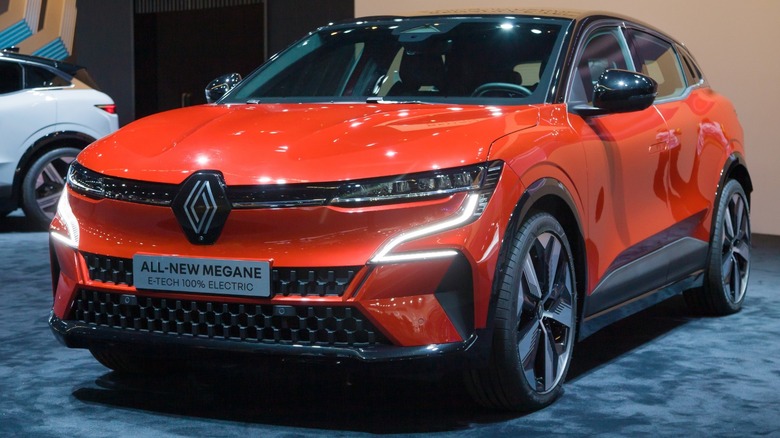 Santi Rodriguez/Shutterstock
As EV adoption grows and the EV market expands, designers and manufacturers are starting to rethink their approach to developing cars. Some of the most obvious signs of this are the software updates that EVs have become known for. Instead of vehicles being dependent on and limited by their hardware, they are more and more becoming dependent on their software and computer smarts. This dependence on software gives manufacturers a unique opportunity to differentiate themselves from the competition and allows users to have a more personalized driving experience. 
Surprisingly, one manufacturer that has only recently hopped onto the EV bandwagon, despite statements from the company that the future is all-electric, is Renault. Despite the company's small EV lineup, rumors and teases about an upcoming Renault 5 EV, and even an exotic prototype, seem to reinforce the Renault Group's commitment to a sustainable future. According to a Renault Group press release, a new partnership with Google and Qualcomm might see Renault's future EVs evolve in a pretty unique way. 
Renault to use Google's AI to move development into the cloud
According to Renault and an accompanying press release by Google (via PR Newswire), Renault and Google are expanding their collaboration in the automotive space, with the Renault Group creating a new software company called Ampere. The focus of this new company will be developing both hardware and software for fully-electric vehicles to be sold under the Renault brand, focusing on what Renault is calling Software-Defined Vehicle technology, or SDV for short. Renault will use Ampere to augment its vehicle development in a few ways. 
Ampere's software focus is set to refine Renault's in-vehicle experience to deliver a more personal experience to end users using Qualcomm's Snapdragon Digital Chassis, and leverage Google's Android Automotive platform and cloud resources to create a "Digital Twin." According to Google, the Digital Twin is an AI-enhanced, cloud-based, virtual replica of a vehicle that can be used by Renault and Ampere to refine, develop, and test in-car services, analyze and adapt to driver behavior, and detect and prevent failures in real-time. 
Renault plans to launch its first open SDV platform by 2026, in the FlexEVan — a light commercial vehicle that will use the SDV technology for fleet management, which Renault claims will result in a 30% cost reduction for fleet operators. It remains to be seen how these developments will enhance the company's consumer-facing products, though, since Renault did not provide a target for consumer vehicles developed with the new technology.