Nanoleaf Lines Squared Review: Lights Will Guide Your Smart Home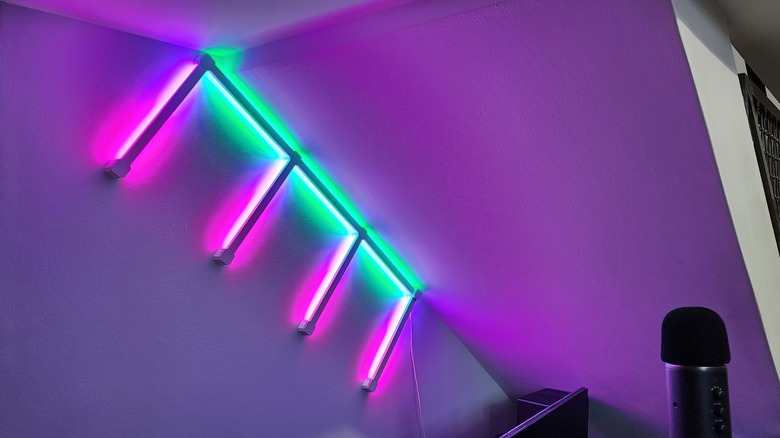 Markkus Rovito/SlashGear
EDITORS' RATING: 8/10
Some LED lights literally cost a dime a dozen, but Nanoleaf products are like the Sonos speakers of LEDs. They connect in a modular fashion to form smart, network-connected, potentially multi-room systems with a focus on quality, high-tech, and aesthetic appeal. However, in addition, they also provide a creative outlet to users, who can manifest on their walls their own ideas for lights' layout, color combinations, and animated movements.
Now Nanoleaf has updated its offerings with the new Lines Squared kits of backlit LED light bars. In contrast to the previous and still available Lines systems, the Lines Squared light bars can now connect together at 90-degree angles, opening up new design possibilities or for example, the ability to outline doors, windows, etc. with them. The Lines lights use hexagonal connectors that only allow 60-, 120-, or 180-degree (straight line) angles, whereas the Lines Squared kits use square connectors that limit the angles to 90 or 180 degrees.
Combining both connector types would unlock even more design possibilities, but keep in mind that to do that, you'd need to purchase at least one Lines and Lines Squared kit, which will start to add up in cost. Just like Sonos speakers, Nanoleaf light systems aren't exactly cheap, but as we will see, in most ways you get what you pay for.
Nanoleaf provided a Nanoleaf Lines Squared Smarter Kit, Expansion Pack, and Nanoleaf Shapes Triangles for this review.
Squaring up before sticking down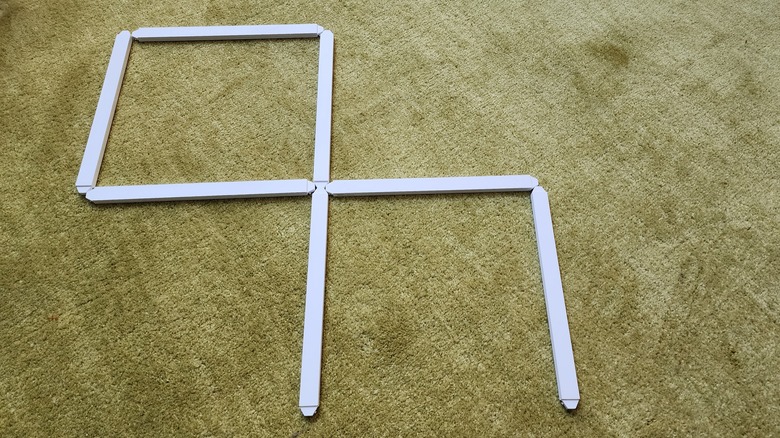 Markkus Rovito/SlashGear
Whether you're working with Nanoleaf's square Canvas lights, triangle and hexagonal Shapes lights, or the Lines/Lines Squared lights bars, a big part of the attraction to these LED systems is the ability to arrange them in an original pattern of your own design. Don't worry, however, if you'd rather just use a pre-planned design; there are many available to select.
Either way, it's a good idea to take some time with the setup and decide upon the design before installing the lights on a wall, and the Nanoleaf mobile app for iOS or Android has a Layout Assistant to help you along the way. Nanoleaf recommends figuring out your layout first on a flat surface like a table or floor. If you're using the app's Layout Assistant, it can recommend designs based on the number of Lines Squared or other lights you have and can even show you how it may look after installation using an augmented reality tool.
I tested the Lines Squared system using one Lines Squared Smarter Kit ($99.99), which includes four light bars, and a Lines Squared Expansion Pack ($69.99), which includes three light bars. The Smarter Kit also has a Controller Cap for hands-on, app-free control, a processor unit that includes a microphone for audio response, and an AC power supply.
After messing around with the admittedly cool Layout Assistant, I set it aside and figured out my own layout. Then I connected everything together while still on the floor and powered it up to make sure everything lit up, which it did. The Nanoleaf system can recognize new lights if you add them, and everything snaps on or off relatively easily. With everything in place, it was time for the crucial wall-hanging operation.
Lightweight, not cheap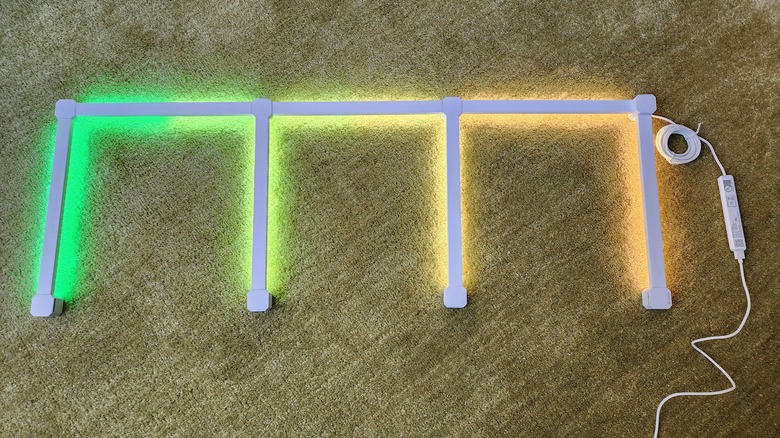 Markkus Rovito/SlashGear
Out of the box, the Lines Squared, as well as other Nanoleaf lights, are made to stick against a clean, flat wall with adhesive stickers on the back of the mounting connectors. The wall should be smooth and dust-free, not a textured or wall-papered wall. Think: stucco = bad. If removed carefully, the mounting tape is not supposed to damage the wall or paint, but extra mounting stickers are not included (a 25-pack sells separately for $8.99), so it's better to be sure about your layout and placement on a wall before hanging it. For a more permanent installation or to mount Lines Squared to a ceiling, anchors and screws are also sold separately.
The Lines Squared parts are very lightweight. For example, one light bar and one mounting connector weigh about two ounces (54g) total. That kind of extremely lightweight build can often be associated with generic, uber-cheap electronics that seem like they could break or stop working at any moment. That's not the case with Nanoleaf, which legitimately has to make its parts that light they don't weigh down the adhesive backings that stick them to a wall. 
All the light bars easily snap in and out of the mounting connectors, as do the connector caps. They are made to come apart for reconfiguration as easily as they're put together. However, they don't necessarily feel like you could snap them in and out hundreds of times without incurring some damage. Everything was fine if I wanted to snap some parts in and out a half dozen or so times while figuring out my layout, but I wouldn't want to press my luck by taking pieces apart and putting them back together any more than I needed to.
A tough hang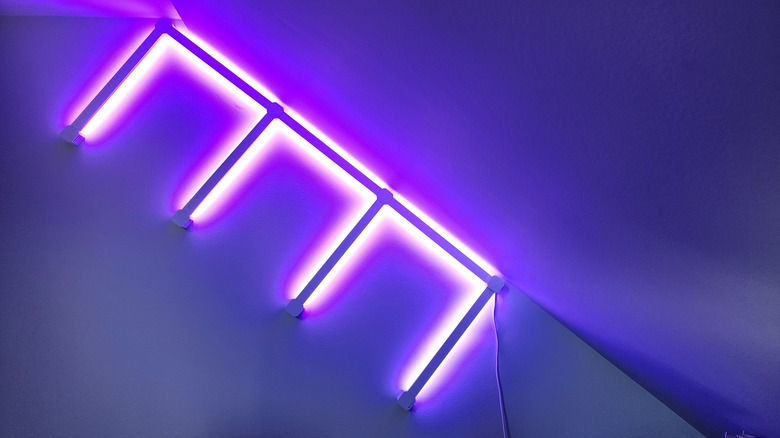 Markkus Rovito/SlashGear
After cleaning the wall, I had to remove the sticker backing from all eight of the mounting connectors in my arrangement, and then — according to the instructions — press them against the wall for at least 30 seconds each to secure them. That can be a tricky thing to do for a single person, and the manual does recommend getting a friend to help. However, I think loners deserve nice lighting too, and a friend wasn't listed in the system requirements, so I approached the wall hanging solo.
To do it, I parted from the recommended method by disconnecting my Lines Squared arrangement into two sections. After sticking one section to the wall, I had to reconnect the second section to the first while not accidentally sticking its connectors in the wrong place. It was somewhat difficult to do while standing on a step ladder, and not the ideal way, but it worked out in the end. So if you're going to hang Lines Squared lights by yourself, know that it may not be the easiest thing, but focus on the tranquility you'll enjoy from these futuristic mood lights when you're finished. Or just be less stubborn and find a friend or two to help you.
You may also need to put some extra effort into power cable management. All the photos on Nanoleaf's site the power cord coming out of the Control Connector to be a perfectly straight line heading down to the floor. Of course, in practice, that's difficult to achieve. Because the cord comes coiled up in the box, it's not going to be perfectly straight unless you work at it considerably to straighten it out and hold it in that straight position with tape or fasteners of some sort.
App control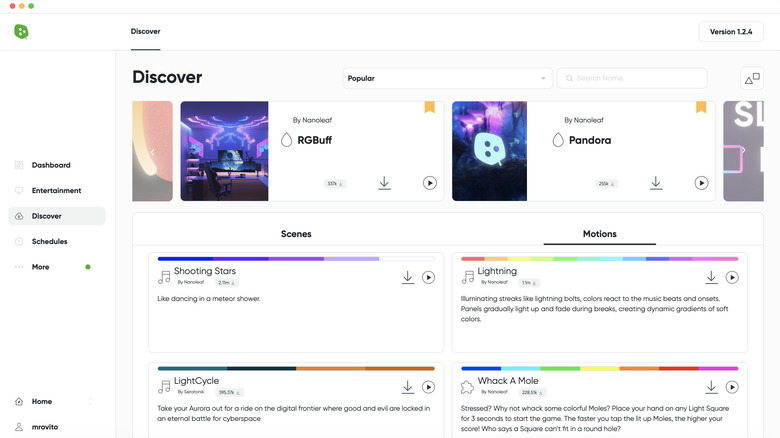 To really take hold of the Lines Squared lights' flexibility, you need to pair them to a mobile device or computer through the Nanoleaf app or the desktop software for Windows or Mac. The lights pair only over a 2.4 Ghz Wi-Fi network. If your device is on a 5 GHz network, you'll have to switch it to pair to the lights.
Once paired, the app can control the power on/off, the brightness level, and the "Scene," which is the setting for the lights' colors, animation, and music visualizer. There is a selection of preset Scenes in the app, and you can also create your own and save Scenes to a Favorites list.
There are many options for making your own lighting Scenes. The Basic Scene Creator supplies a color wheel, Temperature settings, and/or RGB numerical settings for setting a single, non-animated color. The fun begins with the Paint Scenes and Dynamic Scenes. For those, you first make Color Palettes with as many colors as you want. With Paint Scenes you then assign those colors to every segment of your Lines Squared array. (Each light bar has two segments.)
Dynamic Scenes also include motion settings that may include selecting the motion's direction, speed, interval, and other settings. A few of the somewhat self-explanatory Motion settings include Burst, Fade, Wheel, and Random. Additional Rhythm settings for music-synced motion include Fireworks, Ripple, Meteor Shower, and others.
Finally, Playlists cycle through a series of different Scene settings. There are several preset Playlists, and you can create your own from preset or created Scenes.
Nanoleaf gives you the chance to get very creative with your original Scenes, and to upload them created settings can be saved for recall. Yet if fussing with settings is not for you, fear not. From the app's Discover tab, you can browse and download thousands of Scenes and Playlists that Nanoleaf and other users have created, so you'll never run out of light show options. Some of these Playlists key into likely uses for the Lines or to seasonal colors, like with the Relaxing Before Bed, Happy Holidays, and Dance Party playlists.
Screen mirroring and scheduling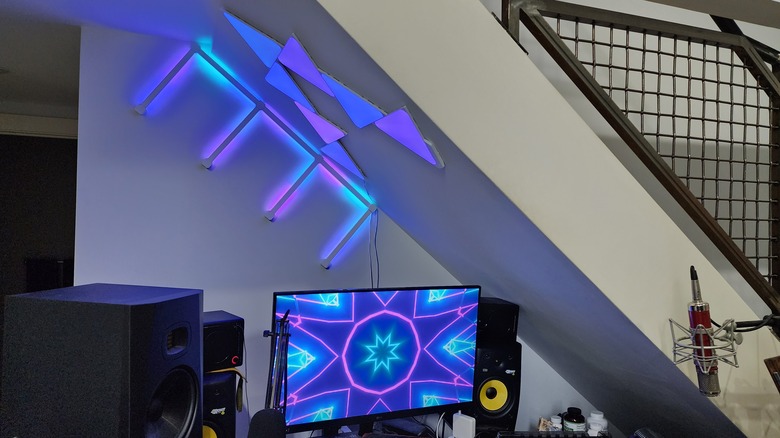 Markkus Rovito/SlashGear
Nanoleaf lights have a Screen Mirroring capability available only through the Nanoleaf desktop software. This mode will match the LED lights' colors with the dominant colors of your computer screen. If you have multiple monitors for your system, you can select one of them to mirror. I should note that the term "screen mirroring" could be a little misleading. The Nanoleaf lights do not really mirror any of the shapes or even the motion on your screen. They just match the colors, but it's still a cool and impressive effect.
There are four Screen Mirroring modes. The 4D setting is listed as the best for high-impact action. Tranquility is a mellower setting that slowly dissolves from the dominant screen color to other colors on the screen. The Flow mode starts with the dominant screen color and then transitions to other colors all at once rather than gradually. My personal favorite, Chameleon, highlights multiple screen colors at once and moves and fades them across the Lines lights.
The Lines Squared and Nanoleaf lights in general also have a scheduling feature available in the desktop or mobile app. This lets you schedule the lights to power on at a particular time of day on particular days of the week. A brightness ramp option gradually increases the brightness at a duration you set from 1 second to 59 minutes, 59 seconds. It's a good option for using the lights as part of a waking-up sequence in the morning. You can create as many scheduled events as you like and set their Scenes from all your saved Scenes or from your Favorites list.
Voice control and smart home integration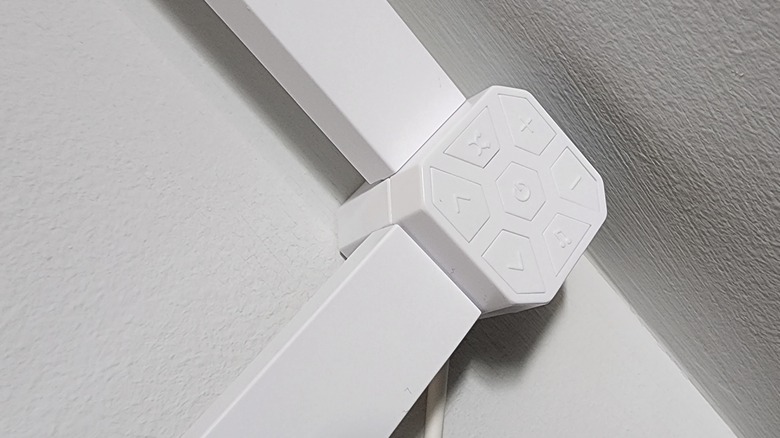 Markkus Rovito/SlashGear
Nanoleaf systems, including the Lines Squared, work with a number of networked home and voice control protocols, including Apple Home/Siri voice control, Google Home/Hey Google voice control, Amazon Alexa, the IFTTT and SmartThings interoperability interfaces, and the Razer Chroma RGB lighting ecosystem for PC gaming. A Lines Squared system also acts as a Thread Border Router for Thread Internet of Things (IoT) mesh networks.
I tested the Lines Squared with both Alexa and Google Home. In both cases, the device that I had named "Lines7" quickly appeared and connected to the Alexa and Google Home Android apps on my phone. Within the apps, there were basic onscreen controls for power, brightness, and basic color of the lights, and those controls worked 100% in both apps. However, the voice control Alexa skill for the Nanoleaf Smarter Series never worked, a very common circumstance according to a high percentage of the online reviews for connecting Nanoleaf to Alexa. On the other hand, voice control using Hey Google worked just fine to activate Scenes, control the brightness, and power on or off.
And for using the Lines Squared with old-fashioned physical controls rather than apps and AI-assisted voice control, every Nanoleaf base system includes physical buttons. In the case of Lines Squared, there is one Controller Cap connector with buttons for powering on/off, cycling through the saved lighting Scenes, brightness, a shuffle button for launching a random Scene, and a music visualizer button.
Combining Lines Squared with other Nanoleaf arrays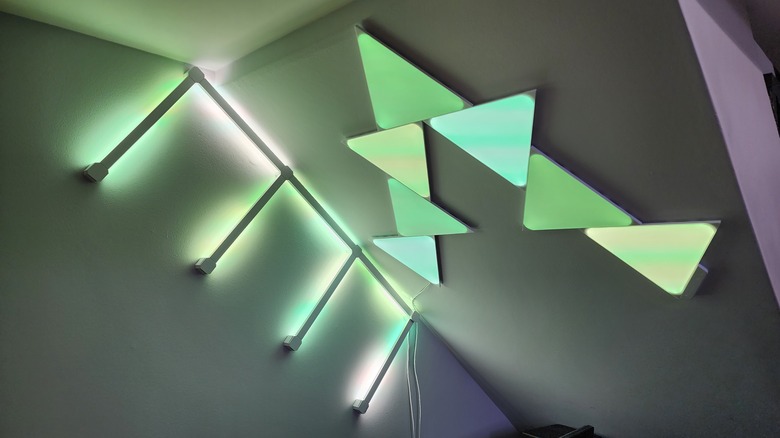 Markkus Rovito/SlashGear
To get a broader sense of how the Nanoleaf lighting ecosystem works, I also tested a Nanoleaf Shapes Triangles Smarter Kit ($199.99) with seven light panels. Everything with the Shapes system works essentially the same as the Lines Squared system, from the adhesive-backed wall installation to the Wi-Fi pairing and app-based operation.
Combining different Nanoleaf products lets you experiment with different wall designs and also lets you sync their operation together within the mobile or desktop apps. I created a Room in the software including both the Lines Squared and Shapes devices, and from there it was easy to use them both in tandem with the same Scene or Screen Mirroring mode. They synced together perfectly in terms of color distribution and motion when using animated or audio-responsive Scenes.
Should you desire, you could create multiple Rooms using as many Nanoleaf devices as you like, including the Nanoleaf Essentials Bulbs and Lightstrips, which are a lower-priced way to add to your setup. This is where the Sonos speaker analogy applies again because if you catch the Nanoleaf bug, you can create a multi-room lighting system for your whole home, controllable from a single app and either synced together or operating independently.
Nanoleaf Lines Squared verdict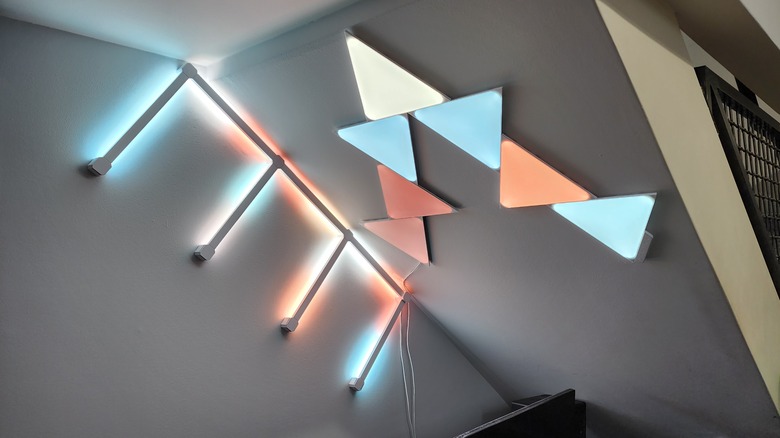 Markkus Rovito/SlashGear
In comparison to the previous Nanoleaf Lines light bars, there's nothing extraordinarily special about the Lines Squared. They work the same as the Lines but can now connect at 90-degree angles rather than 60- or 120-degree angles. The larger story is more about the growing Nanoleaf ecosystem. The addition of the Lines Squared to that ecosystem expands the possibilities to combine both the Lines and Lines Squared light bars to achieve a huge variety of previously unavailable shapes.
As of November 7, 2022, Lines Squared products are available for pre-order as four-pack Lines Squared Smarter Kits ($99.99) and three-pack Expansion Packs ($69.99). For combining multiple Lines Squared or Lines products together, you can power 18 light bars on a single power supply and group up to 250 light bars using multiple power supplies into a single layout under the control of a single Controller Cap.
I thoroughly enjoyed both the creative aspects of the Nanoleaf Lines Squared — the arranging of the layout and the creating of Scenes — and the passive aspect of sitting back and basking in their soothing, futuristic glow. As primarily ambient lighting, the Lines Squared package is largely a luxury purchase, unless a high-class piece of flare such as this is essential to your business as a YouTube or Twitch personality. But there are also some functionally relevant uses for the lights, like if you use the scheduling feature to help gently wake you up in the morning. I placed the Nanoleaf lights above the main monitor in my home office, and they were useful at night as reading lights (using the Reading Light setting, of course), while also just looking incredibly chic when set to various slow-motion mood light settings or enhancing the beats of the evening music with one of many original or downloaded music visualizers.
If you're looking for some next-level mood lighting for your abode, I do recommend investing in products like the Nanoleaf Lines Squared that, while objectively expensive, are made to last and to be expandable and future-proof. Nanoleaf also has the most impressive home-wide lighting ecosystem in the business.