How To Auto-Sync Galaxy Watch Fitness Data With Google Fit
Samsung's latest Galaxy smartwatches run on Wear OS. Despite that, most of your fitness data is recorded and displayed by the Galaxy Wearable and Samsung Health apps instead of Google Fit. This changed recently with the introduction of Health Connect, which acts as a bridge, allowing automatic syncing between Samsung Health and Google Fit apps. Here's how to set it up.
Since its launch, the Samsung Galaxy Watch has been the leading choice for Android users, and its success stems from Google's own lack of interest in the smartwatches until recently. The situation has improved with Samsung adopting Google's Wear OS and the Pixel Watch launch. This new bridging feature also puts both Samsung and Google back in the race against Apple, which currently has the largest share in the smartwatch market.
The interplay between Google Fit and Samsung Health is easy to establish and can be accomplished in a few minutes. Once you enable sync, data can flow freely between Google Fit and Samsung Health, allowing you to use the app you prefer and free yourself from being locked into the Samsung ecosystem.
Set up Health Connect for Galaxy Watch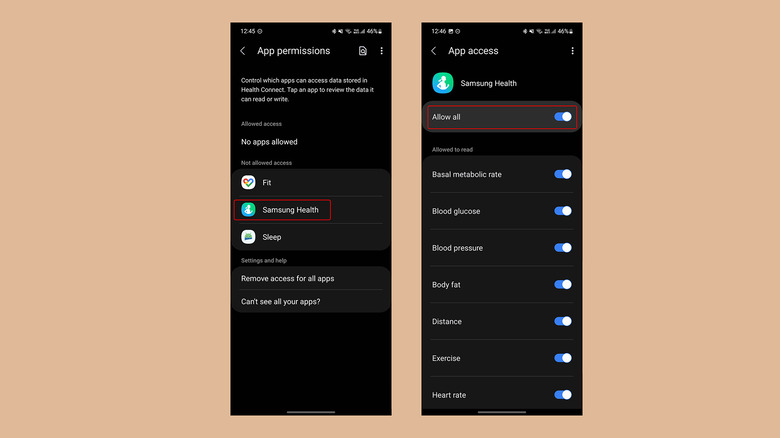 Tushar Mehta/SlashGear
The solution relies on Google's Health Connect platform, which is designed to assemble data from multiple fitness and health apps like Strava, MyFitnessPal, Adidas Running, etc., and let them sync. The Health Connect platform and API were introduced in May 2022 to allow apps to "get a holistic view of your health."
To get started, download Health Connect from the Google Play Store. If you use a Galaxy Watch, you must already have Galaxy Wearables and Samsung Health apps installed and set up on your smartphone. But if you have just begun setting up your Galaxy smartwatch and want connectivity with Google Fit from the get-go, you will have to finish setting up these two Samsung apps before proceeding further.
Now, visit to the Samsung Health app. Tap the three-dot button in the top right and then tap Settings. Scroll down to find setting options grouped under the headline "Connected apps and services." On the top of this sub-section, you will find Health Connect; tap it.
Then, tap App permissions. This will open Health Connect and display a list of apps on your smartphone that support it. Tap Samsung Health and allow all the data — such as heart rate, exercise value, weight, basal metabolic rate, etc. — to share with other apps. You can check toggles for each option or toggle Allow All to sync the data completely. 
How to sync data between Samsung Health and Google Fit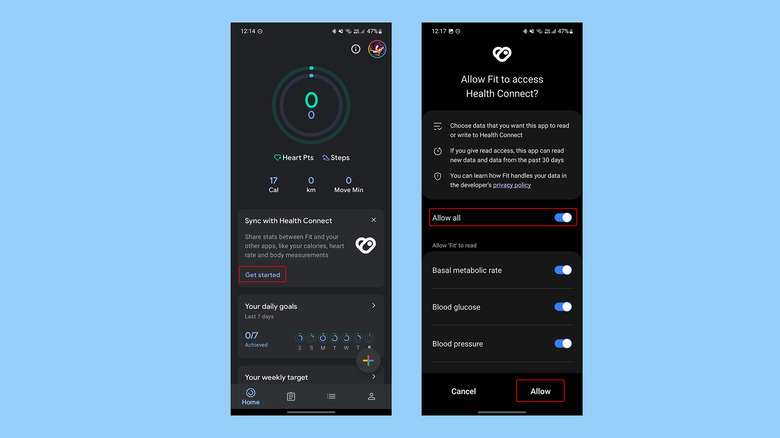 Tushar Mehta/SlashGear
Next, download and set up Google Fit. At the top, you will see a card that says Sync with Health Connect. Tap Get started to initiate the process, and then tap Set up on the next page. Then, you will see a page similar to what we saw in Health Connect above. You can either choose the data selectively or activate the toggle next to Allow all. Finally, tap Allow to successfully permit Google Fit to look at data from other fitness apps.
This method is not limited to just Samsung Health and Google Fit. It be used to integrate multiple input streams from apps for a combined view and more accurate stats. You can include community and workout challenge apps such as Strava and make the data more meaningful by viewing it alongside your daily calorie intake, which might be tracked using a separate meal tracker app such as HealthifyMe. The data could be improved further by incorporating stats about your sleep from an app, say, Sleep As Android. Overall, Health Connect feels like a platform that unites different services in the same way Android unites different smartphone manufacturers.