The Dodge Circuit EV Is The Coolest Electric Car We Wish Made Production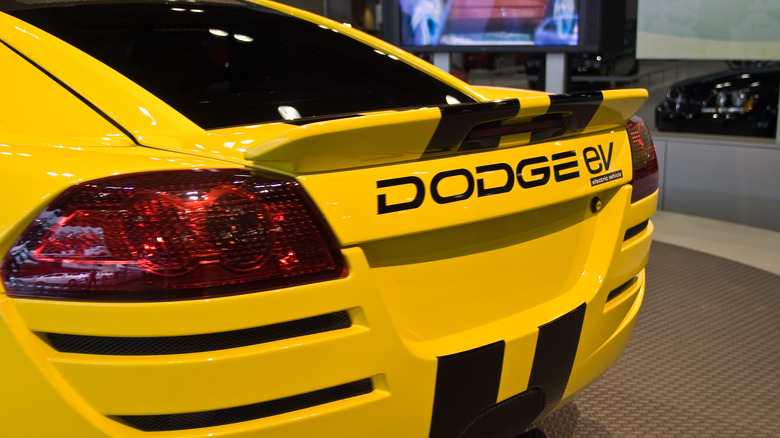 LovelaceMedia/Shutterstock
We all know that American EV maker Tesla kickstarted the move toward an all-electric revolution that is slowly unraveling before our eyes. It started with the Tesla Roadster, a Lotus Elise-based battery-electric sports car that goes from zero to 60 mph in under 4 seconds, offers 245 miles of range, has a 125 mph top speed, and had cost around $109,000 (per Britannica).
Unbeknownst to many, Dodge and the Chrysler Group had a Lotus-based EV concept that made the stands at the 2009 Detroit Auto Show. It was called the Dodge Circuit EV (or Dodge EV concept) and shared the same chassis as the first-gen Tesla Roadster. Back in the day, Chrysler established the ENVI (a mishmash of the words "Environment" and "New Vehicles") division to produce "no-compromise electric vehicles."
The plan was to have 500,000 EVs on American roads by 2013, starting with the debut of a new EV in 2010 and three more in 2013. ENVI engineers began working on an all-electric Town & Country minivan and a Jeep Patriot EV. Meanwhile, the speed freak engineers at Dodge went to Lotus and began conceptualizing the Circuit EV, an early-model electric car that would have given the Tesla Roadster some fair competition.
Dodge Circuit EV: Electric baby Viper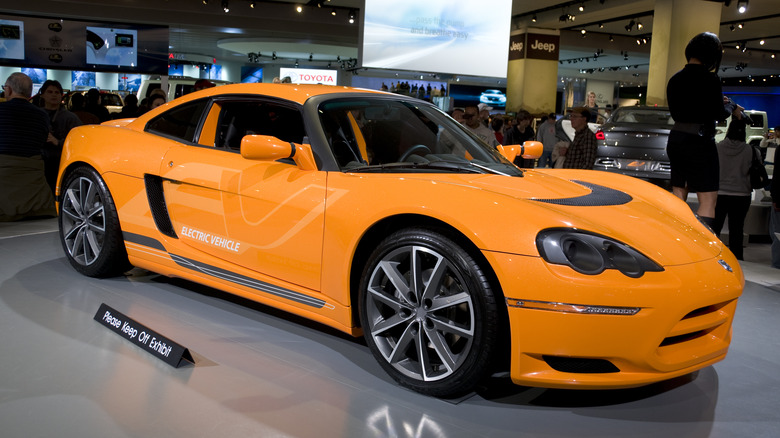 6th Gear Advertising/Shutterstock
Underneath the Dodge Circuit EV's Viper-esque body style is the architecture of a Lotus Europa S, a marginally larger and fixed-roof variant of the Lotus Elise. With that in mind, it's not wrong to call it a Tesla Roadster with a Dodge badge. Since both EVs came approximately at the same timeframe, could you imagine what could have been if Chrysler gave the green light for the production of Dodge's electric sports car?
We describe the styling as the result of a wild night of partying between a Dodge Viper and a Lotus Europa, but it's more than just eye candy. Dodge got rid of the Europa's GM-sourced 2.0-liter inline four-cylinder engine and six-speed manual gearbox to shoehorn a DC permanent magnet electric motor, an 8.3:1 planetary reduction gearset, and a 10-module 35 kWh lithium-ion battery pack (per MotorTrend).
Packing a healthy 268 horsepower and 295 lb-ft of torque, Dodge claims zero to 60 mph in under five seconds and a quarter-mile run in about 13 seconds. In addition, the Circuit EV's lithium-ion batteries deliver 150 to 200 miles of range. But then again, DC fast charging was not yet a thing, so the batteries needed anywhere from 90 minutes to 12 hours of replenishment (per Car and Driver).
It may be an EV, but the Dodge EV Concept had analog face gauges, a premium audio system, a leather-wrapped cabin, air conditioning, power windows, and a modern (at the time) digital display. In 2009, Fiat bought Chrysler, and the ENVI division went in the dumpster along with the Circuit EV concept. Chrysler's now playing catch-up with its Airflow EV Concept, but it would have gotten a wide lead over legacy automakers with the Dodge Circuit EV, one of the coolest EVs we wish made it to commercial production.