VW Jetta GLI Performance Concept Puts Golf In The Shadow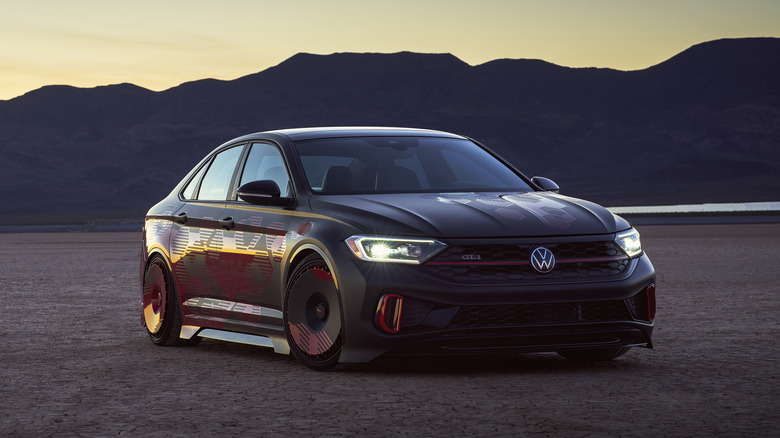 Volkswagen
The Specialty Equipment Market Association Show, otherwise known as SEMA in Las Vegas, is where aftermarket car parts manufacturers show off all the wild parts and kits it has come up with over the year. Companies will often show off ludicrous vehicle builds to debut new parts. SEMA builds stand out because the cars often don't have to be street-legal, and their only job is to show off and attract as much attention as possible. 
Automakers themselves often take part in the festivities to announce new concept cars and hot-rodded versions of already existing cars. Volkswagen is no exception. This year, VW's best offering has humble underpinnings. It's not a heavily modded Golf GTI outfitted for street racing, a lifted Atlas rock crawler covered in all manner of light bars and winches, or a new EV with a ridiculous battery range. It's something else entirely: a Jetta built for speed and performance.
A motorsport-inspired Super Jetta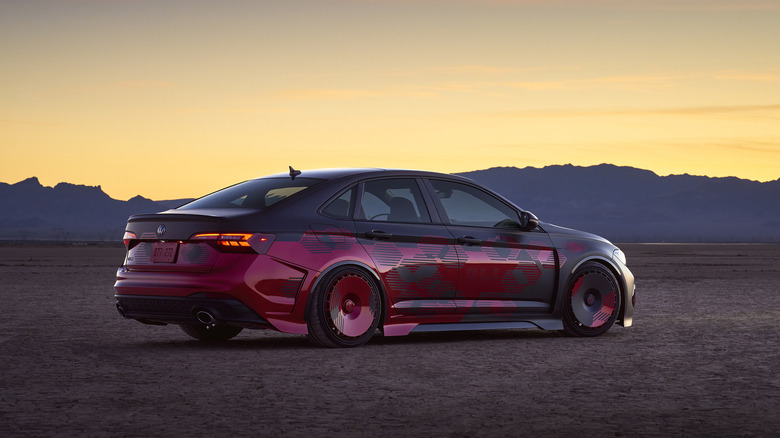 Volkswagen
On the outside, the Jetta GLI Performance Concept looks like the world's meanest VW, a title formerly worn by the Golf GTI and its numerous variations. The concept wears an entirely custom wide body kit and sits on 20-inch Rotiform wheels. Under the hood, the Super Jetta sports a souped-up drivetrain, provided by RacingLine, that throws out 350 horsepower and 372 pound-feet of torque, according to a VW press release. All that horsepower won't be of much use if the car can't stop. That feat is accomplished by new carbon ceramic brake rotors with a frankly insane 15-inch diameter.
Reto Brun, the Senior Director of VW's Design Center in California explained the design ethos behind the concept: "The Jetta GLI concept was an opportunity for our team to draw from our passion for motorsports and create a vision that is even more expressive and exciting than the production vehicle already is."
It's never a bad thing when automakers show off wild new concept cars with a litany of new speed parts and bolt-on performance mods. But it raises a few eyebrows that VW went with the Jetta instead of its performance icon, the Golf GTI. Nevertheless, the Jetta Concept puts any performance-minded Golf to shame with its wild-eyed styling and ridiculous body kit. The UberJetta and a few other VW concepts will be on display at the SEMA show through November 4th.