Why This New Generation Of DeLorean Is Such A Big Deal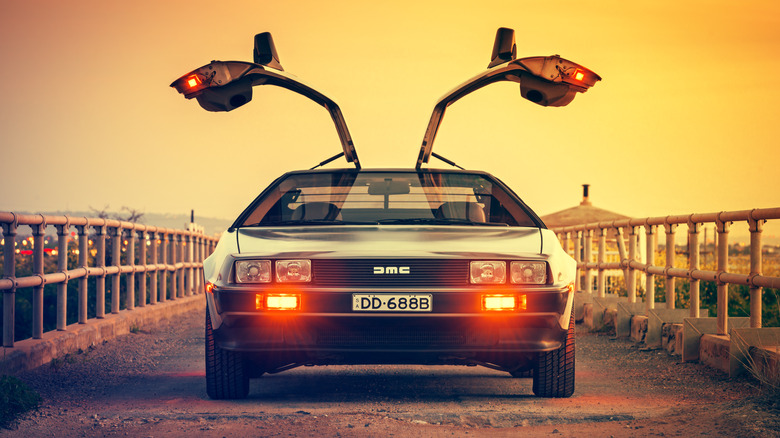 myphotobank.com.au/Shutterstock
The iconic DeLorean car that became famous thanks to the "Back to the Future" franchise is making a comeback. Does that sound familiar? It should. We've already talked about this before quite recently ... but this is a whole new DeLorean, and it's not even made by the same company. Don't worry if you're confused — we'll get to the bottom of it.
First, let's circle back to the DeLorean that was announced earlier in 2022. Made by the DeLorean Motor Company, the DeLorean Alpha 5 is an electric vehicle that utilizes both the DeLorean name and the unforgettable gullwing doors to revamp the gem from the 1980s. However, this is not the vehicle that has just made a splash all over the news following a big announcement made by someone entirely unaffiliated with the DeLorean Motor Company.
There's now a second DeLorean-branded player in the car arena. Who is it and what are they doing? They're releasing their own version of the car, and this is a big deal because of the person who is spearheading the project.
Kat DeLorean is taking us back to the future
The original ill-fated DeLorean Motor Company was founded by John DeLorean. The company was responsible for vehicles such as the Pontiac Firebird, but it's perhaps best known for the DMC DeLorean we've all seen in "Back to the Future." Unfortunately, the company, as well as its owner, fell into trouble and had to file for bankruptcy in 1984. The brand, although unaffiliated with the DeLorean family, was recently resurrected by the Texas-based DeLorean Motor Company which has created a four-seat Alpha5 car under the DeLorean name, having acquired the trademarks needed to do so.
Now, John DeLorean's daughter Kat is starting her own company, titled DeLorean Next-Generation Motors (DNG Motors), and the goal is to build a sports car. Completely unconnected to the DeLorean Motor Company, Kat DeLorean's new venture is just building its foundations. DeLorean herself has said that she doesn't approve of the other DeLorean company, saying, "DMC is not 40 years old and not associated with the DeLorean Family or my father's ongoing legacy." 
The vehicle that DNG Motors is aiming to build is going to be called the Model-JZD, named in tribute to John Z. DeLorean. The company has released the first images of its upcoming car and it seems to be in the early stages of development. "This company isn't here to make money, remember that's not my dream. These cars will fund dreams, your dreams, your children's dreams [sic]. The more success we find with our model JZD the more engineering programs and parks we fund," said Kat DeLorean on her Instagram.