Acura Gave The New Integra To Three Top Tuners: Here's What They Made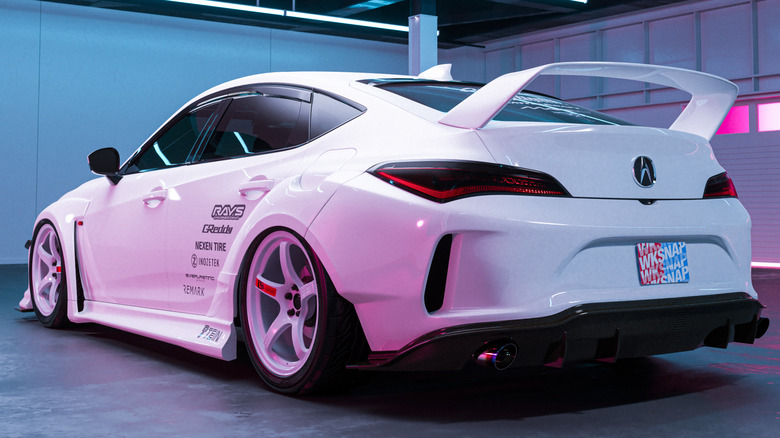 Acura
Historically, the Acura Integra has been one of the go-to cars for tuners and car modders alike. Models from previous generations were utilized as a blank canvas on which enterprising car performance enthusiasts could turn the Integra into basically whatever they wanted. Legendary Honda reliability and parts availability made the Integra a vital part of the tuning community ever since the late 1980s when the model was first available. 
Acura hopes to continue that tradition with the newest iteration of the Integra. While the new Integra may not be as dead simple to work on as a model from over 30 years ago, the car's clean lines and generally minimal exterior offer more than enough creative potential for anyone willing to put in some elbow grease. Today, Acura announced that it handed off new Integras to three of the best tuners out there and told them to go nuts and build the tuner car of their dreams. 
The new Acura's tuning potential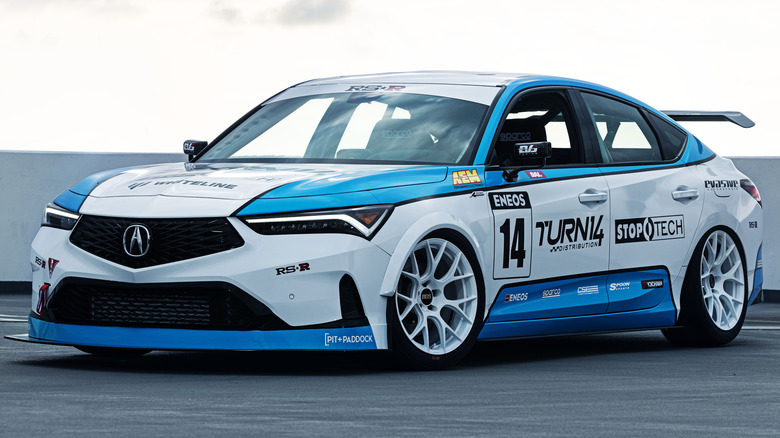 Acura
Daijiro "Dai" Yoshihara has won races at not only Pikes Peak, but the Formula Drift champion and countless other competitions. California-based shop Evasive Motorsports took his Integra and completely overhauled it into a racing monster; it has a roll cage, suspension that's fully adjustable for whatever the track throws at it, and a whole host of aerodynamic upgrades. The car also sports an upgraded intercooler system, exhaust, and giant brakes.
Sara Choi was the next builder given an Integra to work with. She has been working with cars since she was a teenager, and her Integra took a more artistic approach. Among the host of suspension and performance upgrades, her Tony Star Performance built Integra sports a body kit that Choi herself had a major part in designing. The exterior hosts a clean gloss white wrap to give the Acura a futuristic, yet minimalist look. 
Automakers celebrating tuning culture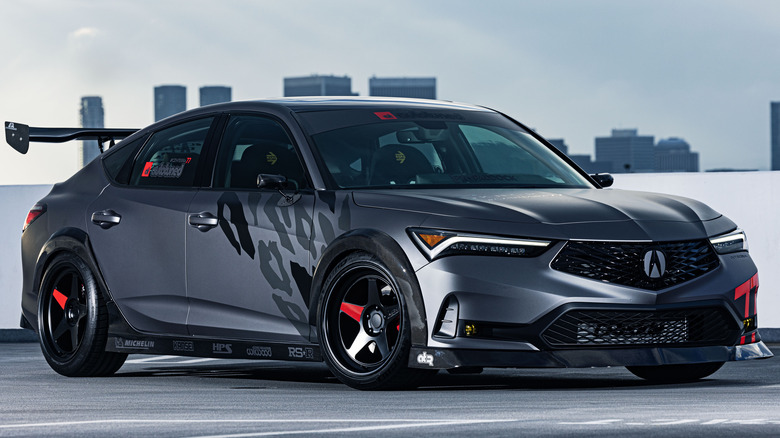 Acura
Next, Acura handed off an Integra to Chilean BMX athlete Coco Zarita. His Integra looks straight out of a Batman comic. Tuning shop Autotuned built his specific car and is clad in a Gotham Gray wrap. His Acura has a bike rack, a huge spoiler, and an aggressive body kit sitting on a full custom suspension. In the engine bay, Integra's engine breaths through a new cold air intake and intercooler system.
All of these cars can be seen in person at the SEMA event on November 1 to 4, Radwood in Los Angeles on November 19, and at the Acura Grand Prix of Long Beach next April. If these tuned Integras are any indication of Acura's intentions with the 2023 model. The brand wants old Acura fans to relive the golden years of car tuning in the '80s and '90s, but also attract a whole new generation of tuners. While it may seem scary to start cutting into a car that starts at over $30,000, it should warm any auto enthusiast's heart that a major automaker not only acknowledges the tuning scene but actively encourages and celebrates it.