2022 BMW X3 M Competition Review: Bavarian Beefcake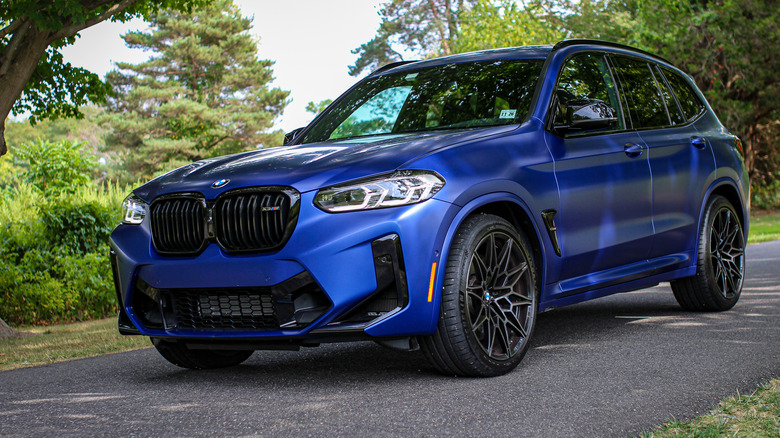 Alex Kalogiannis/SlashGear
It's an oft-repeated observation (by me) that performance SUVs are attempts at having it all with no compromise: a sports car that's also a luxury shuttle that's also-also a daily-driven utilitarian work horse that's also-also-also off-road capable. To hear one describe such a thing smacks of Homer Simpson designing his contradictory dream car; powerful like a gorilla, yet soft and yielding like a Nerf ball.
Back here in meat-space, automakers have risen to the challenge to meet this once-outlandish confluence of opposing desires, to varying results. Some stretch the limits of capability more than others and, while some endeavor to truly do it all, manufacturers like BMW know to play to their strengths. Since the turn of the Willennium, the Bavarian sport-luxury brand knew that its customers craved performance over all else, and has been thoroughly successful ever since in imbuing its larger vehicles with its signature style of performance. 
The 2022 X3 M Competition continues the trend as it acts as an enthusiastic, tightly wound companion with boundless energy and playful exuberance. As far as cars go, the X3 M Competition makes for a pretty decent pet, but does that translate to success?
Pug life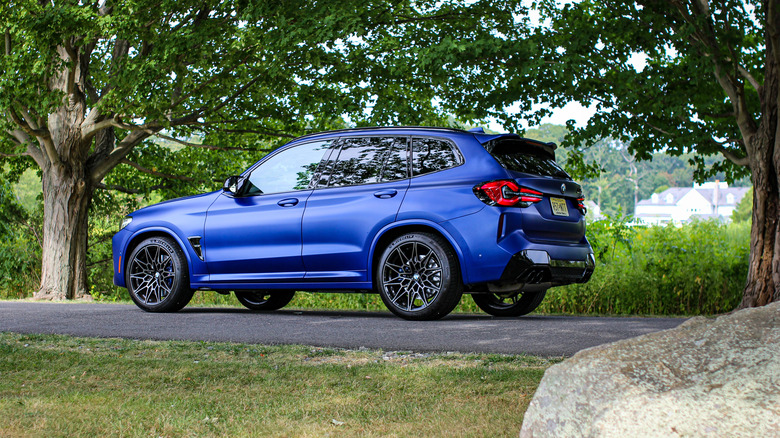 Alex Kalogiannis/SlashGear
The X3 M Competition is the first in a line of four SUVs BMW blessed by touch of its M performance division. It's saddled with a 3.0-liter twin turbo 6-cylinder engine that initially delivers 473 horsepower and 442 pound-feet of torque, but the "Competition" part bumps the output up to 503 horsepower. Its sent to all four wheels by way of an 8-speed automatic gearbox and distributed by Bimmer's xDrive AWD system.
Along with the power bump, the Competition package further boosts the already M-ed out X3 with even more sportier bits such as unique 21-inch wheels, smoked-out elements like the kidney grille frame, dual tailpipes and an exclusive beige and black leather interior. These darker elements pair well with the palette of available exterior colors, but really pop with the individual matte or "frozen" versions, like Frozen Marina Bay Blue metallic, though the frosting process seems to be a costly one. Glossy Marina Bay Blue? $650. Frozen? $4,500. It's up to you if it's worth it or if you should just... let it go.
Overall, the X3 M's look is taught and aggressive, though relatively conservative when compared to BMW's current eccentric design language. Beyond the proportionate kidney grille is a multifaceted facia and headlamps that sport a sharp light signature with its LED running lamps. Sunk-in sides and a stylish pair of tail lamps round out a package that makes a statement without challenging anyone's style sensibilities.
Gestures wildly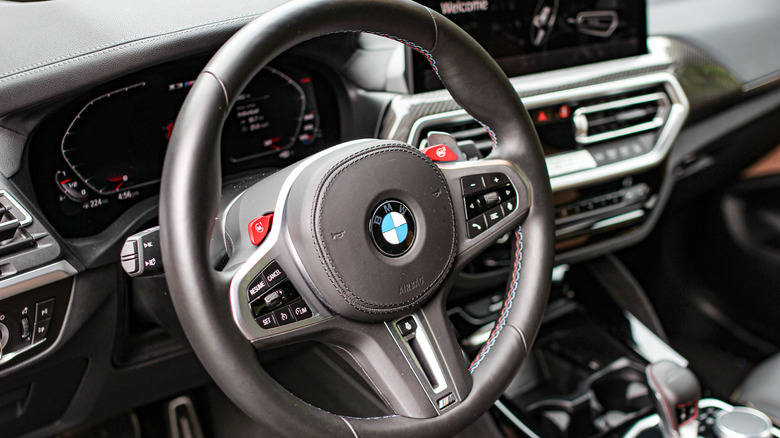 Alex Kalogiannis/SlashGear
On the inside, the X3 M sports quilted M sport seats meant to hold the driver in place once the road ahead gets windy. With 100 cubic feet of passenger volume and 29 cubic feet of storage — the latter expanding to 63 cubic feet with the 40/20/40 split rear bench folded down — the BMW is more than suitable for daily use, either as a family vehicle or a chore workhorse. The cabin is replete with premium touch points such as a leather dashboard and a leather-wrapped steering wheel which, naturally, wears the BMW M-brand colors as its stitching. Metal accents pop amongst the carbon fiber panels as well as the smattering of piano black plastic.
The centerpiece is the 12.3-inch touchscreen that's powered by BMW's iDrive operating system. All of the car's multiple settings can be accessed through here, along with the usual navigation and entertainment, bolstered by Apple CarPlay and Android Auto compatibility. This touchscreen is supported by an input knob on the center console but an optional package also introduces gesture controls to the mix. Flick through songs, change the volume, or pause tracks by performing the appropriate gesture in front of the center console. 
Sensational senses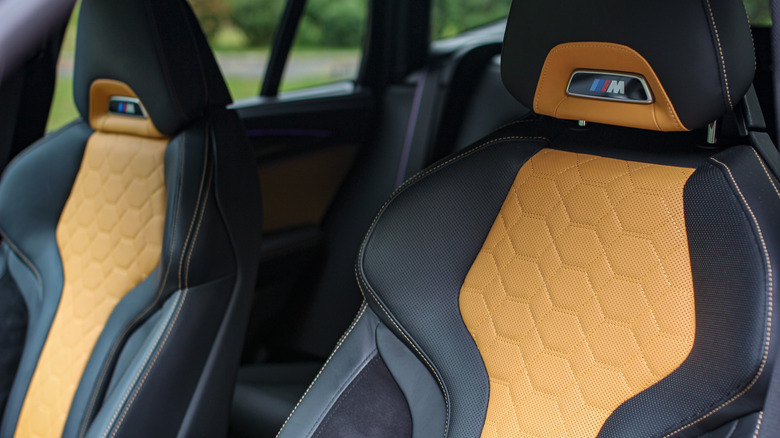 Alex Kalogiannis/SlashGear
It's meant to be an easy way to make adjustments without taking your eyes off the road, but it's far from consistent enough from being actually useful. At best, it's a fun thing to show off to friends once and then forget about until a wayward hand wave cranks the volume or hangs up a call.
Gimmicks aside, though BMW's iDrive has had some growing pains, it's fairly intuitive if a bit in-depth, particularly when trying to make certain adjustments on the go. Voice commands and a collection of physical inputs do make things manageable — this is iDrive 7, with BMW planning to pull back even more on hardware controls in iDrive 8 – and the 12.3-inch digital gauge cluster behind the wheel is a crisp window that packs a great deal of car data right within the driver's eye-line.
A driver assist package rounds out the tech in the gadget-laden bimmer, with easy to use radar-based drive assist systems to give the driver more situational awareness while taking some pressure off during traffic situations.
Making fetch happen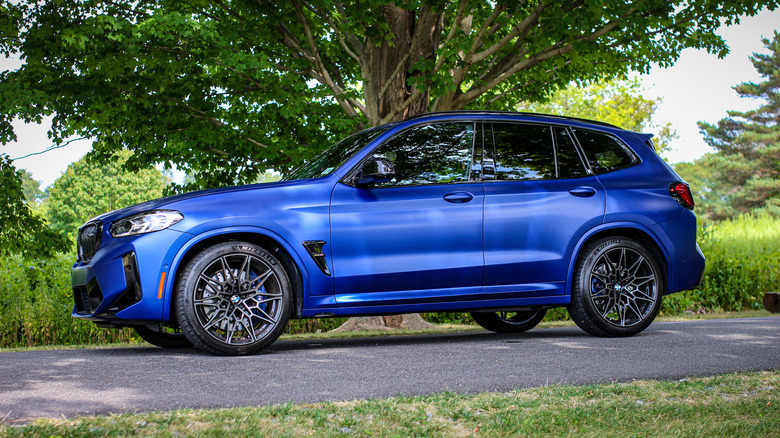 Alex Kalogiannis/SlashGear
A very enthusiastic twin-turbo inline six sits behind the X3 M's snoot, doing a satisfying job of squeezing 503 horsepower out to play with. Indeed, "play" is exactly what the BMW feels eager to do. Long stretches of highway are always tempting, as are sweeping exit ramps that beckon the car to test its grip under a heavy load. Back roads are equally tempting, particularly with the two red "M" switches on the steering wheel staring back at you, though this meatball of a bimmer does make its mass known.
The higher-up seating position inherent to its SUV design is slightly discouraging in contrast to what the vehicle feels capable of; it may feel confident to take certain turns, but that may not align with what the driver is feeling, and while it's performance is akin to a sports sedan, you feel like you're sitting on top of one. This isn't to speak ill of the M sports seats that actually do a decent job of holding driver and passengers in place, its more about how the car almost outpaces them.
That eagerness doesn't fade either when sticking to normal default cruising. Even in comfort settings the X3 M feels tightly wound up, and small inputs goad the overeager BMW. It could be smoother but thankfully the handling doesn't feel twitchy or jarring, just tight, though this is what you pay for with an M-ed out SUV. In terms of feel, it has the sprightliness to match rivals like the Alfa Romeo Stelvio Quadrifoglio but feels more nervous than the Porsche Macan does in performance settings.
Curbing appeal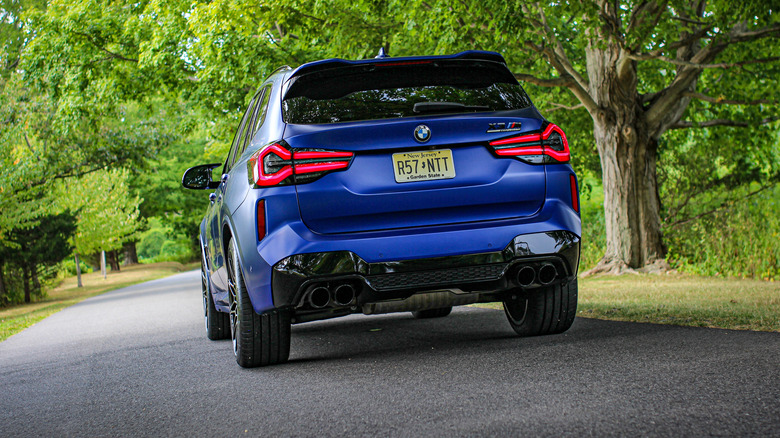 Alex Kalogiannis/SlashGear
Anyone who finds themselves in the back seats will remain fairly at ease so long as the driver doesn't test the limits of their sport seats. Three occupants can sit shoulder-to-shoulder in relative comfort while two have ample room for long journeys.
As is customary for BMWs, there are myriad ways to personalize the driving experience, through individually adjusting the drive inputs, damper stiffness and so on, along with all the other intricate ways BMW allows owners to tweak settings. Different drive modes dictate much of the X3 M's capabilities, including the ability to do some soft off-roading, but this is mainly to deal with less-than-ideal weather conditions than it is venturing off into the wilderness. Tell someone who just paid $4,500 on an exterior paint to go overlanding with their X3 M and they'll offer a multitude of short piers for your long walk.
All told, the X3 M achieves its goal of being very livable while also throwing in a heavy scoop of M Division character, though that does come at the expense of fuel economy. Even when it isn't begging to go for a run, the X3 M's fuel economy ends up averaging 17 MPG. Not unexpected, but that will do little to soften the blow come fuel-up time.
Bringing joy?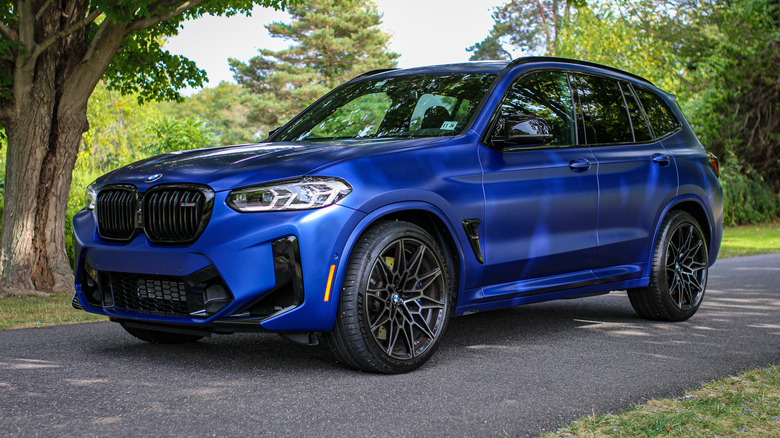 Alex Kalogiannis/SlashGear
The X3 M comes in at a very nice $69,900 base line, though this rapidly increases with the addition of the driver's package and the competition package. Both directly influence the available horsepower and top speed, which feel like begrudging must-haves for serious BMW buyers of this segment. Toss that in with the executive package of conveniences and a frosty paint job, and the BMW X3 M Competition's bottom line balloons to around $87,000.
At that point, it's fair to ask if it's worth it, not only from a perspective of having a performance SUV but as a complete package. Does it make sense to have a thirsty tightly wound-up utility vehicle as a daily driver? For most, it probably doesn't but it's hard to overlook the X3 M's charm. That playfulness and attention to detail, which to be clear, you pay a pretty penny for, still brings joy and satisfaction, though milage may vary on if it's enough to offset the wallet burn. Think of it this way: some people have dog breeds that are hefty nuggets of energy with big stupid faces that others may scoff at but some love. They don't really make sense, but when it comes to happiness, what does?