The Top 3 Most Expensive Motorcycles In Keanu Reeves' Collection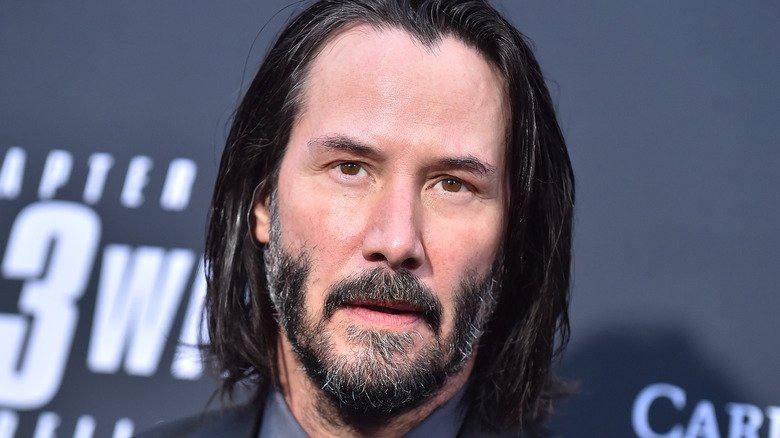 DFree/Shutterstock
Keanu Reeves is a pop culture phenomenon unto himself. The Canadian actor with over 105 acting credits to his name has bullet-timed his way through "The Matrix" films, killed demons as a DC Comics anti-hero, and rode a bus with Sandra Bullock through Los Angeles in "Speed." The last one is appropriate since one of Reeves' many hobbies focuses on speed ... the kind you can only get from riding motorcycles.
Growing up in Toronto, he would see these motorcycle gangs come into an area called Yorkville. In an interview with GQ, Reeves said, "those bikes, those people, those pirates" touched his t10-year-old brain and stayed with him as he grew older. In the summer of 1986, Reeves was filming at the Bavariafilmplatz studio in Grünwald, Germany, and saw a woman riding a Kawasaki Enduro. He asked her to give him riding lessons, and she said yes. After returning from the shoot, Reeves bought his first motorcycle, a Kawasaki 600 Enduro, which ignited his passion.
About a year later, Reeves bought his second bike, a 1973 Norton Commando 850 MK2A. The very one he rode 1,300 miles — from Toronto to Florida — with the script for "My Own Private Idaho" in hand to personally persuade River Phoenix to co-star in the film with him.
Free your mind and the Ducati will follow
Keanu Reeves is also known to buy a used motorcycle to drive to the set of whatever film he's working on when he's not at home in Southern California. He usually sells it when the film is done, but not always. "I've had four or five bikes from that — well, maybe six or seven," Reeves said during an interview with Red Bull.
His collection seems to be ever-changing, and while it's not a what's what of the world's best bikes, it's certainly not without some high-dollar models. The top three most expensive motorcycles in his collection are a custom chopper, a special edition Ducati, and a bike made by his company.
Valued at around $20,000, the "special Matrix green" Ducati 998 has a special place in his collection since his co-star, Carrie-Anne Moss, specifically learned to ride it for the film. In fact, she had never ridden one before, and the Ducati Reeves has in his collection is the actual film-used bike. When "The Matrix Reloaded" was released in 2003, the response to the motorcycle was so overwhelming that Ducati made a 998 Matrix Reloaded Edition for release in 2004. This special edition came with "Matrix Reloaded" graphics, gold clutch and brake levers, gold knobs on the forks, a silver-tinted windscreen, and a Termignoni exhaust system. The bike is powered by a 998cc, V-twin engine, kicking out 123 horsepower and 72 lb-ft of torque.
The devil is in the really expensive details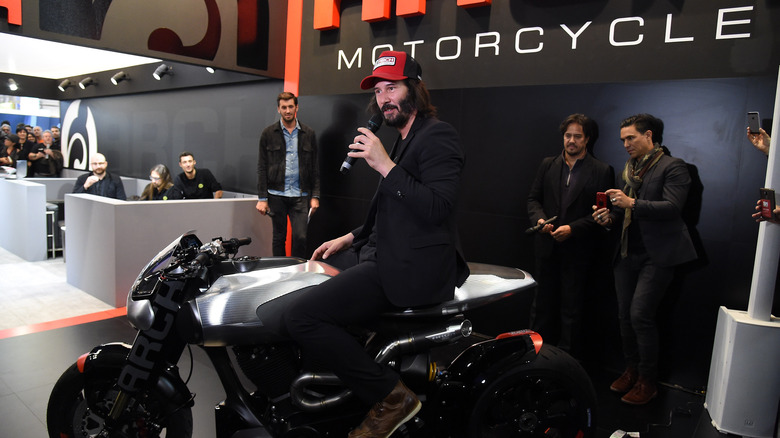 Pier Marco Tacca/Getty Images
The next bike on the list is from Keanu Reeves' ARCH Motorcycle Company. In 2011, Reeves co-founded the high-end custom bike maker with Gard Hollinger, now considered amongst the best American motorcycles being made today. Arch makes over 200 billet aluminum parts for its bikes but also incorporates components from other companies, like front suspension parts from Öhlins, carbon wheels from BST, and engines from S&S Cycle in Wisconsin. Since each bike is custom-made, every seat is explicitly tailored to the individual (via GQ). Reeves has a 2019 ARCH KRGT-1 with an S&S 124ci V-Twin engine estimated to be worth $85,000 (via The Richest).
Last but not least is the El Diablo, a unique custom bike made by Jesse James of West Coast Chopper fame. Costing approximately $150,000 according to the Richest, the black chopper has a one-off gas tank showing the company's famous iron cross logo engraved by Tay Herrera. The original El Diablo galloped at 225 HP with 428 lb-ft of torque. 
All these bikes help keep Reeves from going through "withdrawal" as he calls it. According to Reeves, riding is "a great place to think, to feel, to get away" (via GQ).