Schwinn Coston CE E-Bike Review: A Double-Edged Sword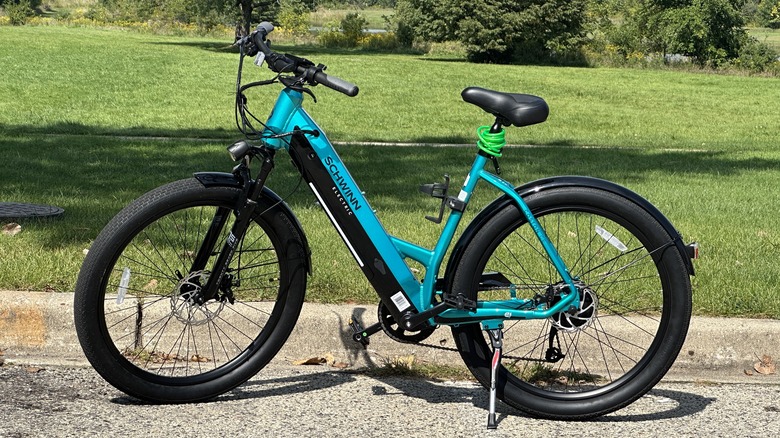 Adam Doud/SlashGear
When you think about EVs, you probably (rightly) think of cars. But there's another class of EV that might have slipped below your radar, but which has transformed my summer in very unexpected ways. Of course, if you read the headline, you know I'm talking about electric bikes, and I've had the opportunity to test out Schwinn's Coston CE electric bike for the past three weeks (and an older model before that). The bike was provided by Schwinn for the purposes of the review.
What makes me excited about the bike is the possibilities that it opens up, but like a lot of aspects of this bike, it's something of a double-edged sword. Electric bikes are a ton of fun and I've had a great time this summer riding them. As an avid cyclist who commuted to and from the train for years in the past, I see e-bikes as a very reasonable step forward in commuting. 
On the other hand, in the time I've had an e-bike, I have barely touched my poor Trek bike. E-biking is very powerful and addictive, and it has ruined traditional cycling for me, and I can't decide if that's a good thing. So, while my doctor, my therapist, and I all unpack that, this is my full review of the Coston CE e-bike from Schwinn.
Game changing technology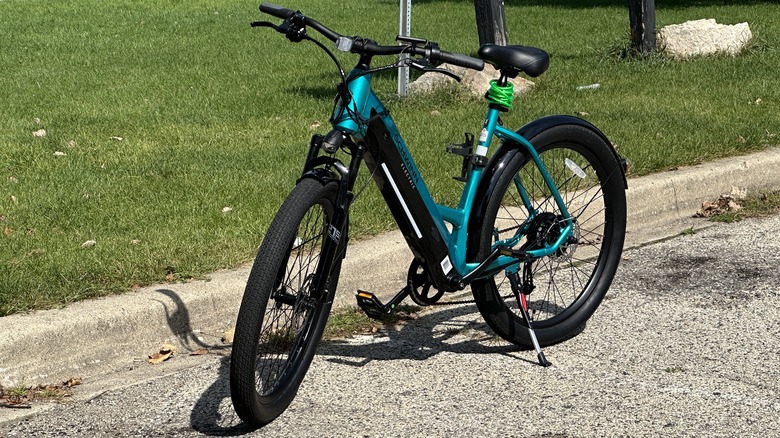 Adam Doud/SlashGear
Before we get into the e-bike itself, I want to take a moment to talk about e-bike ownership and what it has meant for me. I mentioned the shunning of my trusty Trek bike in lieu of my e-bikes this summer, but the reason for that has been life-changing for me. I've been using an electric bike and a shoulder bag for most of my shopping "can you grab me XYZ from Target" runs. 
When you're a parent of two who works from home, this sort of quick trip to the store can happen fairly often. Normally, I'd hop in my car and zip down to the store, but this summer, I was able to stop using my car and start using my bike for almost everything.
Once I rigged up my kids' old trailer into a cargo trailer, I could transport even more from the grocery store. Suddenly I was spending hours if not days less time in my car, and more on a bike. I won't pretend that exercise was a factor here — the e-bike does 95% of the work for you — but I'll argue with any doctor that some peddling is better than sitting on my butt in a car. 
So, if you commute, or you frequently run errands, an e-bike can save you a lot of gas, and get you outside more. So now that we've waxed philosophic about e-bikes, let's get to the Coston CE.
Built like a tank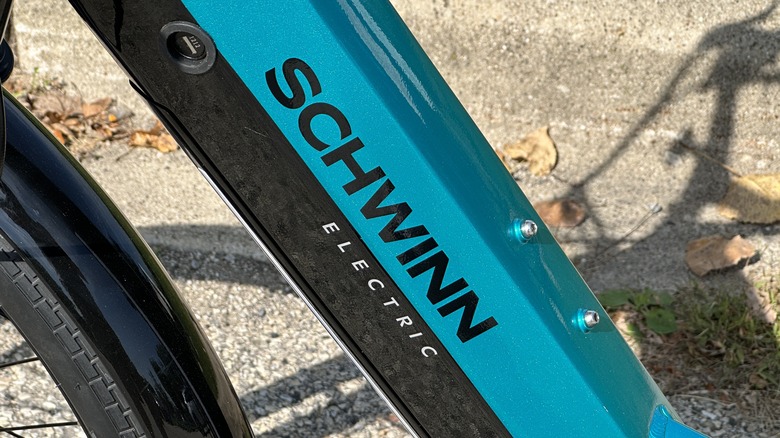 Adam Doud/SlashGear
The first thing you'll notice about the Coston CE e-bike is that is built like a tank, which is both good and bad. It's good because everything on the bike feels solid and borderline rugged. The downside is this bike feels about as heavy as a light-armored vehicle. The bike tops out at around 57 pounds, which is tank-like in the biking world. By comparison, my poor, neglected Trek bike weighs around 25 pounds. That's a big difference when you're picking up the bike to turn it around or put it on a car rack.
Of course, some of that weight is in the 288-watt battery which Schwinn adversities as being good for up to 35 miles of range. We'll get into the range in a moment, but the rest of the bike is fairly standard fare for any bike. You get a 7-speed gear system on the rear wheel with a single gear on the front. The shifter is on the right handlebar opposite the LED display for the motor on the left.
As reviewed, the bike didn't have much in the way of storage, but other models have a rear rack and even storage in the seat. Speaking of the seat, it's not the most comfortable I've ridden on, but that's easy enough to replace with a third-party seat if you like.
Zoom, zoom, zoom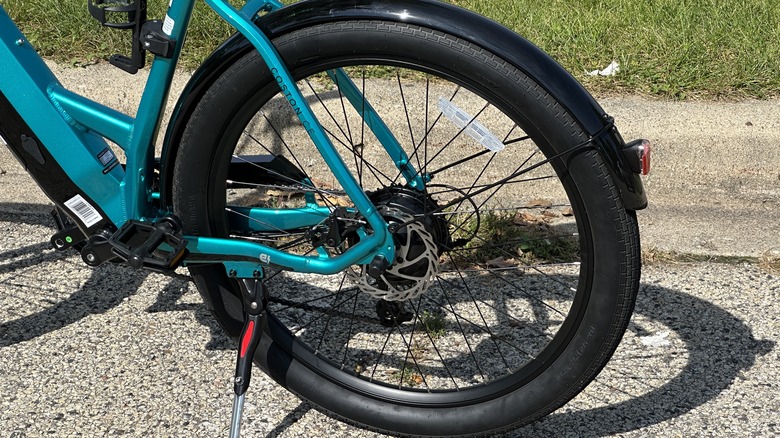 Adam Doud/SlashGear
Of course, the premier feature of this e-bike is the "e" part. The bike is driven by a 250-watt motor. This is a class 1/class 2 e-bike in that it can be a pedal-assist bike up to 20 mph or you can use a dedicated throttle lever without pedaling. You will want to check your local regulations to find out what is legal in your area. Most places are fine with class 1 e-bikes, but different municipalities have different rules pertaining to class 2 and above.
I mostly used the motor in pedal-assist mode, though I will cover the throttle in the next section. The motor on this bike is very aggressive in that is starts up quickly with even the slightest movement of the pedal, and it goes hard. When riding with level 5 assistance my pedals were free-spinning most of the time even on the highest gear. The motion of the pedal is necessary to engage the motor in pedal-assist mode, but I rarely felt like I was assisting the motor except on the steepest hills and that was only when I was in the highest gear.
Overall, I think Schwinn needs to better balance its approach when it comes to the motor and how hard it pushes, especially when it has a full charge.
Throttle away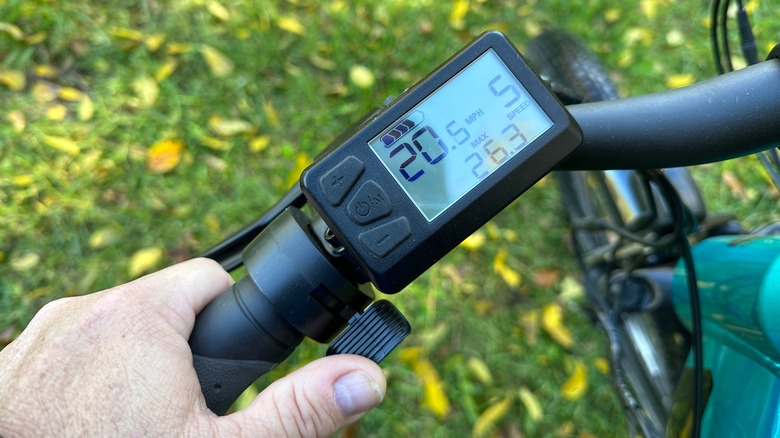 Adam Doud/SlashGear
If you're using an e-bike to commute or run errands, or if it's a particularly hot day, the throttle might be a better way to go. The throttle is a thumb lever on the left side of the bike, next to the LED panel. It has about an inch of travel between off and full, and you can push the throttle part way down or all the way down. Obviously, full throttle is the easiest to maintain.
At level 5, the throttle propels you up to 20 miles per hour and disengages if you go faster than that (for example, if you go downhill). Class 2 e-bikes are required to stop assistance past 20 miles per hour. Level 1 throttle tops out at around 10 mph while level 5 will give you the full 20 mph.
We will talk more about range in the next section, but I found the useful throttle life to be about 10 miles or about half the battery. After that, the power drops quite a bit. So, if you don't plan to help the motor along, and you're a big guy like me, you'll get 10 useful miles before you need to think about plugging in.
Control panel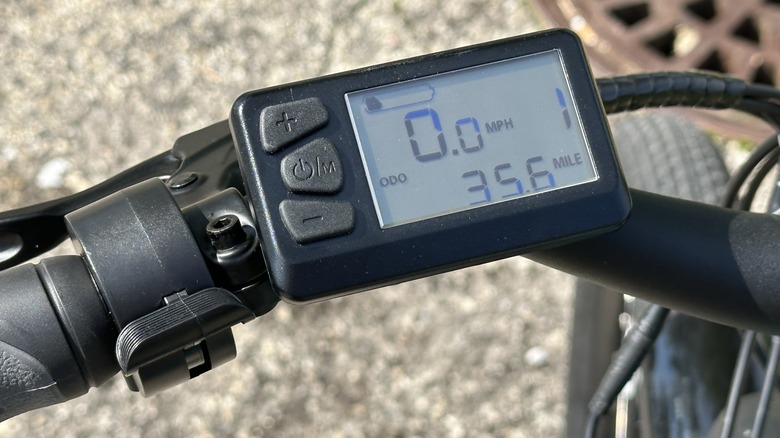 Adam Doud/SlashGear
The Coston e-bike is controlled with a handlebar-mounted LED panel with three buttons on the side. The panel displays your speed and power level, plus you can cycle through other functions like an odometer, tripometer, and other stats like average speed, max speed, and total ride time.
The controller is easy to use with one thumb, which is nice. One thing I miss from previous e-bikes I've had was a range estimator that gave you an idea as to how much further you could ride at your present power level under present conditions. Such a feature is fairly inaccurate all things considered, but some estimate is better than no estimate.
The battery meter is comprised of five segments to give you an estimate of how much power you have left. I think I would prefer something a little more concrete like a numeric display, especially given the range anxiety you can get while riding this bike, but again, some indicator is better than none.
Range anxiety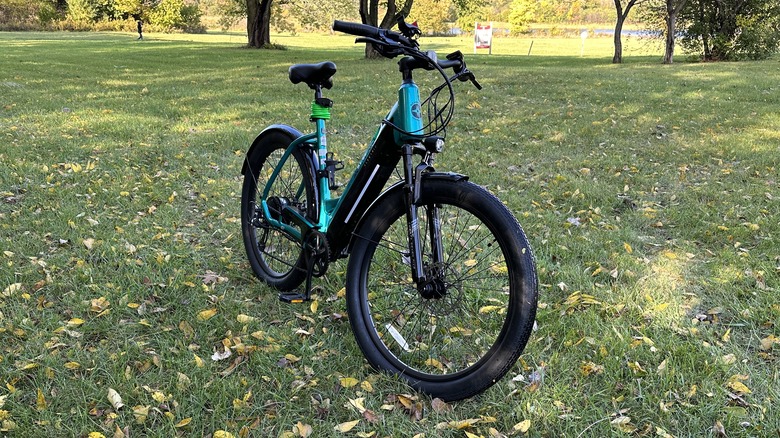 Adam Doud/SlashGear
I understand that I'm a big guy, and I'm also about 50 pounds over the maximum advertised weight for this bike. I was probably never going to get 35 miles out of this or any other bike. That being said, I also didn't get much extra range beyond 20-25 miles, even after I set the pedal-assist at level 3. In the past, the range you got depended on how much work you were willing to put into it. On my older e-bike (also a Schwinn) I get about the same 20 miles of range at level 5, but I also get closer to 40 miles at level 3.
That is not the case with this e-bike and I think it comes down to a question of power management. Even at level 3 assistance, my pedals are free spinning in 7th gear. That should not happen. In this generation of e-bike, Schwinn seems to have decided that it's going to throw as much power at the problem as it can at any given time rather than adopting a lower, longer, and more consistent power output approach. That's definitely a way to go. The only time you'll ever need to balance power output would be if you were planning on doing an entire 20 miles without charging. For commuters and people who run errands, that's not always going to be the case.
I get where Schwinn is coming from here. I don't necessarily agree with the philosophy, but I get it.
Charging up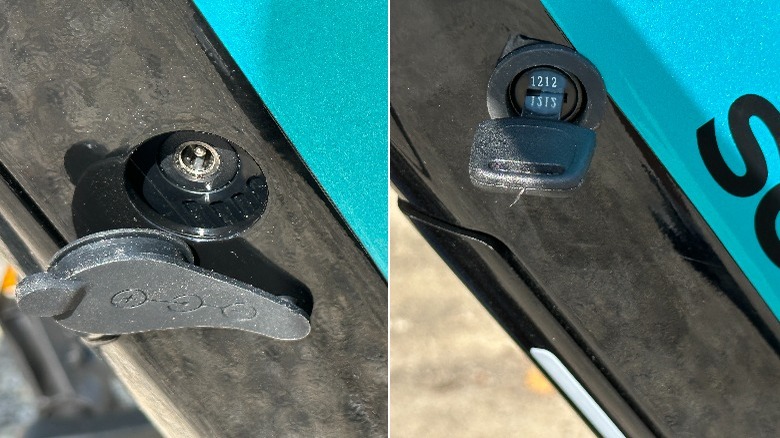 Adam Doud/SlashGear
The Coston e-bike comes with a typical brick-on-a-string charger that plugs into a normal 110v outlet. Schwinn advertises that it takes about four hours to charge. I found it was closer to 4.5 – 5 hours. You can plug the battery in while it's inside the bike, or you can use an included key to remove the battery from the bike for charging.
I found the battery removal process to be a bit tricky. The battery locks in under the frame of the bike, and the front wheel/fender tended to get in the way when removing or reinstalling the battery. One feature I liked was a secondary tab you need to retract to remove the battery. That way, when you unlock the battery it doesn't just fall out. Some thought was put into the idea there and I appreciated it.
If you leave the battery in the bike, there is a rubber port cover you need to move before plugging in the bike. This helps keep the battery dry if you get caught out in the rain.
Other bike features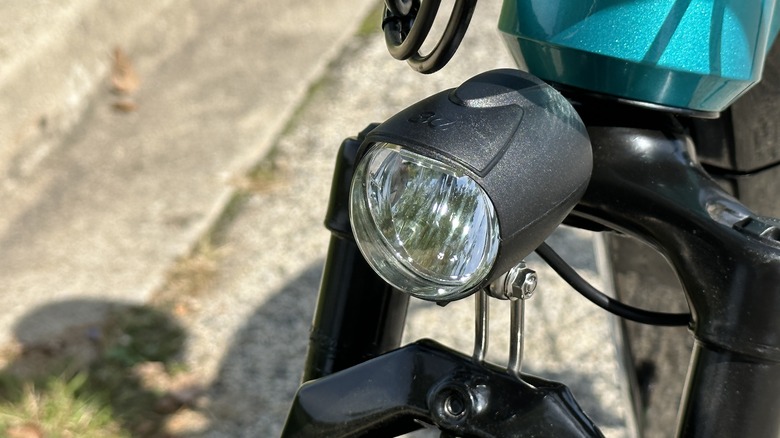 Adam Doud/SlashGear
This bike comes equipped with front, rear, and bottom lights. The front and rear lights are attached to the fenders while the bottom lights are part of the battery itself. If it's a bright night and you just want some visibility, the bottom lights work well. Otherwise, the headlight is adjustable to your preference, and the rear light is built into the fender itself.
Normally, I'm not a big fan of fenders. They add weight to an already heavy bike. In this case, the 2.6" fat tires on the bike have a tendency to grab and throw particles from the road, so I was grateful to have them. Indeed, they saved me a lot of grief when I got onto gravel pathways and when it rained.
The included kickstand is also nice because it mounts near the back wheel so it doesn't get in the way when you need to back the bike up while the kickstand is down. Anyone who has tried to back up a bike while the pedals are locked with the kickstand will appreciate what I'm talking about.
Wrapping it up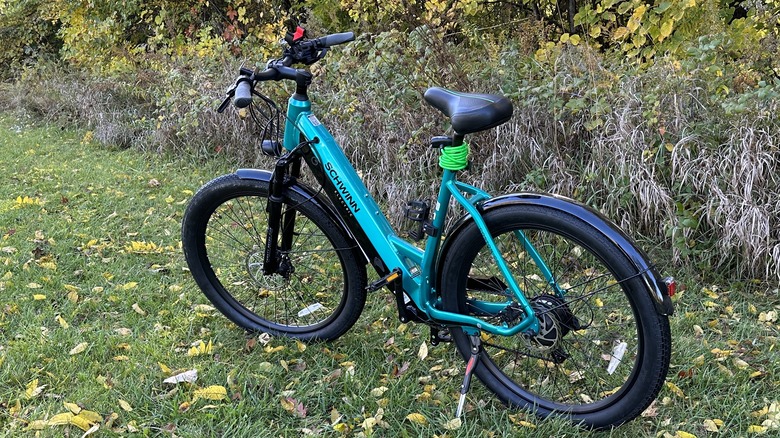 Adam Doud/SlashGear
Overall, given the fundamental shift I have seen in my personal bike riding habits this past summer, I very much enjoy having an e-bike. The Coston e-bike is a good example of that in a much more approachable price range than some others. But a lot of the nicer features also have drawbacks. The bike is big and sturdy, but also super heavy. The bike is powerful but also discharges very quickly. The LED controls are nice, but also missing some functionality. It seems like every rose has a thorn.
In terms of pricing, this is not the cheapest e-bike you can buy. But it's one of the least expensive ones you can buy from a bike company. Respectfully, most of the e-bikes you find online come from companies with alphabet-soup for names that may sell just as many portable batteries as they do e-bikes. Schwinn sells bikes.
If you want a reliable e-bike to take you to and from the train without sweating through your shirt, this is a great option. If you simply want to drive less, this is a great option. I've logged over 700 miles on e-bikes including the Coston in the past four months and I barely miss my car. Even now, in October when I've normally deflated my tires and hung my bike up in the rafters, this bike is ready for the next Target run. That is definitely a step in the right direction.'
You can pick up the Coston CE at Amazon or from Schwinn's website for a price of around $1,800. Also take a peek at the TurboAnt Thunder T1 if you'd like an even beefier bike, see the Swagtron EB5 if you're looking for something compact, and maybe go ahead and avoid the Superstrata e-bike if you're looking for a comfortable ride.