Swagtron EB-5 Review: This Foldable Electric Bike Is On-Point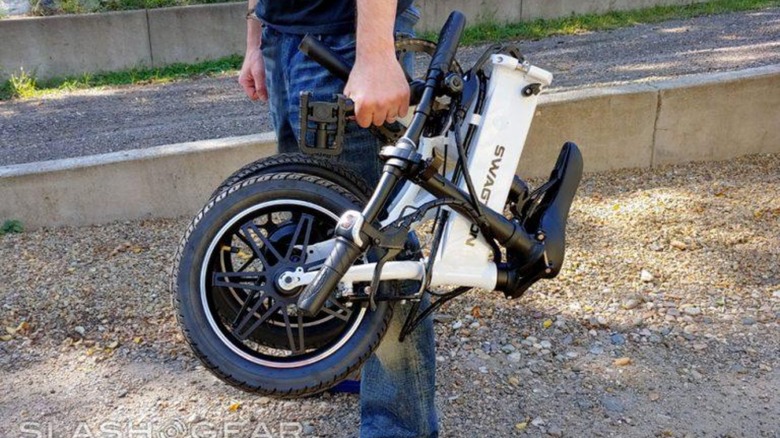 Images by Chris Burns for SlashGear
EDITORS' RATING: 9/10
The EB-5 electric bicycle might be the best bicycle I've ever ridden – and I've been riding bikes my whole life. I've never lent much credence to the idea of using a bicycle with a motor. I always thought it was a bit counter-intuitive to put gas in something that's otherwise the symbol of green living. But with the EB-5, it's all the good parts about the motorized bike, and none of the bad.
Comfort
The bike is surprisingly comfortable to ride. The bike seat is adjustable – "quite low" to "entirely too high for any reasonably sized person." The handlebars are adjustable in a couple of ways – up and down as well as 360-degrees in a twist. This 360-degree adjustment matters because the handles have a unique shape that allows wrists to rest whilst riding.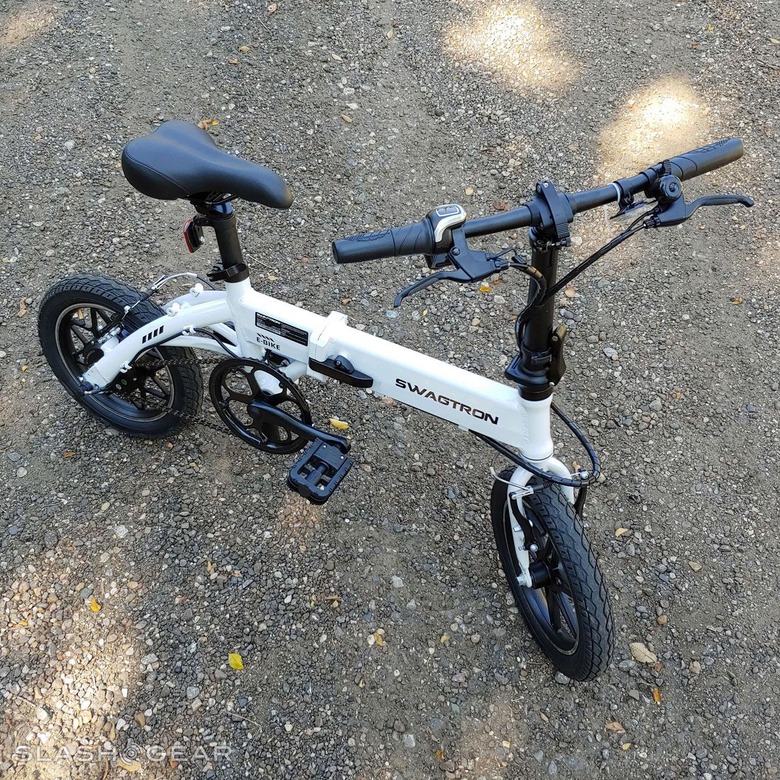 I've found the bike to be more than just sufficient for riding and traveling. Using this bike is downright enjoyable. This bike is meant to be a "campus commuter" and for that I recommend it highly. This bike is small enough to remain innocuous but powerful enough to get me from place to place with speed.
I can hear the bike engage its motor, but the sound isn't loud. This bike uses a 250-watt motor that can propel the bike up to 15.5 miles per hour. That's near but not crossing over the point at which I'd exclaim "OH GOD, I'm going too fast to avoid this squirrel!"
Control
The handlebars also have a few different controls. There's a pair of brakes – which work entirely sufficiently, front and back, regardless of the speeds I've gone down very steep hills. I'm sure there's a limit for safety, but I have not yet found it.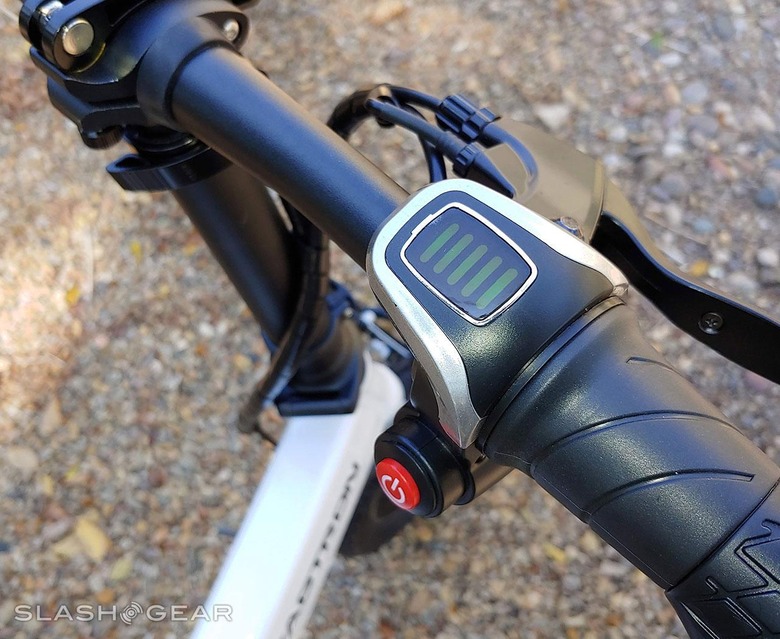 The handlebar controls also include an on-off button. It's a rather sizable button thats RED, and impossible to miss. This button turns the electric part of the bike on. Once the electric motor is activated, there are two ways to engage.
I could engage the motor with the throttle on the right-hand handlebar. This control is easy to use and not at all strenuous. The other way to engage the motor is to pedal (like you would a non-electric bike).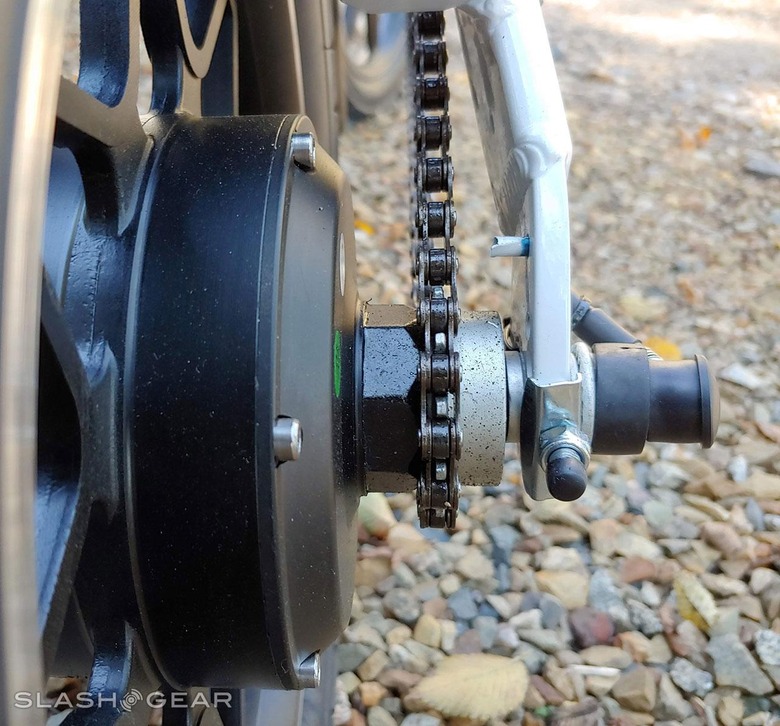 Pedaling with this bike engages the "pedal-to-go" mode. This is similar to "pedal assist" but ever-so-slightly different. Once you begin to pedal, the motor is engaged, and once you stop pedaling, the motor stops just a little over a second later. This can take some getting used to, but in the short time it took for me to get used to said process, the brakes always worked to stop the bike with relative ease.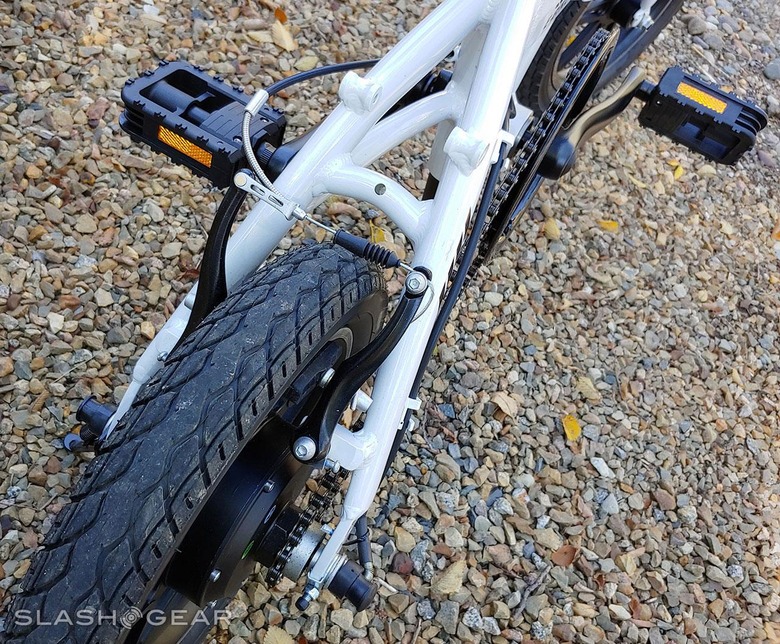 Brakes up front and brakes around back. They engage the same way they'd engage on any other bike with handlebar-based brakes.
Compactibility
If I arrived at a location where I did not want to lock the bike up outside, I could fold it up and take it with me. The bike doesn't fold down so much you can fit it in a backpack, but it DOES fold down to a smaller size than you might expect.
• Fully folded: Approximately 26 by 23.6-inches (height, width) by around 15.6-inches (wide).
This is what you're seeing in the lead image of this review – a fully folded-up EB-5. This bike folds in across its middle, its handlebars fold back, and its pedals fold up. You can make additional adjustments to the seat (if you normally ride with the seat lifted) as well – but the end result is a fairly easy to carry and convenient-to-stow package.
Power
This bike came with a US-based wall charger / power converter that plugs into the bottom of the body of the bike. There's a tiny sticker on the side of the bike pointing toward the very small port on the underside of the bike where the plug fits. There's a plug to cover up the port when not in use, too – made of rubber, water resistant too.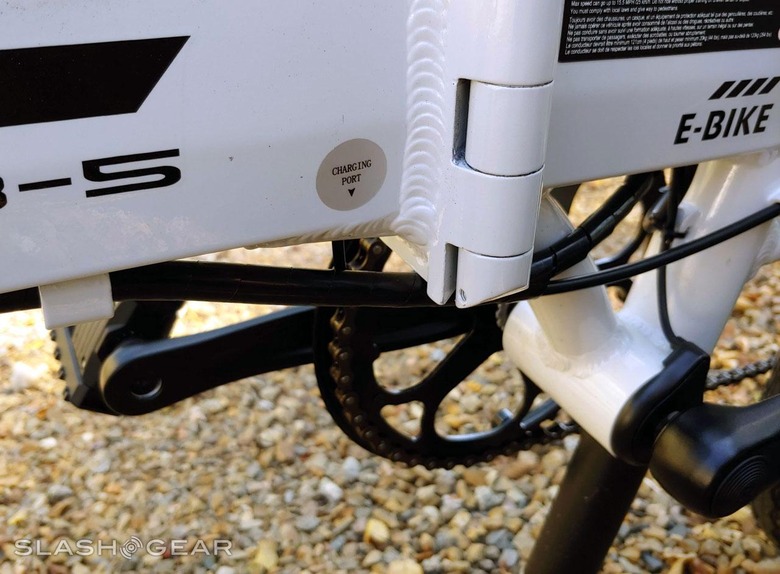 The charging process has the bike go from empty to full in just a few hours. It didn't take longer than 5 hours to charge the bike up to what appeared to be a fully topped-off battery (36V Lithium Ion battery) at any time during our review process.
Once fully charged, this bike is cited as lasting "up to 15.5 miles on a single charge or farther." That's specifically "based on transitions between power assist and pedaling," according to SWAGTRON.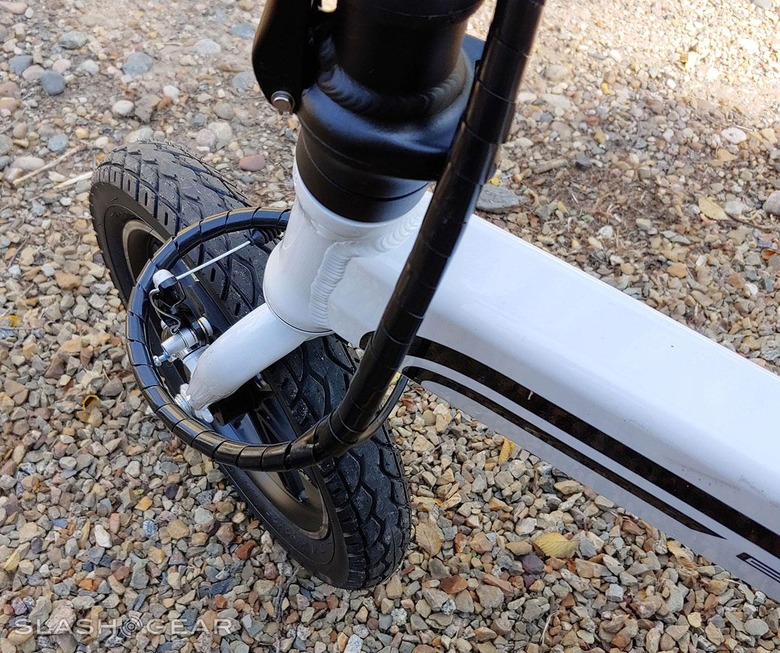 I've gotten up to around 15 miles with this bike before the green lights up near the power button are low enough that I've started pedaling full-time. Obviously if I'm switching between pedaling with pedal-assistance and using the full-throttle power assist, I can get my distance up higher – but I've not needed to in casual riding thus far.
Size
This is a compact bike, but it's not for tiny kids. It's more like a BMX-style moped sort of bike than it is a traditional bike, but it's certainly not made to do any super fancy riding tricks. And don't you DARE go over any jumps – that'd be bad news.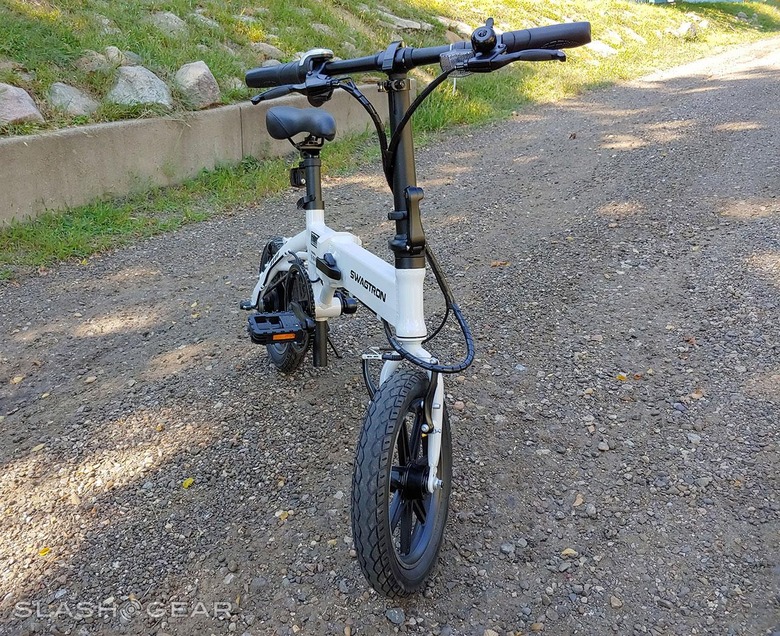 The handlebar and seat height adjust between barely-too-high for someone around the age of 7 (SEE: Safety section, below) and too-high for a person my height – I'm around 5-foot, 11-inches (give or take an inch). It's a versatile range, to be sure.
Swagtron suggests that this bike can handle riders up to 264 pounds. While people taller than myself could potentially ride this bike, I'm getting to be right around the sweet spot before there's a bit too much human being to be officially "accommodated" by this vehicle.
Note on Safety
This bike is absolutely not for tiny children. I wouldn't allow any younger family member of mine on this bike without proper gear. Even then, I don't know that I'd be comfortable with anyone under the age of 18 in control of this bike. That might be a bit extreme, but this vehicle can move at 15 miles per hour, which is PLENTY fast enough to lose control and fly into nearby traffic.
Verdict / Pricing
This electric folding bicycle changed my mind about motorized bicycles and finally, after many years of searching, gave me a stow-friendly means of transport worth its cost. This model EB-5 is not the newest model electric bike made by Swagtron, but it is clearly the best-balanced model in their electric bike collection for the elements I look for in an ideal bit of short-range transport. I look for a balance of comfort, range, compactibility (and/or stow-friendliness), power, and size. All of these elements need to balance with cost.
The SWAGTRON SWAGCYCLE EB-5 – yes, there's sometimes another "SWAG" in the title – is, at this review's publishing time, available for approximately $500 from Swagtron's online store. This bike is usually available for around $600, and can be purchased with a payment plan for "as low as $44/month." Also at the time this review is set to be published, Swagtron has the following message posted: "Due to high demand, the Swagtron EB-5 is temporarily out of stock. We are now accepting backorders, and the items will be shipped in September, 2018."
• UPDATE (Amazon listing): The bike is now on Amazon now as well. There it'll run you around $500 with free shipping in either white or black.
• UPDATE 2 (Answer to question): This bike was made in black with white accents and in white with black accents. We've reviewed the white version with black accents.
• UPDATE 3: This bicycle comes fully assembled (folded up) with its tires fully pumped. You can literally take it out of the box and start riding right away. The battery might not be FULLY full, but we had a decent charge right out the box, so it was ready to blast off straight away.
• BONUS: On the name of the bike's brand: If you've not heart of SWAGTRON before, let's have a quick talk about it. I wouldn't normally, as most brand names are fairly innocuous in general. The only way I can explain the name SWAGTRON blasted across the side of this bike to the average citizen is to imagine that I'm Tom Haverford from Parks and Rec, riding to my job at Entertainment 720.
That, or I can suggest a situation similar to that of Zach Galifinakis in the process of swagger training via Swag Coach Taavon. Either way, once I'm past the name, the bike is pretty gosh-darned decent.
SlashGear uses Amazon affiliate links, and if you buy something we may get a small share of the sale.