Microsoft Adaptive Accessories For PC Take A Page From The Xbox Adaptive Controller Playbook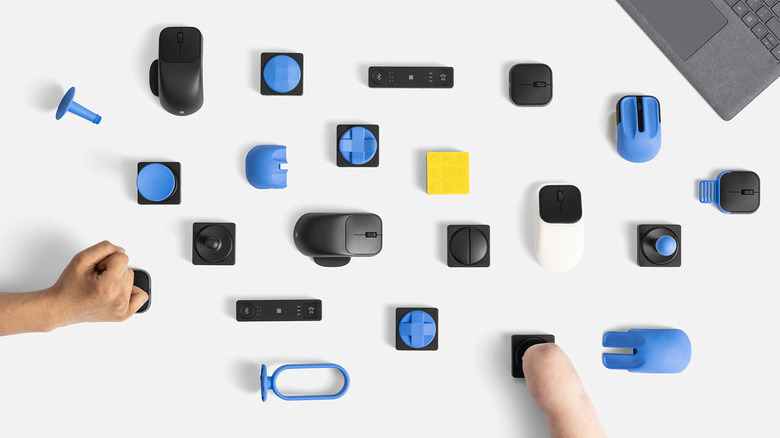 Microsoft
Microsoft is releasing a new range of accessories aimed at making its products easier for disabled people to use. Back in 2018, Microsoft released a controller that served a similar purpose and made gaming possible for a wider variety of people. Priced at $99, the Xbox Adaptive Controller serves a pretty important purpose. It may not look as ergonomically designed as one of the company's Elite controllers – in fact, it looks far more retro than futuristic — but if you can't play effectively with a standard controller, then the adaptive controller might be your gateway to gaming.
It's a modular system designed to help people with disabilities play the console. The base unit consists of two large buttons, a D-pad, some menu buttons, and a bunch of 3.5mm jacks. Those jacks are what make the Xbox Adaptive Controller unique. Users can plug in a variety of accessories and tailor the controller to suit their needs. Rather than supplying an accessible input device that works slightly better for most people, Microsoft instead seems to have created a controller that can be adjusted to meet a wider variety of players' needs very well. It's this kind of thinking that seems to have carried over to the company's adaptive accessories range four years later.
Common input methods get a redesign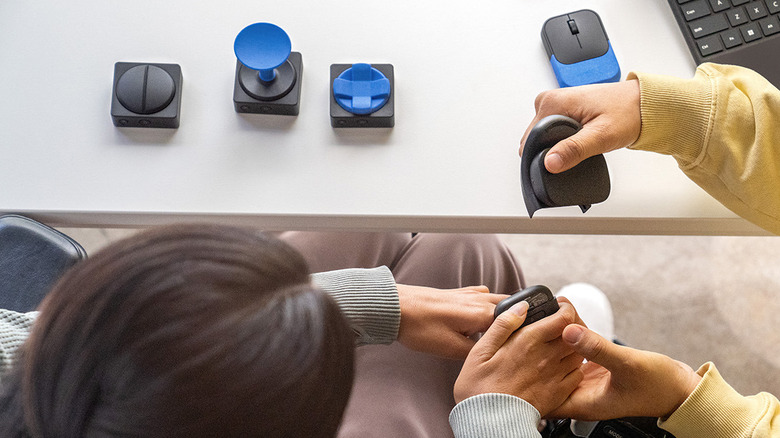 Microsoft
The mouse and keyboard are pretty well-known, widely used, and ergonomic computer input methods. While a standard setup works for most of the population, not everyone has the same level of dexterity or number of fingers. In light of that, Microsoft has decided to launch a highly customizable "adaptable mouse" and an adaptive wireless hub that can either supplement a traditional keyboard if only small modifications are needed or replace it entirely. Like the adaptive controller, both the mouse and hub are modular and can work alongside extra parts to provide a fit that suits the user. 
The mouse has an interchangeable core, tail extension, and thumb support, according to Microsoft. These parts can be used and switched to give customers a wide variety of options. The core can be used on its own if the player needs a smaller or more portable mouse, the thumb support can be attached on either side to suit left or right-handed users, and the tail is there for people who need a larger device.
Third-party buttons and switches can plug into the hub via its 3.5mm ports, while the in-house options include a joystick, D-pad, and double button. The button already on the hub can perform up to eight actions, and Microsoft says those actions are all customizable. The hub is also designed for portability, so a user can take it with them quite easily. Both the mouse and hub can be connected via USB-C or wirelessly. The mouse can connect to up to three devices, while the hub can handle four. Release and pricing details have yet to be revealed for the adaptable mouse and adaptive wireless hub.
3D printing allows for true customization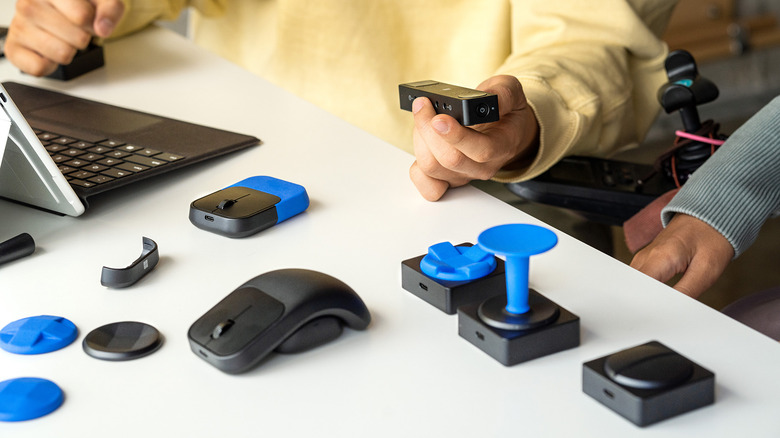 Microsoft
If the included modules like the mouse tail and thumb rest don't fit a user exactly, there is another option: 3D printing can be used to produce bespoke accessories for Microsoft's new line of accessible devices. The company says it has developed and tested the 3D-printed mouse parts and button toppers "in partnership with the disability community." Users don't need to own a 3D printer to get a truly tailored mouse and wireless hub, either. Microsoft has stated that the custom parts are available from the 3D printing service Shapeways.
The 3D-printed offerings don't stop there. The company has also announced that accessible versions of the Microsoft Classroom Pen 2 and Microsoft Business Pen will be available from the 3D printing service. The stylus can be used with tablets like the Surface Go and Surface Pro. Again, pricing hasn't been revealed, but the accessible version of the Surface Pen may depart from the sales model the standard version uses. Standard Classroom Pens are relatively cheap, working out to less than $20 a piece, but they are only available in packs of 20. The accessible version may be more expensive, but it might also be purchasable as a single unit.
Microsoft unveils presentation tool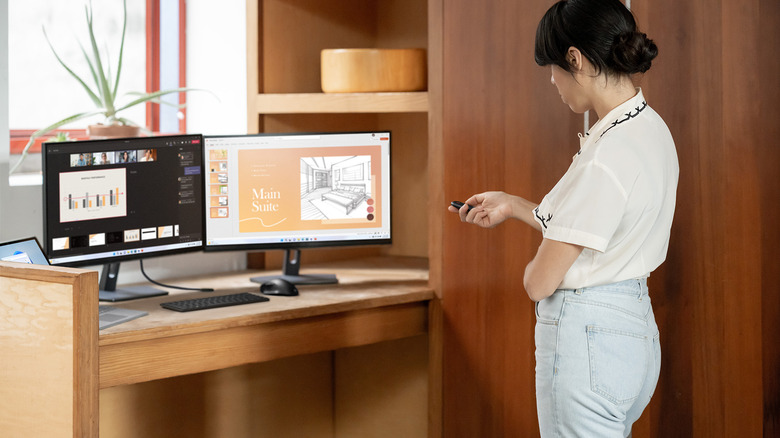 Microsoft
Microsoft has also unveiled a tool that it says will make presentations easier for everyone, whether they're online or in person. Microsoft Presenter+ doesn't look like a complex device, with two large buttons and three smaller ones, but the Silicon Valley giant is convinced it will have plenty of utility. The most obvious button on the controller is there to mute and unmute your microphone. There's also a status light, which should let you know if everyone else in the meeting can hear you. Haptic feedback is present, with vibrations letting you know when you've gone on or off mute or when you've raised or lowered your hand, according to Microsoft.
The two smaller buttons below that can be used to move forward or backward through a presentation. A programmable button is also present, giving you the option to customize things a little. There's a very prominent Microsoft Teams button that can be used to join meetings, as well as to raise or lower your hand during said meetings. The connection with the Teams app is pretty strong, with Microsoft saying Presenter+ is the "first presentation control to be Certified for Microsoft Teams, meeting specific product quality and testing standards, with integrated app controls for an enhanced experience."
If you're not presenting from home, Microsoft says the Bluetooth-connected presentation tool will work from up to 32 feet away. Microsoft also claims the Presenter+ has six days of battery life and can be recharged via USB-C. Microsoft Presenter+ will be available for $79.99, while the Adaptive Accessories range in price from $14.99 to $59.99.