Apple's Touch ID Unlikely To Return To High-End iPhones Anytime Soon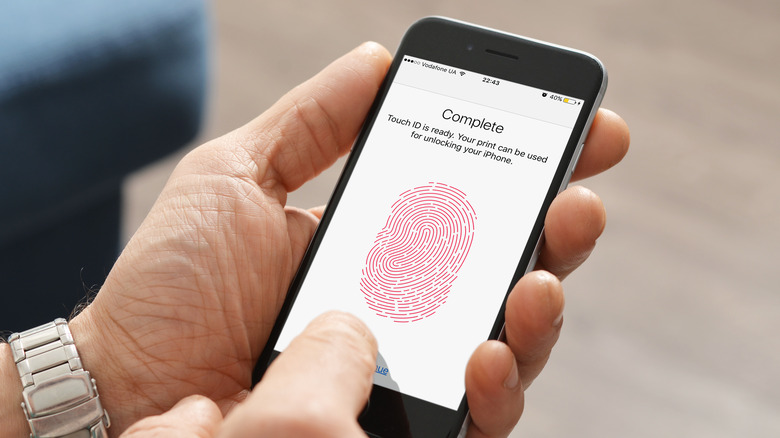 mama_mia/Shutterstock
Starting in 2013, Apple used a fingerprint-based authentication system called Touch ID as its chosen form of secure, biometric authentication. Touch ID first appeared on the iPhone 5s, and continued to be used on all iPhone models launched until 2016. Most tech enthusiasts and iPhone users would remember how Apple integrated the Touch ID sensor with the phone's home button. In 2017, however, the iPhone's tryst with Touch ID came to an abrupt end when Apple introduced the iPhone X.
The iPhone X was a significant design update for the iPhone, with the device looking nothing like its predecessor. The design update also resulted in the complete disappearance of the iPhone's once prominent chin, which, incidentally, housed the Touch ID sensor. With one form of biometric authentication system gone, Apple had to introduce an alternative on the iPhone X. The solution was Face ID, which is marketing-speak for Apple's advanced facial recognition technology. First introduced in 2017, Apple continues to use Face ID on its flagship iPhone models to this day.
Given that fingerprint-based authentication systems are commonplace on Android smartphones, there have reportedly been discussions within Apple and the larger tech community about the possibility of the company bringing back Touch ID in some form on flagship Apple devices. Bloomberg's Mark Gurman, who has an excellent history of predicting Apple-centric updates, recently shared his thoughts on the future of Touch ID.
Apple may not be too keen on Touch ID for flagships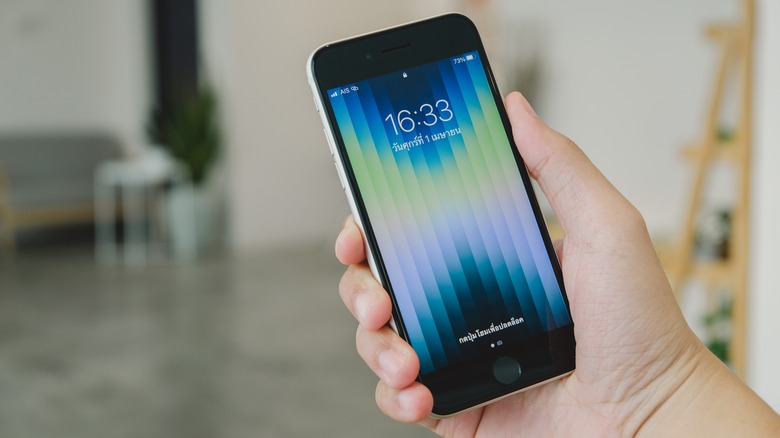 Framesira/Shutterstock
According to Gurman, Apple is not too keen (via XDA) on bringing back a fingerprint-based authentication system to its flagship models. Gurman asserts that Apple arrived at this conclusion after duly considering such a possibility. He claims the company had toyed with the idea of an under-display Touch ID sensor on an iPhone in the past, but eventually decided against introducing the feature on production models. While Gurman doesn't specify the reasons that led to the alleged cancelation of Touch ID on flagship iPhones, there is no denying that chatter around this topic has been fairly loud for the past few years.
This chatter gained prominence during the COVID-19 pandemic when masks became part of our daily lives and people began raising questions about the efficacy of a facial recognition system in a world full of people wearing face masks. However, with the pandemic gradually reaching an endemic stage and Apple ensuring that Face ID works even with a mask on, doubts surrounding this piece of technology came to a gradual end. Despite that, there exists a large subset of Apple iPhone users and tech enthusiasts who want Apple to bring back Touch ID to one of its future flagship smartphones. For the time being, those interested in experiencing Apple's Touch ID would need to get hold of an iPad Air, iPad Mini, or the recently-launched second-generation iPhone SE.