TikTok Is Laying Groundwork For Live Online Shopping In The US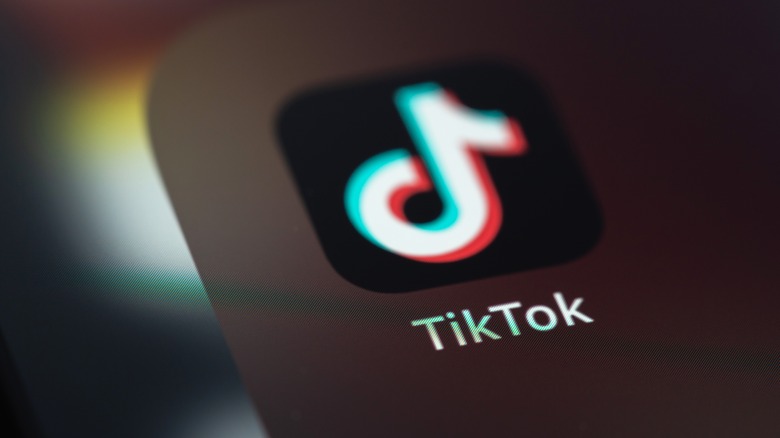 Primakov/Shutterstock
TikTok is reportedly exploring an expansion of its livestream shopping ambitions in the United States, carrying over a lucrative e-commerce formula from China where the trend rakes in hundreds of billions of dollars. The idea is to partner with brands and influencers, allowing them to hawk products via livestreams on the video-sharing platform, instead of posting ads and sponsored content on their social timelines.
The latest rumor is a tad unexpected because Financial Times originally reported in June that TikTok had abandoned its livestream shopping ambitions in the U.S. after a subpar experiment with the idea in England. In addition to it, the user privacy and national security-related storm that has engulfed TikTok may have also played a role in the company tempering its live-shopping experiments, at least temporarily. However, TikTok appears to be taking the safer route this time around.
Instead of building a livestream shopping system on its viral platform akin to Meta, the ByteDance-owned company is reportedly joining hands with a local player to handle the foundations while TikTok only lends its platforms for customer outreach. Overall, TikTok's shopping ambitions for the U.S. market aren't new. The likes of Shopify have already set up a dedicated shopping tab on TikTok profiles. Plus, the social media titan was also spotted testing a dedicated Shop feed in its app a few months ago, which might very well become a hub for livestream shopping, as well, in the near future.
TikTok is trying again, but cautiously this time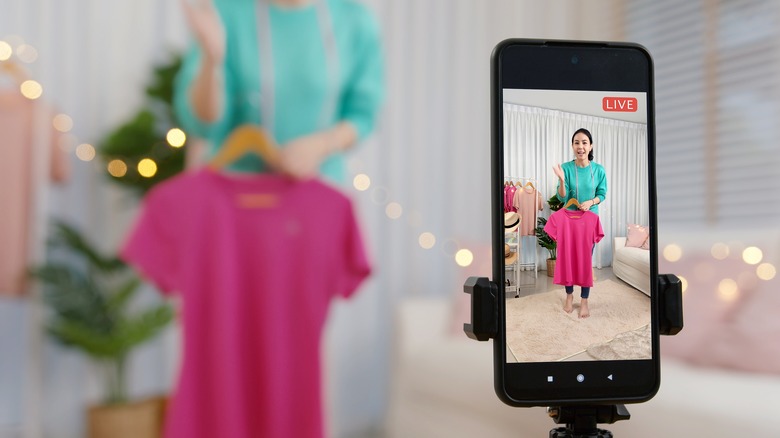 Chaay_Tee/Shutterstock
TikTok is said to be partnering with TalkShopLive, a Los Angeles-based company that identifies itself as the "first live streaming, social buying and selling platform for anyone, anywhere." Powered by TalkShopLive, the live shopping experience on TikTok will reportedly go live in the coming weeks "with large brands," right in time for the holiday season. TalkShopLive's core offering is an application program interface (API) that is not only suited for social media platforms like Twitter and TikTok but can also be integrated into the shopping experience on Walmart and Best Buy, among others. 
Walmart, on the other hand, is no stranger to the trend. In 2020, Walmart held its first shopping livestream in partnership with TikTok, roping in the platform's popular creators to sell products via an hour-long live program called "Holiday Shop-Along Spectacular." A year later, Walmart expanded the experiment to Twitter, YouTube, and Facebook, as well, and also roped in heavyweight celebrities like musician Jason Derulo to sell products in real-time with a special 30-minute livestream.
But it appears that TikTok isn't the only brand in the game. The Wall Street Journal reports that Amazon is also experimenting with a TikTok-like dedicated feed for shopping that is populated with videos and photos. In India, a market where TikTok is now banned, Amazon has already rolled out livestream video shopping ahead of the festive season sales, according to Reuters. 
Livestream shopping is too lucrative to ignore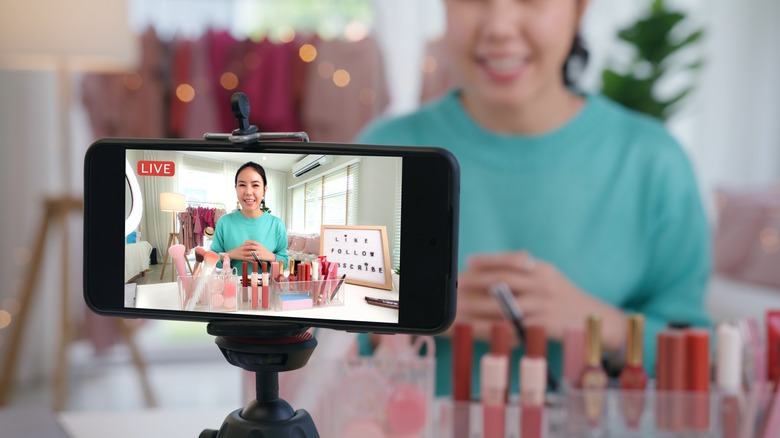 Chaay_Tee/Shutterstock
The U.S. might be a relative stranger to the concept of social live shopping despite spawning an entire niche of e-commerce driven by social media influencers, but the trend is all the rage in Asian markets, especially in China. Alibaba-owned Taobao and TikTok's Chinese equivalent Douyin are the biggest players in China, moving billions of dollars worth of goods in a day during livestream shopping festivals.
According to Forbes, monthly viewership figures for two of the most popular livestream shopping faces in China — Austin Li Jiaqi (aka, Lipstick King) and Huang Wei Ya (aka, Viya) — were already close to a billion back in 2020. The former sold goods worth around $1.7 billion with a single 12-hour marathon live-shopping stream last year, according to Insider, while the latter also notched over a billion dollars in sales during the same event. Such is the engagement that Viya has built her own product empire and is worth over a billion dollars (via SCMP).
TikTok's alleged selection of TalkShopLive makes a lot of sense from a strategic perspective. TalkShopLive has already roped in big names, and its website currently lists shows with some famous names like tennis star Venus Williams, model Ashley Graham, actor Terry Crews, and Dolly Parton, alongside a host of online influencers. TikTok, with its own world of influential creators, can very well make a solid dent in the budding U.S. market for livestream shopping without raising security and privacy eyebrows courtesy of the TalkShopLive outsourcing strategy.