Audi R8 Coupe V10 GT RWD Drops Quattro For A Big Engine Goodbye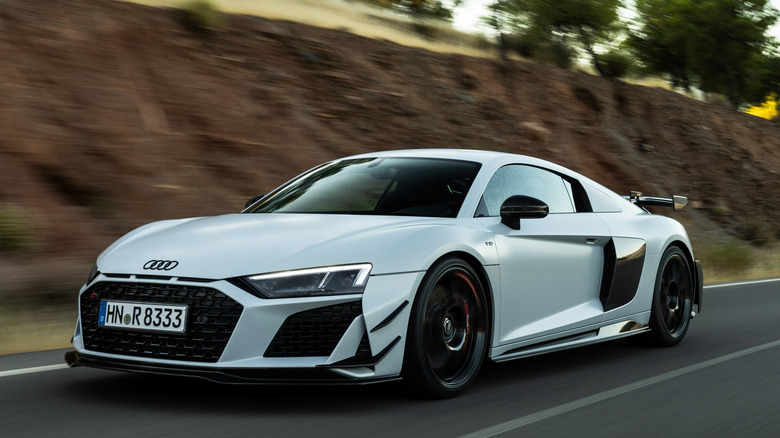 Audi
German automaker Audi has revealed all of the juicy details on its newest R8 Coupe V10 GT RWD model, the final hurrah of the brand's V10 engine in the R8 supercar. We have a gut feeling the R8 and its spacey vibe are making a comeback as an all-electric variant soon, and we say this with deep regard to the ill-fated Audi R8 e-tron, an EV that came at the wrong time. Still, Audi is spicing things up beforehand with the limited-edition R8 coupe V10 GT RWD by guaranteeing absolute driving fun.
It starts with more power underneath its sheet metal, with the naturally-aspirated 5.2-liter V10 engine getting more power than ever before. It now has 611 horsepower and 413 lb-ft of torque, making it the most powerful rear-wheel drive car Audi has ever made. With more potency than the V10 Quattro AWD variant, the newest coupe V10 GT RWD scampers to 60 mph from a dead stop in 3.4 seconds, goes from 0 to 124 mph in 10.1 seconds, and has a 199 mph top speed.
Innovative Torque Rear driving mode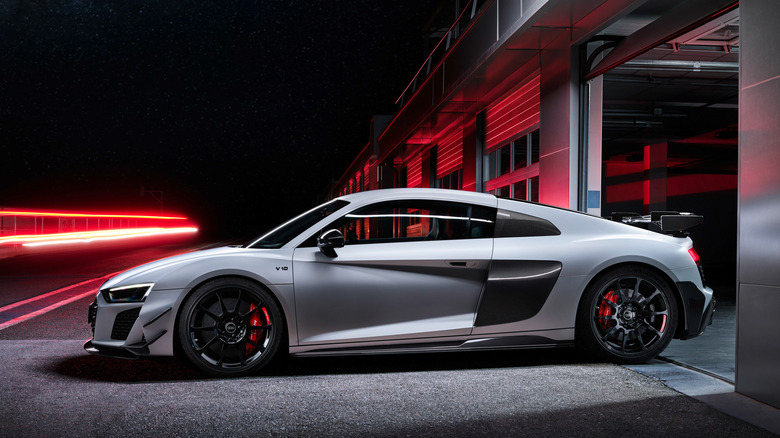 Audi
Channeling all that oomph to the rear wheels is a revised 7-speed dual-clutch gearbox that Audi claims has altered gear ratios and delivers rapid-fast upshifts and downshifts. The biggest news is an all-new Torque Rear drive mode that forms part of the R8's traction control system. The system analyzes data from the wheel speed sensors, the steering angle, the current gear, and the pedal positions to precisely deliver torque to the rear axle. It allows up to seven curves of "slippage" using a satellite controller on the steering wheel and essentially means more rear-wheel drifting action.
Another reason for the new R8 Coupe V10 GT RWD's propensity for speed is its lightweight construction. Built mainly by hand at the Audi Sport GmbH facility in Böllinger Höfe (the same place where the brand makes the RS e-tron GT), it has bespoke 20-inch wheels, ceramic brakes, and a bevy of carbon fiber bits and pieces to save weight, including the seats, anti-roll bar, and the suspension. There's an optional R8 GT coilover suspension package if you want something more hardcore for track use.
Carbon Aerokit package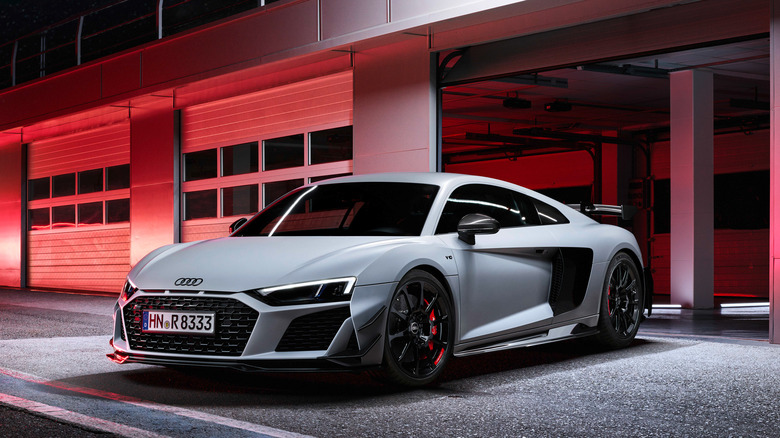 Audi
Setting apart the new Audi R8 V10 GT RWD from other variants are black emblems and black "R8 GT" badging. The Carbon Aerokit package adds gloss black aero-optimized appendages like a front splitter, air flics in the front bumper, side skirts, rear diffuser, and a gooseneck rear wing. Meanwhile, the black and red interior has custom bucket seats, bespoke floor mats, and a commemorative number plaque on the gear selector, so you won't forget that you're driving a limited-edition R8. The standard kits include a 12.3-inch infotainment touchscreen and a leather-wrapped tiller.
The 2023 Audi R8 Coupe V10 GT RWD is arriving at dealerships early next year. The available paint colors are matte Suzuka Gray, Tangorot Metallic, and Daytona Gray Metallic. If you fancy adding an endangered species to your supercar garage, prepare to pay at least $214,000 (€225,000) to enjoy the privilege, a significant increase over the outgoing R8 V10 Performance RWD's $172,000 (coupe) and $187,000 (spyder) base price.