2020 Audi R8 V10 Performance Coupe and Spyder First Drive Review- A fast goodbye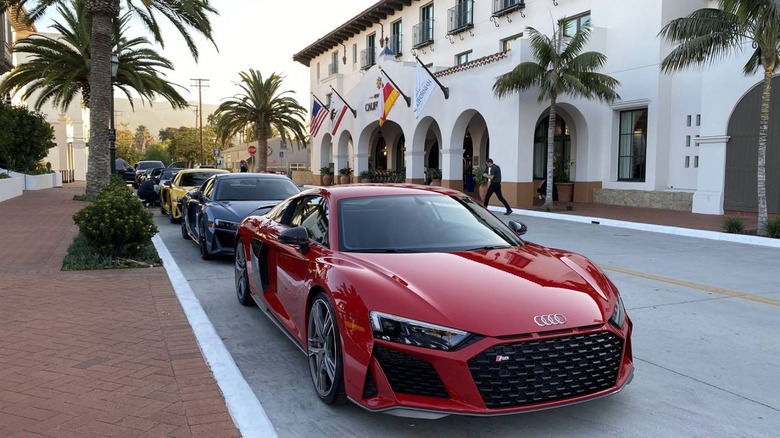 I've always been a huge fan of the Audi R8, particularly the V10 model. Sure, I too mourned the demise of the V8 in the second-generation Type 4S R8, and back when the R8 first launched in 2007, it was unlike anything I've seen before. The Audi Rosemeyer Concept from early 2000 and Audi Le Mans Quattro concept both surged into my mind as I watched six-time 24 Hours of Le Mans winner Jacky Ickx drive the R8 for the first time. The R8 was Audi's first-ever supercar, and boy was it revolutionary in terms of design. Whether Porsche was ready to accept it or not, it was time for the 911 to have some proper competition, and the Audi R8 was the answer.
Even with that sort of back-story, you might not understand why testing out the 2020 Audi R8 V10 was making me all misty-eyed. The reality is that we're saying farewell to the R8 in its current form, and Audi's doing it with a big bang.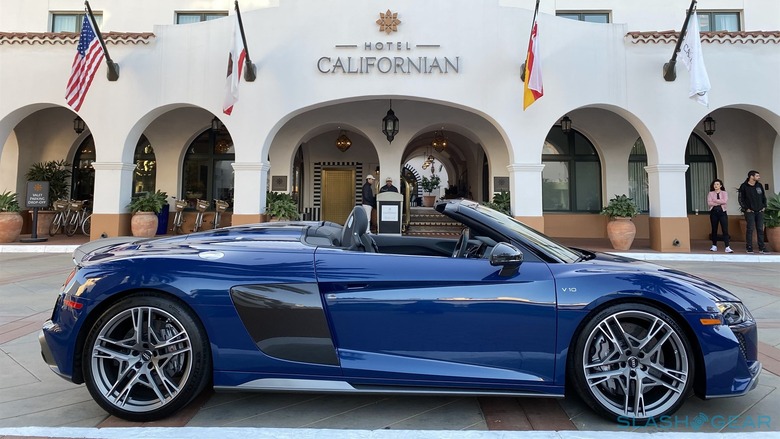 "I'm saying goodbye, but I'll be darn sure you won't be forgetting me any time soon," the R8 V10 is telling me, and it's true. Even in this modern age of megabucks supercars and hypercars, the Audi has managed to hold its own. It remains one of my favorite supercars, and it's definitely on my top list of dream cars to own. The new R8 V10 Performance is still incredible to drive, but it's always been a fabulous everyday type of supercar, even in V8 guise.
No, this isn't my first time to cross horns with Audi's supercar. It's been a few years, yes, but I still remember it like yesterday. On a bright and sunny day at the Autodromo de Algarve International Circuit in Portimao, Portugal, I plunked myself down in the driver's seat and marveled at how low and wide the R8 felt compared to fast German sedans and even full-blown sports cars. But what's really unforgettable is the overall driving sensation.
It was then I concluded that the R8 is not an ordinary supercar. It's a road-going version of the R8 LMS race car, the one which won the Nurburgring 24 Hours in 2017. Honestly, the R8 is not as tail-happy as a 911, but that doesn't mean it's not fun. It rewards bravery and precision with blistering pace, and I'm getting the same feelings all over again inside the 2020 Audi R8 V10 Performance.
For starters, the new R8 is the most sorted in terms of all the design elements. The first-gen R8 was a gem for the eyes, but it seems Audi had an identity crisis when redesigning the second-generation car. Here, though, the familiar Audi Singleframe is left off, to make way for a blacked-out honeycomb grille with the prerequisite R8 badge. There's also a new front spoiler lip and lateral air intakes.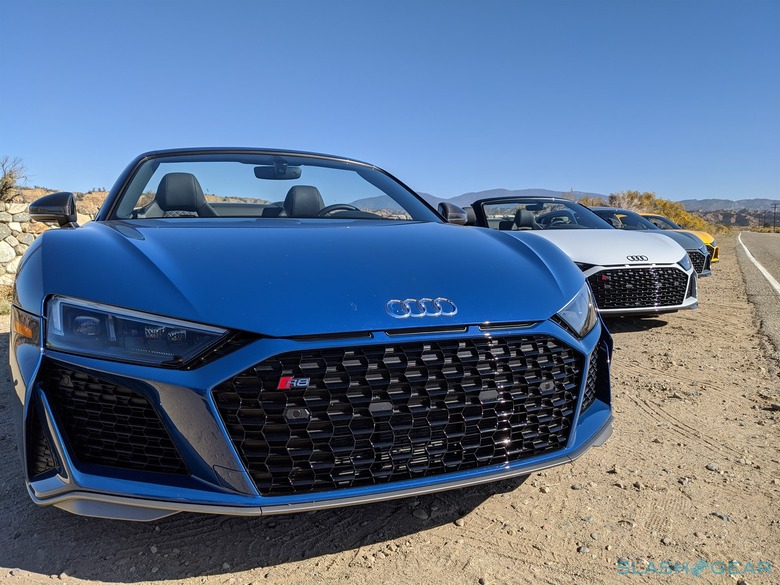 You can't miss the air inlets located on top of the new grille, just below the edge of the hood. According to Audi, it's a detail which will eventually make its way into future RS models. The black theme is carried over to the headlights, which are now dark-tinted to give the car a more menacing appearance. In the Performance model, Audi's Laser Light high beams are standard. At the rear, the R8 sports a new rear bumper with honeycomb air outlets, a new rear diffuser, and extra-large oval tailpipes.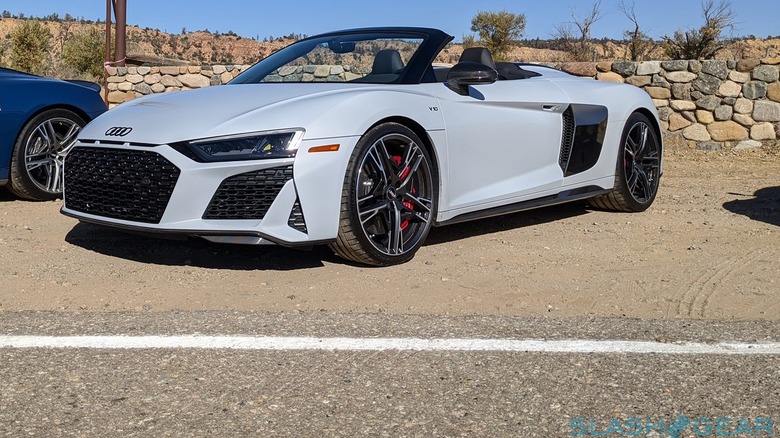 For the V10 Performance model, there's also the option of choosing black Audi rings and badges, which you should absolutely check off right away. It gets a fixed rear wing, too, while the base V10 has a motorized rear spoiler. As for the R8 Spyder Performance, Audi's convertible version, it gets subtle lip spoiler while the base Spyder makes do with no rear wing at all. In my opinion, that's the sleekest option for an everyday-R8-commuter sort of supercar.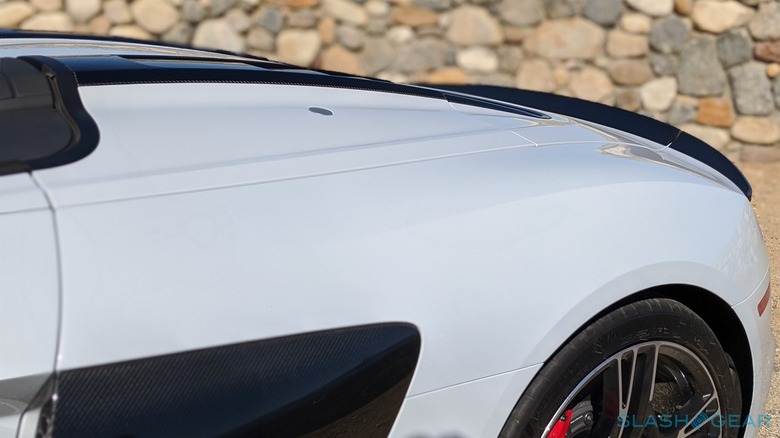 R8 V10 buyers get handsome 19-inch forged wheels with a 5-spoke design, while the V10 Performance model swaps those out for 20-inch forged alloys with a double-spoke dynamic design in titanium finish. They're so handsome in the metal, I was tempted to unscrew one and hang it on the wall as a piece of artwork.
Inside, it still feels refreshingly modern yet familiar at the same time. Audi's Virtual Cockpit with Sport mode is still there, along with LED ambient lighting, standard MMI navigation plus, and a Bang & Olufsen audio system with 13 speakers. Of course, the cabin is still decked in a rich mixture of premium carbon-fiber, diamond-stitched leather, and burnished aluminum.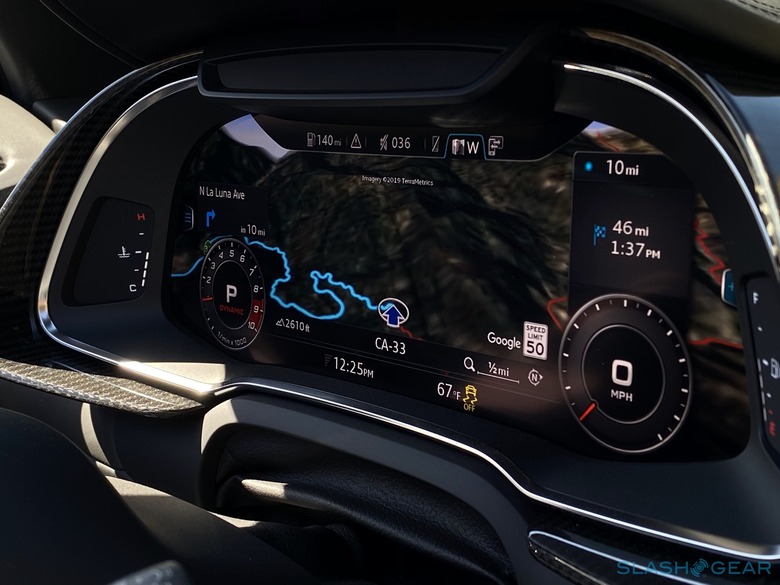 Push the Start button and you bring to life a naturally-aspirated 5.2-liter V10, which remains the same motor as found in the R8 LMS race car. Indeed both the R8 coupe and R8 LMS race cars are built on the same assembly line, so Audi wasn't kidding when it said the road car has genuine racing DNA. The V10 Coupe has 562 horsepower and 406 pound-feet of torque, which is 30 horsepower more than the outgoing model. With Quattro all-wheel drive and a slick-shifting seven-speed S-Tronic dual-clutch automatic, the V10 Coupe reaches zero to 60 mph in 3.4 seconds. In my opinion, it's a conservative number because the car feels ferociously faster than that.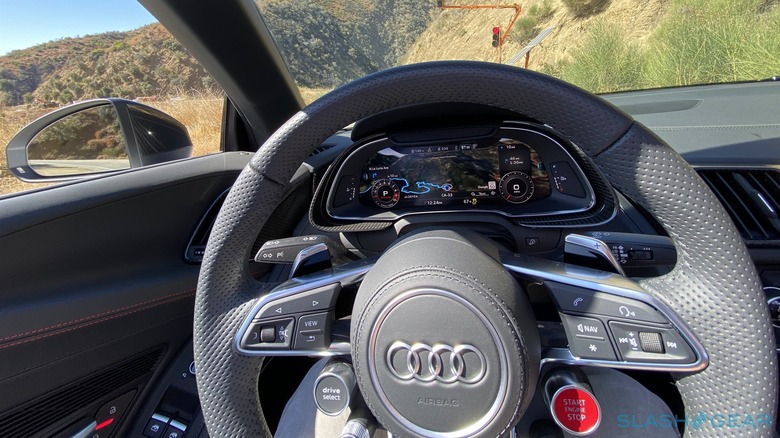 Given the choice, though, I unsurprisingly opted to spend a lot of my time in the V10 Performance version, in both Coupe and Spyder forms. That coaxes 602 hp out of the V10, and according to Audi will do the 60 mph dash in 3.2 seconds. In truth, the R8 V10 Performance probably needs a mere 2.9 seconds. Both coupe and Spyder are capable of breaching the 200 mph milestone, specifically 205 mph in the V10 Performance Coupe and 204 mph in the V10 Performance Spyder.
Looking down the R8 V10 Performance's hood at the marvelous scenic routes of Santa Barbara, California, I felt a sense of déjà vu as the car crisply dispatched a sweeping left-hander. Memories of riding shotgun with Audi racing driver Dion von Moltke in an R8 V10 Plus were now shuffling like a Rolodex (yes, I'm old, I used one many years ago), when at Daytona International Speedway I experienced first-hand what a bone-stock R8 V10 can do in the hands of a professional. The R8 was always an easy car to drive on the street, but it takes experience (and serious nerve) to properly tame the car on a racetrack.
On a technical circuit like Daytona, achieving the highest possible top speed is an asset, but how a car changes pace is more important. There are portions where you're turning a corner at 100 mph, cruising through the banks at 170 mph, and then going flat out on the front straight at 180 mph; all while planning your braking point, and then slamming down hard on the pedal in order to properly take a corner and set you up for the next.
Sure, going fast is exhilarating, but there's nothing quite like the sense of achievement when you nail a double apex left turn, floor the gas pedal in anticipation of climbing the high bank, and crisply get back up to speed again. Other supercars might go faster in a straight line, bu on a track, the Audi R8 V10 is king.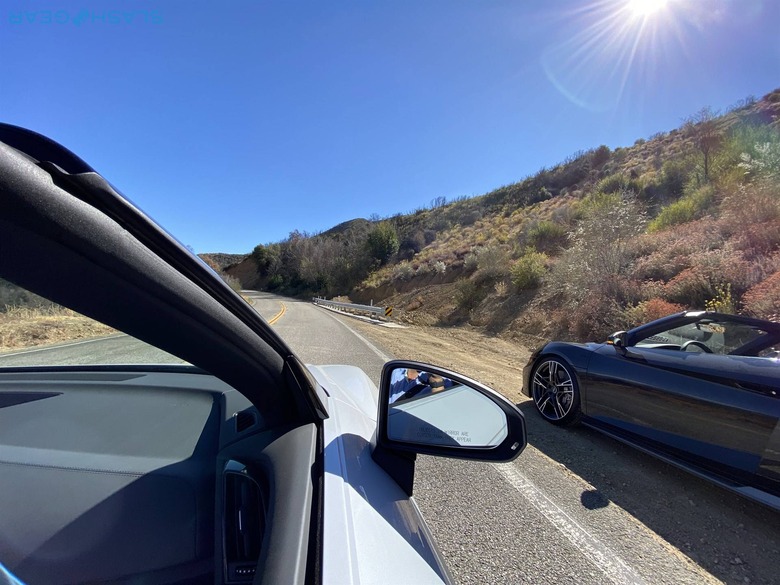 Our more experiential drive in Santa Barbara didn't involve any track time, but I had no complaints about the route. Let's call it the road less traveled: other cars were far and few in between. Instead I found an abundance of twist and turns, not to mention long straights for us to tap into the R8's seemingly unlimited potential.
Standard R8 V10 cars get magnetic suspension, while the Performance editions receive a stiffer yet more responsive fixed steel suspension. The steel springs are tauter than usual, which has an impact on ride quality, but it pays dividends in point-and-shoot driving. Also new for the 2020 Audi R8 V10 is a stickier set of Michelin Pilot Sport 2 tires, constructed from a bespoke rubber compound. At first glance, the new tires are no different from the old Pirelli P Zero tires. Look closer, though, and you'll find an AO – Audi Original – symbol on the tire sidewall, which means the rubber is specifically designed for the car.
Each played its part. Tight turns, quick accelerations, and rapidly scrubbing off speeds are all qualities we put to the test and, to say the least, Audi engineering didn't disappoint. Later, on a closed road out in the boonies, it was an opportunity to try out launch control. Little prepares you for the feeling of the wind blowing through the R7 V10 Performance Spyder's cabin at 120 mph.
There are many reasons why you should consider the 2020 Audi R8 over other supercars like the Lamborghini Huracan and McLaren 570S. The German car may not be as flashy as either the Italian or the Brit, but it's still a seriously quick supercar with confident handling and a comfortable cabin. Served up with all the creature comforts one would expect when buying an Audi, it's almost certainly more suitable for the daily commute than a Huracan or 570S.
It's also, unexpectedly, a relative bargain. You're looking at a $169,900 base price for the R8 V10 Coupe and $195,900 for the V10 Performance version. The Spyder comes in dearer at $182,100 and $208,100 for the V10 and V10 Performance models, respectively.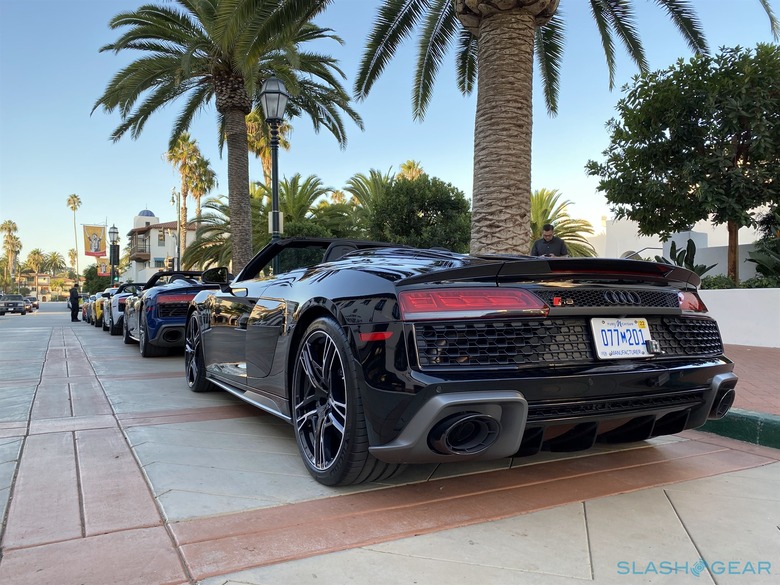 Now, don't get me wrong: the new Audi R8 V10 is not cheap by any means. All the same, it costs around $90,000 less than a Huracan Evo with the same 5.2-liter naturally-aspirated motor. I'd be lying if I said I'd choose the Lambo over the Audi, even though the Huracan strikes a different chord to my emotions.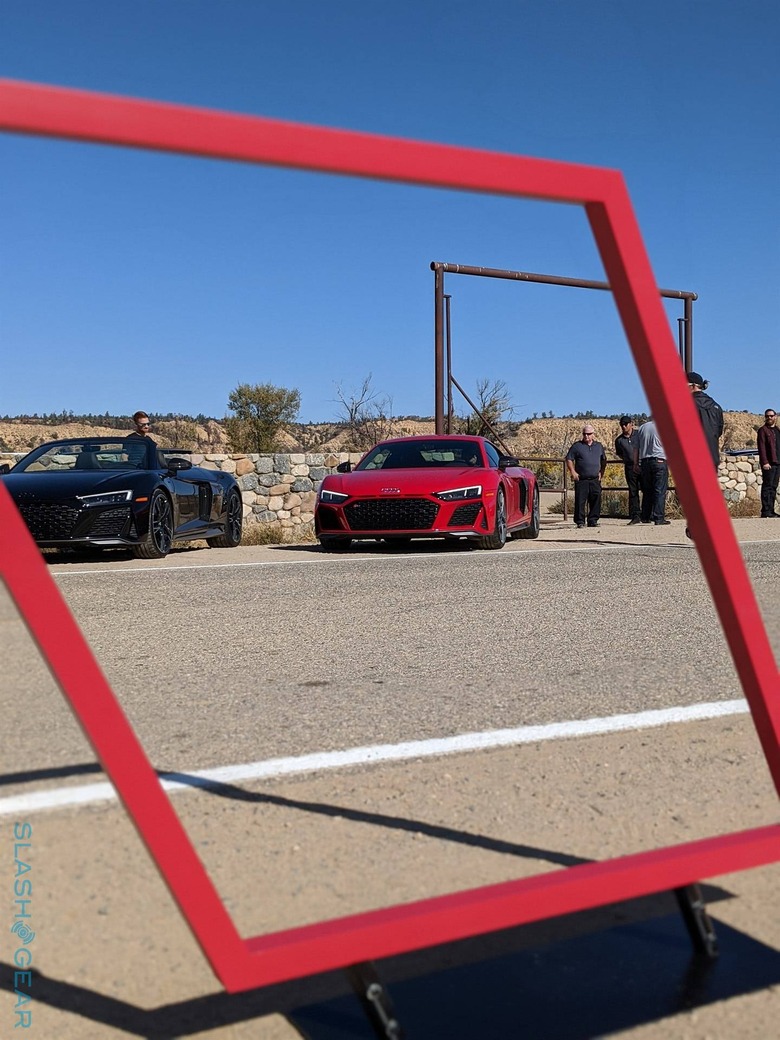 Sports cars, supercars, or any type of car for that matter are not selected by the heart alone. Sooner or later, the mind and body takes over, and it didn't take long to manifest as I stepped out and glanced at the 2020 Audi R8 V10 Performance for the last time. Where other supercars are all about emotion, the R8 is one of few that managed to rattle my intellect more than the heart. Tell me, R8, do you really have to go?