2024 AMG C 63 S E Performance Is A Simply Astonishing Hybrid EV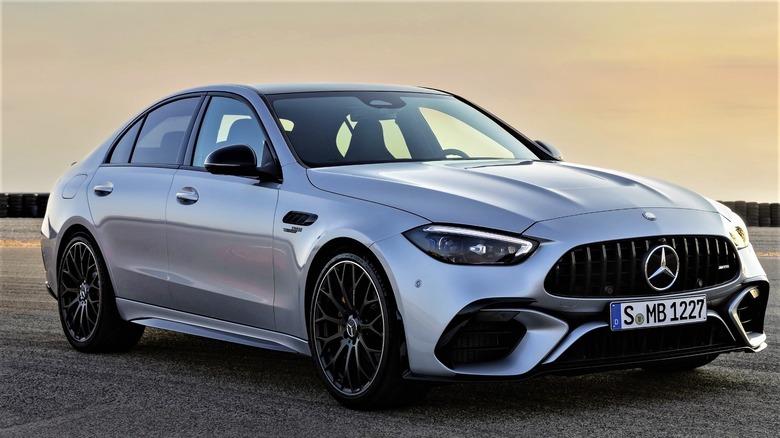 Mercedes-AMG
The 2024 AMG C 63 S E Performance is a Formula 1 racer masquerading as a family sedan that's also a hybrid EV. It looks like being a compact luxury car isn't the only thing the Mercedes-Benz C-Class range is trying to be. In our first drive of the 2022 Mercedes-Benz C-Class, we noted that the long-running lineup is inching closer to the flagship S-Class models. Its luxurious interior carries almost every cutting-edge tech Mercedes-Benz could think of, while its peppy performance and aggressive exterior echo the more racing-focused AMG lineup.
The 2.0-liter four-cylinder turbo engine-powered C-Class can generate 255 horsepower, and its electric motor adds 20 more horses under the hood. However, the sportier 2024 AMG C 63 plug-in hybrid takes those figures to ludicrous proportions. In a press release, Mercedes-AMG announced that its latest PHEV utilizes "the world's most powerful four-cylinder engine" — the M139l. Despite also being a 2.0-liter turbocharged engine, it delivers almost double the horsepower at 469. When paired with its "permanently excited" in-house-developed electric motor, it can generate a whopping 671 horsepower. This gives the AMG C 63 S E Performance a top speed of 174 mph, and going from 0-60 mph is estimated to take 3.3 seconds.
2024 AMG C 63 S E Performance specs are oozing with luxury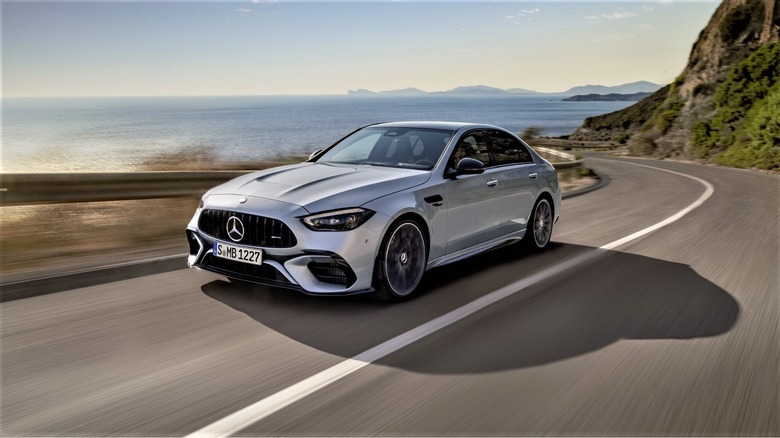 Mercedes-AMG
The 2024 AMG C 63 S E Performance features tech that's "derived directly from Formula 1." It incorporates a similar setup used by the Mercedes-AMG Petronas F1 Team, with the AMG C 63 S E Performance engine being the first ever to be mass-produced with an electric exhaust gas turbocharger. Thanks to its beefy powerplant, electric motor, and efficient anti-turbo-lag system, it produces even more power output than the top-of-the-line S-Class PHEV and its bigger six-cylinder motor. It basically brings Formula 1-esque racing chops to the public roads, but don't forget, it's still a luxury sedan with decadent amenities. This includes an adaptive suspension that ensures comfort in various road conditions, as well as a dynamic 4MATIC+ all-wheel drive system with a "Drift Mode" for added excitement.
The AMG C 63 S E Performance interior has ergonomically designed racing seats that provide maximum comfort and weight reduction, while the MBUX multimedia system returns with an optional head-up display. Aside from internal speakers, the AMG PHEV also has external loudspeakers and a rear soundbar that emit enhanced engine sounds. 
This system lets enthusiasts enjoy their car's roars by picking up the engine's sound and then transmitting enhanced feedback to the interior speakers. Overall, the AMG C 63 S E Performance specs make it sound like it's pushing the boundaries of what PHEVs can be, and it's no wonder it's referred to as a "game-changer" in AMG's long-running history.