The Real Reason Geo Was Discontinued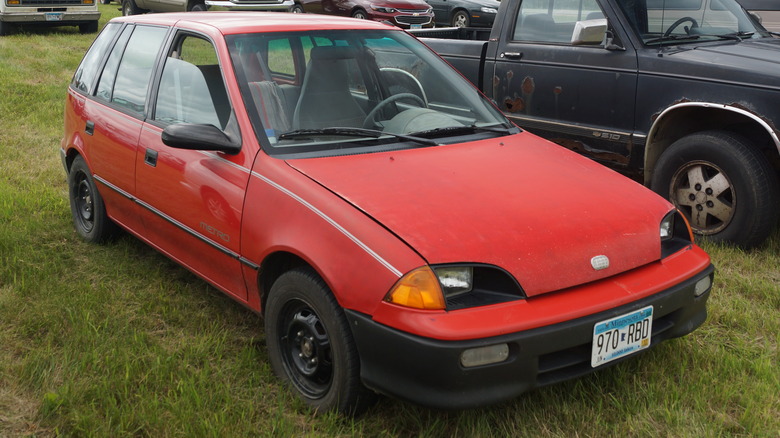 Gregg Jerdinge/Flickr
When it comes to defunct automotive brands, General Motors reigns supreme. In the late 1990s until the early 2010s, GM axed Pontiac, Oldsmobile, Hummer, Saturn, and Geo. Pontiac is remembered fondly for the GTO and Firebird line of muscle cars. Oldsmobile Toronados still show up on the auction block fairly regularly. Hummer was resurrected as a beefy EV by GMC. Saturn was initially very successful in the early 1990s before GM made some ill-advised production decisions. All of the former GM brands left behind some sort of cultural or market impact before getting the boot. That is, every one except Geo. 
Geo is scarcely remembered, save as a footnote. The brand itself only existed for eight model years from 1989 to 1997. Overall there were five total models from Geo: Metro, Prizm, Spectrum, Storm, and Tracker. As a brand, it was doomed from the beginning. While Saturn enjoyed initial support from General Motors at the brand's inception, Geo wasn't as lucky.
Get to know Geo
Geo could be compared to Saturn in that they were both brands with relatively short lives. Each encountered waning support from the brass at GM. Geo and Metro were also debuted to combat the quickly rising influx of imported cars, especially from brands like Honda and Toyota. But that is where the similarities end.
From the start, Geo didn't seem like it was going to be a winner. Geos didn't have dedicated dealerships; they were mostly sold from already existing Chevy dealerships as a sort of sub-brand (via U.S. News and World Report). Buying a Geo was more akin to buying a discounted day-old bagel at a grocery store than buying an actual car. At best, it was a quirky side business of an established local Chevy dealer, at worst it was dealership storage lot poison. 
Geo's primary problem was with its cars. Geo missed out on a rather large part of the successful automaker equation: making cars. Not a single one of Geo's lineup was an original design, nor were they General Motors designs. Geo's entire lineup was a compilation of vehicles either designed after or in part by Suzuki, Isuzu, and Toyota, according to U.S. News and World Report.
A synthetic diamond in the rough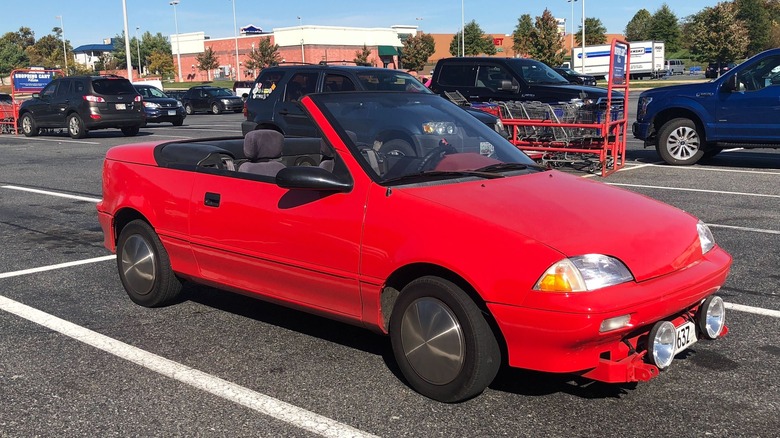 Alex Hevesy/SlashGear
Geo's cars were a mixed-bag. Perhaps the best-known Geo was the Metro. The Metro was essentially a Suzuki Swift with a different logo and took the word "compact" to the nth degree with a tiny footprint. The inside was sparse at best and possessed few more creature comforts than a horse. It wasn't fast, comfortable, or particularly fun to drive, but it destroyed the competition in exactly one metric: absolutely bonkers fuel economy. 
According to the EPA, a five-speed Metro could get a positively insane 47 miles per gallon. That type of fuel economy is impressive out of a hybrid in 2022, much less a sad hatchback from 30 years ago. The Metro achieved this feat thanks to its weak powerplant. Early models were equipped with a 1L three-cylinder that could barely do more than 50 horsepower. There are garden tractors with more oomph. 
The Geo Prizm also stood out in the lineup, if only in spite of the Geo badge adorning the hood. Under the exterior, the Prizm was a Toyota Corolla. In its hubris, GM made Geo the one thing it was sent to outperform.
Reviewers from the era could think of very few nice things to say about Geo and the cars themselves offered very little compared to the competition. It's no small wonder the brand lasted only eight years. Over Geo's short life, the brand sold just over 800,000 cars in eight years, according to CarSalesBase. For comparison, Ford sold more than 1,000,000 Mustangs on under two years.