Goal Zero's New Sherpa 100 Power Banks Aim For The Road-Warrior: 100AC First Look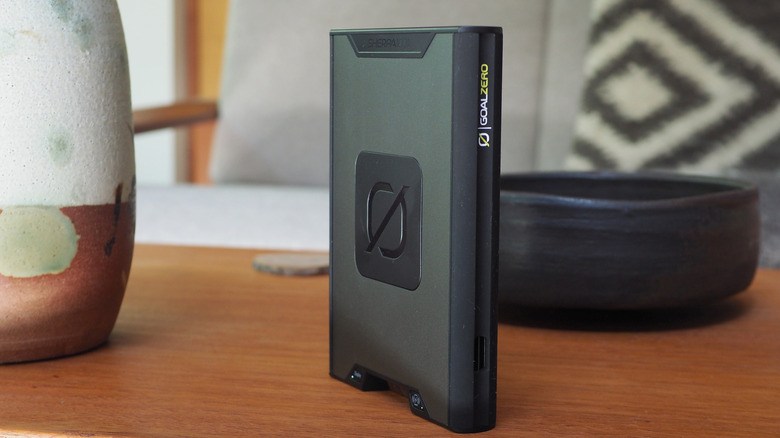 Chris Davies/SlashGear
Goal Zero's Sherpa 100 power bank range has two new models, with the Sherpa 100AC and 100PD promising more power and more flexibility as to what you can plug in. Now in its fourth generation, the Sherpa 100 line-up delivers more juice from its ports, including the ability to keep gluttonous laptops like the latest MacBook Pro going.
With a 94.72 Wh (25,600 max) battery inside, Goal Zero says, the new Sherpa models remain the largest capacity you can get but still be approved for airline travel. Although it means you won't be powering key appliances during outages from the power banks — you'll still need a larger Goal Zero like the Yeti 1000 Core for that, or indeed a portable generator — it does make them a whole lot more flexible for road warriors concerned about running low on juice before they make it back to the outlet-friendly confines of the great indoors.
The cheaper Sherpa 100PD is perfect for laptops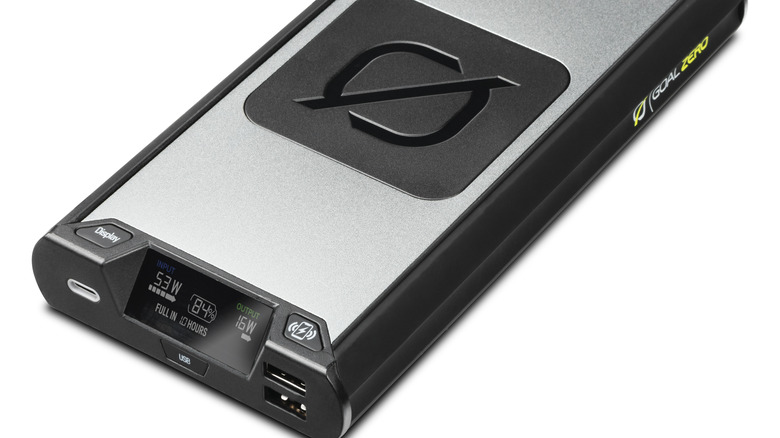 Goal Zero
There are two new additions to the Sherpa line this time around, distinguished by the ports on offer. The Sherpa 100PD is the more affordable of the two, priced at $199.95. It measures 7.69 x 3.81 x 1.02 inches and tips the scales at 1.5 pounds.
On the front, there's a dual-purpose USB-C PD port, which can be used to charge the Sherpa 100PD or to recharge another device from its battery. It'll take in up to 60W, or can put out up to 100W (5-20V up to 5A) to keep even a high-power notebook running.
There are also two USB-A ports, for up to 12W (5V at up to 2.4A), and a 15W Qi wireless charging pad on the top (it's worth noting that Apple's smartphones, like the new iPhone 14, still only support up to 7.5W from third-party wireless chargers). A small color display on the front shows power status and remaining time to charge or discharge; you can individually turn on or off the display, the USB ports, and the wireless charging pad. A switch on the back allows you to set the USB-C to input, output, or auto.
You can manually control charging or set it to auto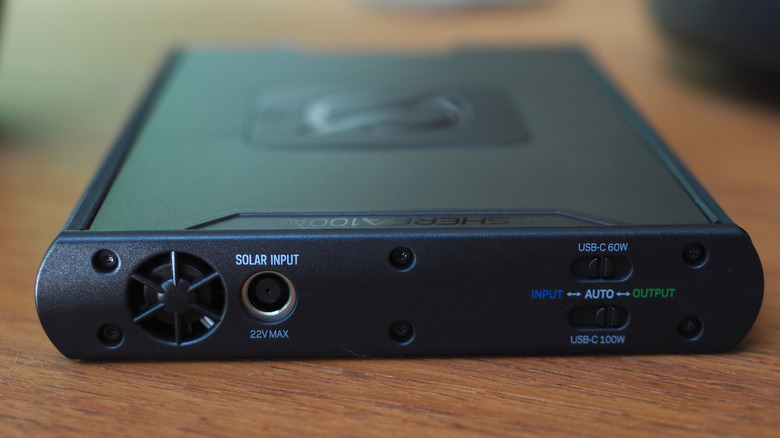 Chris Davies/SlashGear
Switched to Input, and whatever is plugged into the USB-C port will charge up the power bank. Goal Zero doesn't include an AC adapter in the box — the company sent me its optional 65W GaN adapter, which also has a second, USB-A port, but that's sold separately — but you can use a smartphone or, better still, a laptop USB-C power supply. You're looking at about 2.5 hours to fully charge the Sherpa 100PD from a 60W charger.
Notch the switch over to Output, meanwhile, and the Goal Zero will always push power out from its USB-C PD port. You could even daisy-chain a second power bank to this one, without worrying that the second will end up draining into the Sherpa 100PD.
Finally, set to Auto, the Sherpa 100 series will decide by itself whether to charge or discharge. Most of the time that works just fine, though having the switch to manually make that adjustment is a nice bonus.
The Sherpa 100AC adds a 110V AC outlet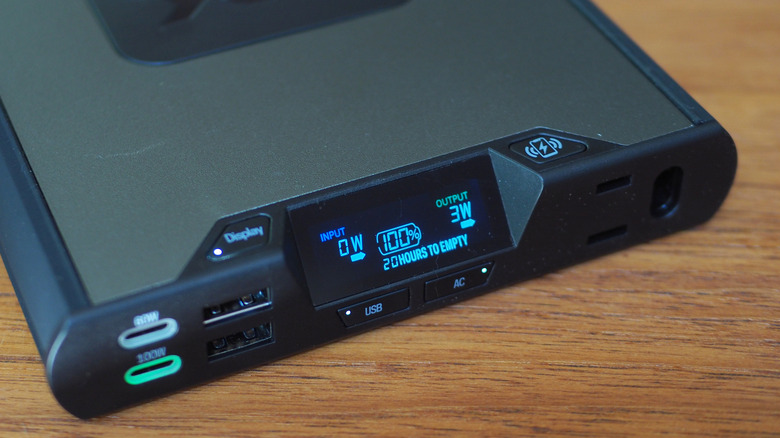 Chris Davies/SlashGear
The Goal Zero Sherpa 100AC, meanwhile, is bigger and a little more flexible. It's also more expensive, at $299.95, and measures 7.69 x 5.51 x 1.02 and 2 pounds; about the size and heft of a weighty hardback book. Like the 100PD, the Sherpa 100AC has a 15W wireless charging pad, and a small display.
However, along with a USB-C PD port capable of 100W output, there's also a second USB-C PD that tops out at 60W (20V at up to 3.0A). There are still two USB-AC ports, for up to 12W, but on the other side of the display Goal Zero has added a 110V AC output, too, which can deliver up to 100W. It means you can plug in a wide variety of devices, not just things like smartphones, tablets, and laptops, albeit as long as they don't demand more than 100V at up to 0.9A (so forget about running, say, a refrigerator).
As well as two switches on the back, for controlling input/output/auto for charging for each USB-C port individually, there's also an 8mm solar input. That works with Goal Zero's solar panels, capable of up to 60W charging (14-22V) from the sun. The Sherpa 100AC also has a small fan, to help keep it cool.
Cleaner design, easier ports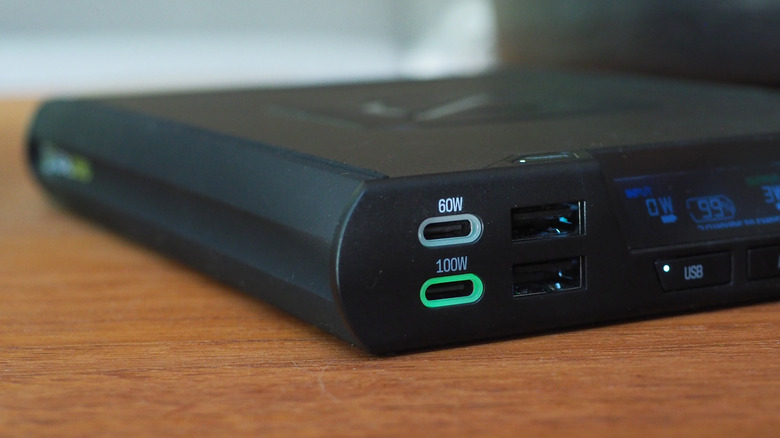 Chris Davies/SlashGear
Goal Zero's aesthetic has changed a little from the third generation Sherpa 100 series. The tough metal and black plastic casing remains, but the rubberized bumpers are a little larger. Instead of being flat against the end, the screen is now inset slightly — hopefully helping it avoid accidentally being smashed in your bag — and angled, leaving it easier to read when the power bank is flat on a desk.
The layout of the ports has changed for 2022, too. The old Sherpa 100AC, for example, was positively cluttered with all of its inputs and outputs at one end. Now, with the switches to adjust input/output/auto along with the solar panel input on the back, it's a lot easier to plug things in and out. The fiddly buttons have been made larger, too, and it's much easier to override the USB-C PD ports to make them behave how you want to (rather than, say, inadvertently ending up charging the Sherpa 100AC when you wanted it to charge whatever is plugged in).
For portability, these are still on the hefty side for power banks intended to come with you in your backpack. Still, with a battery inside not far off that of the most potent laptops, you're definitely getting some flexibility in return for your commitment.
Flexible, within reason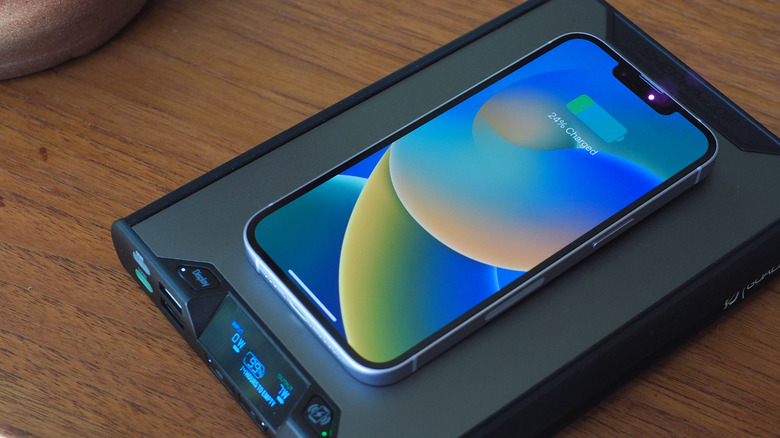 Chris Davies/SlashGear
You'll get, in theory, a little short of a full charge of a MacBook Pro 16" from the Sherpa 100AC. The laptop charges slower than with the 140W USB-C power adapter that Apple supplies, but it's still sufficient to keep it charging while you work. Recharging phones, meanwhile, hardly scratches the surface of what the Sherpa 100AC is capable of.
Of course, just because you have an AC outlet, doesn't mean you can plug in just anything. Hopes of running my trusty Ninja blender for some off-grid smoothies were met with a prompt and ominous click, as the Goal Zero shut down by way of self-preservation.
To be fair, Goal Zero doesn't promise that you can run high-power devices from its AC port. This isn't going to power an air conditioner, a hot water kettle, or a hairdryer. LED lamps, camera and drone chargers, and similar are all right at home, however.
A road-warrior's best friend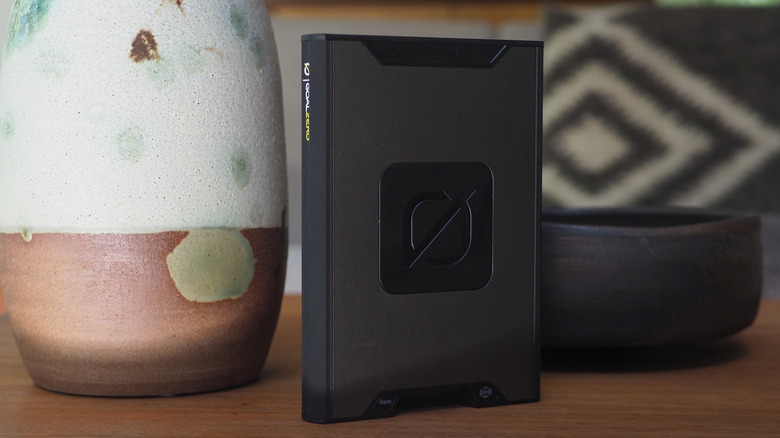 Chris Davies/SlashGear
If your primary concern is keeping your smartphone up and running while on the move, the Sherpa 100AC and 100PD are probably overkill. Smaller, cheaper portable batteries are commonplace these days, to the point where having one stashed away in a glove compartment or desk drawer makes a lot of sense.
For those who can't afford downtime — or time spent hunting for an outlet — however, Goal Zero's power banks don't stint on what they deliver. With more juice coming out than with the old Sherpa 100 series, easier controls, and still the reassurance of getting a full laptop charge or multiple smartphone charges, when you need it, there's a whole lot here to like.
Though I suspect most road warriors would be taken care of just fine with the Sherpa 100PD, the added flexibility of an AC outlet on the Sherpa 100AC does make it a more welcome addition to a road trip or a night out camping. Those wanting to survive more significant outages might want to look to a bigger battery — which Goal Zero does, of course, offer too — but it's hard to argue with the portability and performance of what these two smaller models deliver.