Buzz Lightyear Is Being Turned Into A Robot You Can Buy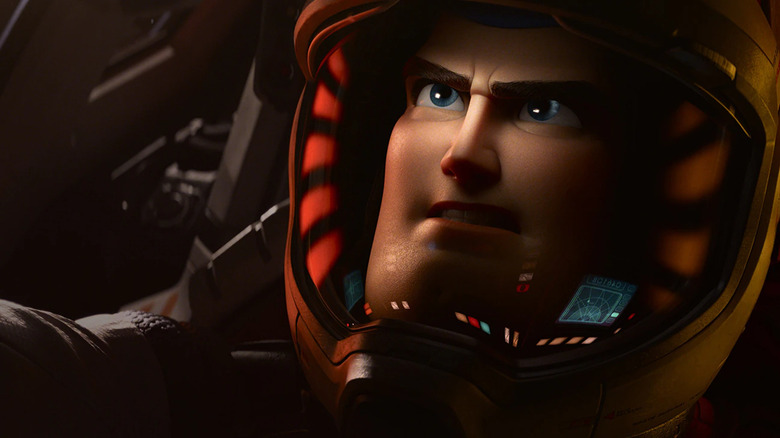 Disney
Anyone who's ever watched "Toy Story" and wished they could have a Buzz Lightyear toy that acted as the character did in the movies is in luck... kind of. Robosen, the robotics company behind that auto-transforming Optimus Prime you've probably seen all over the internet, is also working on a robotic Buzz Lightyear that uses similar technology.
This "living collectible" is based on the Buzz character featured in the 2022 "Lightyear" film, with a slightly more realistic design and detailing. You'd think Disney would want to give fans something that's visually closer to the "Toy Story" character since it's the best-known version of Buzz and is already a toy, so it would look the part while also acting the part — but, then again, "Lightyear" is also the more recent release and there are still units of the '90s-era Buzz Lightyear toy floating around for sale.
Regardless, this robot Space Ranger packs recorded dialog and sounds from the 2022 film, and uses multiple precision servo motors and microchips to control several points of articulation. The robot can also respond to voice commands, and you can program your own actions if you get bored with the presets.
How to get the Buzz Lightyear robot
You can pre-order Robosen's Buzz Lightyear right now directly from the official website, but there's a catch: you have to decide between the standard Space Ranger Alpha and limited edition Infinity Pack versions. Both options are also currently sporting Early Bird pricing, with the Space Ranger Alpha set at $649 and the Infinity Pack at $749. After November 12, 2022, those prices will jump up to their regular MSRPs of $799 and $999, respectively. No matter which one you choose, you'll need to make a $99 deposit, though.
Tempting as it may be to go with the Space Ranger Alpha release due to the $100 to $200 savings, it's important to note that this is a bare-bones Buzz. This standard release will net you the robot, stand, charger, Sox, an alternate interchangeable face, and one pair of alternate pointing hands. It's enough to mess around with and there's no difference in available actions or commands between versions, but there are going to be a lot of potential play options that you'll be missing out on.
The Infinity Pack includes everything that comes with Space Ranger Alpha, plus several more accessories. The extra money will net you a dog tag with the robot's serial number, three additional pairs of hands (saluting, blade holding, and blaster holding), the XL-15 Jetpack, a Laser Gauntlet, Space Ranger Blaster, and a Laser Blade DX with Blade Guard. Shipments are expected to start in the second quarter of 2023.