The File Explorer App You Should Probably Stop Using On Android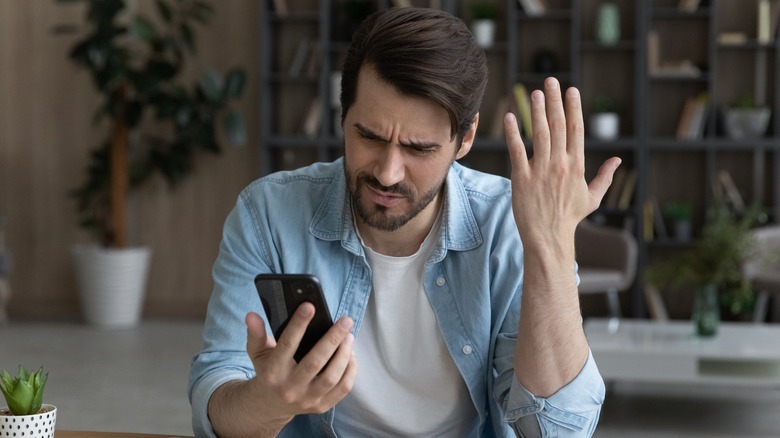 fizkes/Shutterstock
Google's Android operating system has many features that position it as the mobile OS of choice for power users (via PhoneArena). One such feature that gives Google's mobile OS such a good reputation with power users is freedom, but sometimes that freedom is a double-edged sword. App security alone has been a major concern for Google and the Android team. 
While there are security measures in place to protect both your device and the Play Store itself, sometimes a questionable app slips by — no system is perfect, and there are over 2.5 million apps on the Play Store — but it's particularly concerning when an app like a file explorer causes a security vulnerability. When an app has access to your entire file system, there's no telling what sort of information it could be leaking to the rest of the world, or what kind of issues it could be causing on your device itself. ES File Explorer's violations were serious enough to have it kicked off the Play Store, and it's safe to say it probably won't be making a return. 
Why should you avoid ES File Explorer?
rafapress/Shutterstock
If you've been in the Android community for any significant length of time, you'll at least have heard of ES File Explorer — it was quite popular, as the 500 million downloads reported by TechCrunch indicate. Unfortunately, things took a bit of a rough turn when the developers pushed their monetization strategy a little far. When app and device safety comes up, most people immediately think about the safety of their individual devices and the data on them, but this time the offense was against Google itself. Google's biggest issue with ES File Explorer was that its developer, DO Global, was committing click fraud in many of its apps — a discovery made by reporters at BuzzFeed. Click fraud is the practice of generating ad revenue from in-app ads by faking taps on users' devices in the background. Essentially, the app was tricking Google and its advertisers, telling them that users were tapping on ads within the app while users, in reality, weren't tapping anything. 
While that's Google's issue with ES File Explorer and its developer, there are other issues that are more relevant to the end user — apart from the bad user experience caused by incessant and intrusive ads (via XDA Developers), that is. DO Global owning ES File Explorer also brings up privacy concerns regarding user data stored in China — there are no protections in place (via Wired) to safeguard user data from spying by the Chinese government. Between obtrusive in-app ads, notifications that insisted that you upgrade to the paid version, and the aforementioned privacy concerns and violations of the Google Play Store terms of service, it has become impossible to recommend ES File Explorer.
ES File Explorer is still unavailable on Google Play
Sharaf Maksumov/Shutterstock
Mostly because of the terms of service violation, Google has removed ES File Explorer from the Play Store — which wouldn't necessarily remove it from your phone, mind you. So, if you somehow still have ES File Explorer on your phone, you should go ahead and remove it. Given how high-profile the reporting around the removal was — first confirmed on BuzzFeed — it was almost unavoidable that DO Global respond in some fashion. While the original response is no longer available, on April 29, 2019, Android Police published a copy of a message DO Global posted to its homepage. In its response, DO Global claimed it was unaware of the misuse and "irregularities," stating that it was launching an investigation, and cooperating with Google to investigate and resolve the issue. Since DO Global's response, the app has not yet reappeared on the Google Play Store — although there is no shortage of alternatives — and a Play Store search of the developer comes up empty. Needless to say, ES File Explorer is not coming back to the Play Store anytime soon.