Today we've run through a set of facts revealed by Facebook in an article published by outgoing Facebook Head of Communications and Policy Elliot Schrage. This is just the most recent piece of work published after the New York Times article published on November 14th, 2018. This NYT article went by the name "Delay, Deny and Deflect: How Facebook's Leaders Fought Through Crisis."
You'll probably want to read that NYT article to get a full grasp on what's happening here. It would seem that Facebook hired a Washington-based consultant called "Definers Public Affairs." Definers works with a blog-style site called NTK Network. This website published "dozens of articles" (according to NYT) which "blasted Google and Apple for unsavory business practices" and "played down the impact of the Russians' use of Facebook."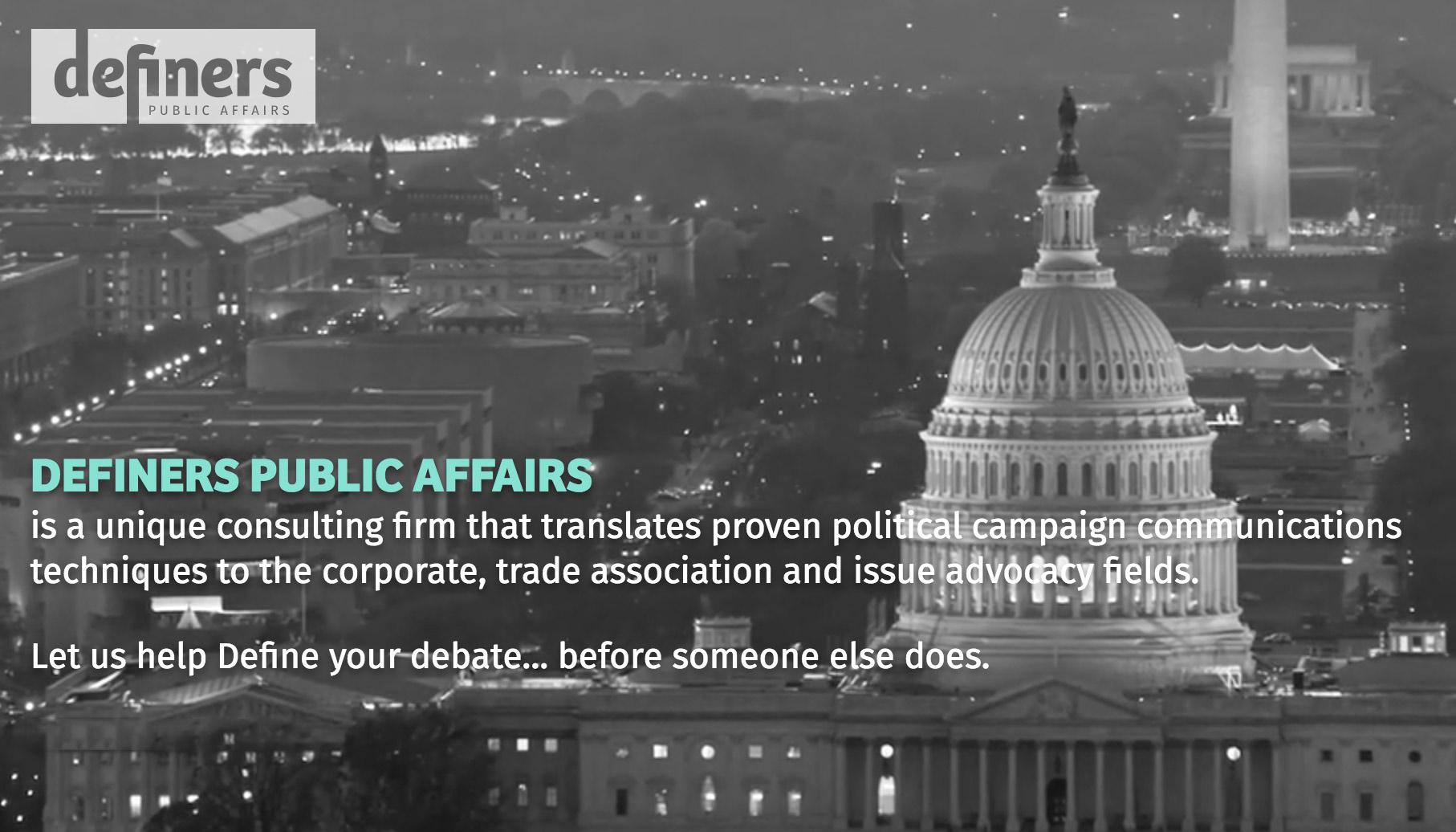 One day after the article was published by the New York Times, Facebook sent a note saying they'd cut all ties with Definers. On November 21st, Thanksgiving Eve, a document was published to Facebook with the following note: "Yesterday outgoing Head of Communications and Policy Elliot Schrage shared more detail with our employees about the work we did with Definers, a Washington, DC PR firm."
1. Facebook isn't totally done with Definers
While it was suggested that Facebook cut ties with Definers, Schrage suggested in his release that Facebook is "continuing to review our relationship with Definers." Schrage also noted that "at Scheryl's request, we're going through all the work they did, but was have learned that as the engagement expanded, more people worked with them on more projects and the relationship was less centrally managed."
In other words, there might well be more damaging reports on the way with regard to Facebook working with Definers. This looks a lot like Schrage is doing some pre-emptive damage control.
2. Definers "do work" on critics for Facebook
Facebook is handling their public critics like politicians handle their political opponents. As Schrage said, "Some of this work [re: Facebook with Definers] is being characterized as opposition research, but I believe it would be irresponsible and unprofessional for us not to understand the backgrounds and potential conflicts of interest of our critics."
3. Facebook hired Definers in 2017
"We hired Definers in 2017 as part of our efforts to diversify our DC advisors after the election," said Schrage. "We also faced growing pressure from competitors in tech, telcos and media companies that want government to regulate us. This pressure became particularly acute in September 2017 after we released details of Russian interference on our service."
4. Facebook had Definers "do work" on George Soros
Schrage mentions specifically that Facebook told Definers to "do work" on Soros. As Schrage said, "In January 2018, investor and philanthropist George Soros attacked Facebook in a speech at Davos, calling us a 'menace to society.' We had not heard such criticism from him before and wanted to determine if he had any financial motivation."
"Later, when the 'Freedom from Facebook' campaign emerged as a so-called grassroots coalition, the team asked Definers to help understand the groups behind them," said Schrage. "They learned that George Soros was funding several of the coalition members. They prepared documents and distributed these to the press to show that this was not simply a spontaneous grassroots movement."
5. The "anti-Semitic" message mistake
At some point between the New York Times article and the fallout, it seemed that Facebook was being blamed for anti-Semitic propaganda against George Soros. I believe this was due to the following two-sentence paragraph in the New York Times article:
SEE TOO: You're apathetic about privacy, and Facebook is counting on it
"Facebook also used Definers to take on bigger opponents, such as Mr. Soros, a longtime boogeyman to mainstream conservatives and the target of intense anti-Semitic smears on the far right," said the article. "A research document circulated by Definers to reporters this summer, just a month after the House hearing, cast Mr. Soros as the unacknowledged force behind what appeared to be a broad anti-Facebook movement."
At no point did the article specifically say that Definers did any sort of anti-semitic work against Soros. It's more like the author of the NYT article sought to remind the reader what's defined Soros in the recent past. Stating the fact that Soros was the target of anti-semitic attacks shouldn't have implied Definers had anything to do with these sorts of attacks – even if that's what the reader took away from the paragraph.
6. Schrage hired Definers for Facebook
According to Schrage, it was Schrage, leader of the Communications team, that was responsible for approving of Definers "and similar firms." Schrage also mentioned that he "should have known of the decision to expand their mandate."
Schrage made sure to note that "Mark and Sheryl relied on me to manage this without controversy."
7. Facebook is reevaluating its work with Definers
While one part of the note from Schrage suggests Facebook is "continuing to review" their relationship with Definers, he also suggests that they've "stopped working with them" altogether. "Mark has asked us to reevaluate how we work with communications consultants," said Schrage. "It's not about Definers. It is about us, not them."
Schrage also notes that the future holds additional review. "Our legal team continues to review our work with Definers to understand what happened."
8. Sheryl Sandberg also claimed blame
Sandberg added a bit to the note made by Schrage to make it clear that she oversees the Comms team and takes "full responsibility for their work and the PR firms who work with us."
9. Sandberg had "materials" with Definers work
Sandberg released a note on the 15th of November (less than a day after the NYT article) which included language suggesting she did not know the company hired Definers, and did not know of any work they were doing. Here on November 21st, Sandberg suggested that she "didn't remember a firm called Definers" when she "read the story in the New York Times last week."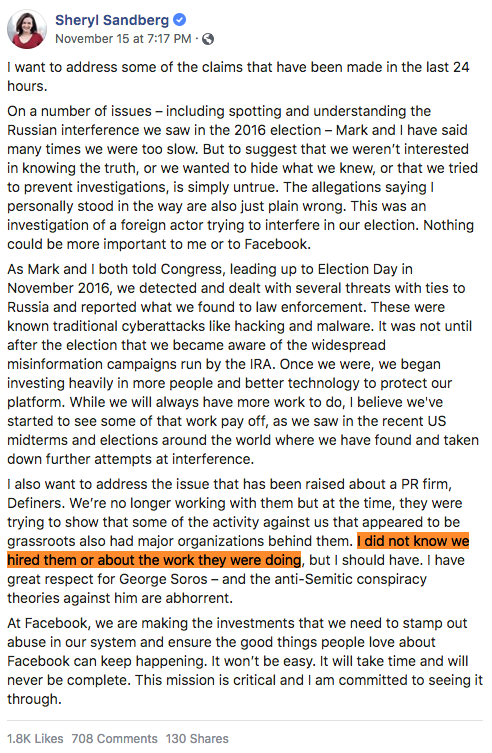 Though she said in her note on the 15th that she did not know that Facebook had hired Definers, this new note on the 21st suggested the following: "I asked our team to look into the work Definers did for us and to double-check whether anything had crossed my desk. Some of their work was incorporated into materials presented to me and I received a small number of emails where Definers was referenced."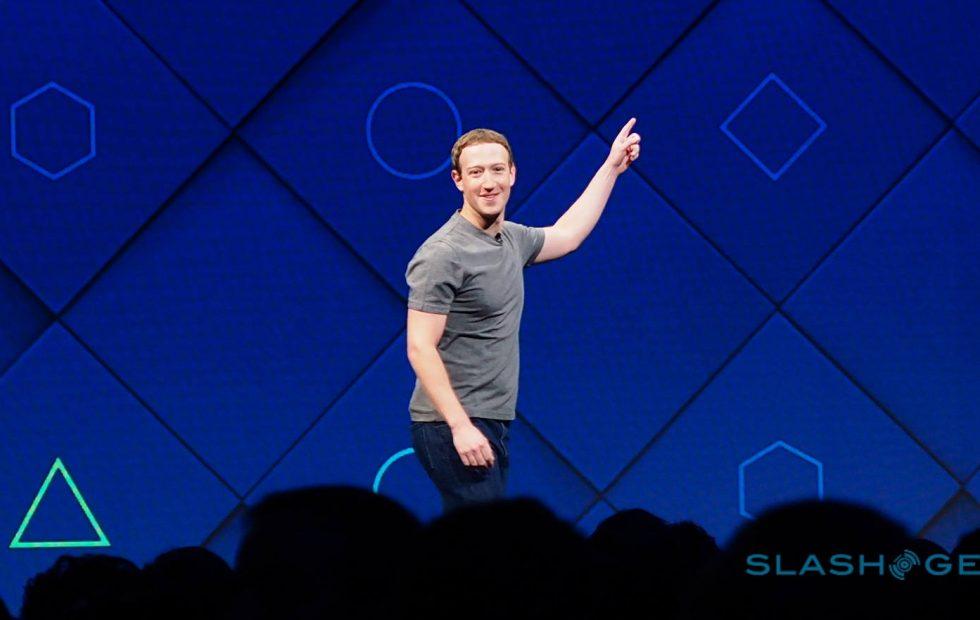 10. Mark is Uncomfortable
Schrage made sure to mention that Mark Zuckerberg felt human emotions, and that he "has made clear that because Facebook is a mission driven company, he wants to hold us to a higher standard."
"He is uncomfortable relying on any outside firm to make decisions about how to make our case about our mission, policies, competitors and critics until he can become comfortable with our management, oversight and escalation." Whether or not that means they'll continue to rely on outside firms to make decisions – that's not quite as clear. The only thing that is clear is that Mark is uncomfortable.