1 Billion downloads from Apple App Store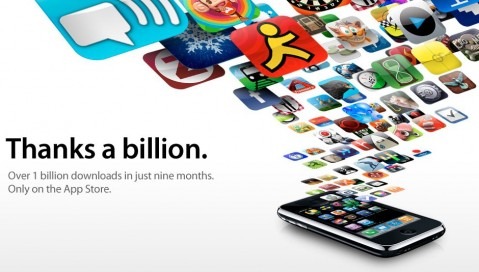 Two weeks ago, Apple announced they were approaching one billion software downloads from their App Store.  Since then, 70 million more titles have been accessed on the iPhone and iPod touch, breaking the one billion mark – all in just nine months time.
The milestone also brings to a close Apple's $10,000 iTunes gift card competition, where anyone downloading an app (or filling in an online form) stood a chance to win not only the biggest iTunes card you'll never find at the Walmart checkout, but a MacBook pro, iPod touch and Time Capsule backup device.  The giveaway was open until the one billion mark had passed; Apple will now pick one lucky winner.
At times the App Store has seen some controversy, as Apple's approval policies bumped up against the demands of customers and the intentions of developers.  Still, it demonstrates how successful an on-device software distribution service can be, something Google with their Android Market, RIM with the BlackBerry App World, and others have all been watching intently.