Apple counting down to 1 Billion Apps, Win $10k iTunes card, other prizes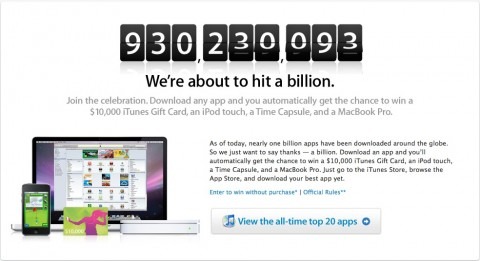 Apple is counting down to the 1 BILLIONTH download of an application on the iTunes App store. Every application you download enters you into the contest to win a $10,000 iTunes gift card, an iPod Touch, a Time Capsule, and a MacBook Pro.  You're allowed 25 entries per day, or you can fill out an entry form HERE to enter without downloading an App.
So there's no confusion, here's the official wording:
As of today, nearly one billion apps have been downloaded around the globe. So we just want to say thanks — a billion. Download an app and you'll automatically get the chance to win a $10,000 iTunes Gift Card, an iPod touch, a Time Capsule, and a MacBook Pro. Just go to the iTunes Store, browse the App Store, and download your best app yet.
The iTunes App store for iPhone and iPod Touch was released last year and has quickly surpassed multiple milestones, including over 50,000 applications and now apparently nearly a billion downloads of both free and paid apps. So is that $10,000 iTunes gift card Apple's version of a stimulus package? Anyone know how that will affect inflation of iTunes' song prices? Will we see a price jump to $1.29? Oh wait...
[Via Apple]