Zynga's Draw Something garners 100 million downloads in first year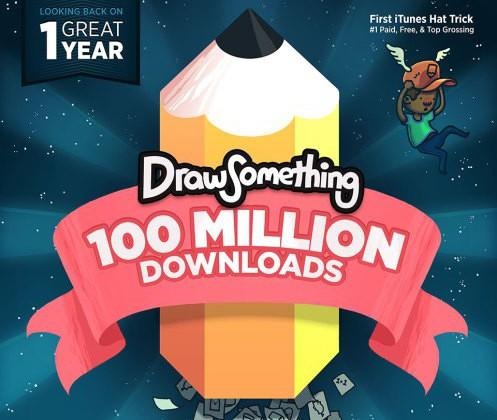 Remember the fun, social drawing game Draw Something? It was released a year ago and became the number one social game within a month or so. If you were like a lot of people, though, you probably played for a bit and then ultimately deleted the app after a week. However, it seems the game has been a huge hit for a whole year now, because Zynga is reporting that the game has garnered 100 million downloads in its year of existence.
Over the last year in Draw Something, 11 billion drawings have been made, with players spending over 28,000 combined years playing the game. The most popular object drawn? A pizza, which has been drawn 22 million times, beating out 11 million drawings of Lady Gaga. Furthermore, there have been five marriage proposals within the game and two breakups, proving that a game can find you love, as well as tear apart fragile hearts.
In total, there are players from 190 countries around the world, with the game hitting #1 at some point in 84 of those countries. At the game's peak, 3,000 drawings per second were sent, and the most drawings ever by a single player was 36,752, confirming that at least someone playing Draw Something didn't have too much of a life.
Zynga didn't say how many active users it currently has compared to the first few months after the game was launched, but it probably isn't that great. Back in May, after the game had been out for a few months, it was reported that Draw Something lost five million players within a month, and it would be difficult to believe if the game somehow gained those kinds of numbers back later in the year.