Zune HD Premature Promo Video Confirms 3D Gaming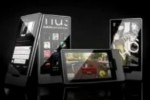 With the Zune HD officially launching in a matter of hours, it isn't long before all the mysteries of Microsoft's new PMP are splayed open like a druid sacrifice.  Still, until then we'll keep gobbling up whatever we're given, such as some prematurely posted adverts for the Zune HD and seemingly confirmation that it will be capable of 3D gaming.
Video after the cut
Over the weekend, several preview videos were posted online and then quickly yanked; not quickly enough, however, to prevent Neowin grabbing them.  As you can see in the clip below, the Zune HD is briefly shown playing a 3D racing game, while the voiceover highlights that the PMP will also allow for gameplay.
Since the Zune HD is based on NVIDIA's Tegra chipset – a 720p HD-capable platform with HDMI output and hardware video acceleration – that really comes as no surprise, but it's been a factor Microsoft themselves have been decidedly quiet on until now.  The PMP officially arrives tomorrow, priced at $220 for the 16GB model and $290 for the 32GB version.
[via Ars Technica]