Zune 2 Image Confirmed; Microsoft Aiming For October 16th Launch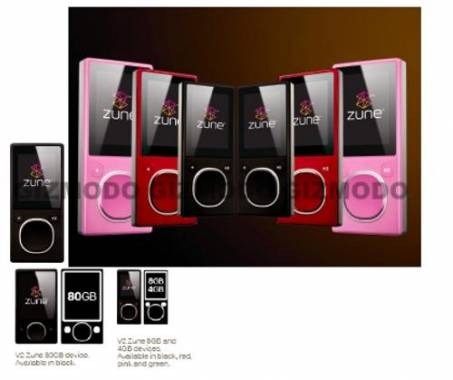 Oh Zune, how I wish I could summon up a little enthusiasm for you and your potential offspring.  Further information regarding the Zune 2 leaks disappointingly from Microsoft, and while they're obviously gunning for a holiday frenzy with a planned October 16th launch, the confirmed specs – and the photo everyone said "meh" about – don't look to offer up too much of a challenge to the refreshed iPod range.
ZuneScene's inside source at Microsoft confirmed the leaked photos and gave that unusual directional pad a name: the squircle.  Apparently there's no centre-select, it just moves in four directions like a standard D-pad, with the 'back' and 'play' buttons remaining functionally unchanged.  In terms of colour, the underrated brown Zune looks to have perished while a new "army jeep" green joins the pink, red and black seen in the image; the rumoured blue Zune is not mentioned.
"ZuneScene: iPod announced a 160gb model, will there be a 160?

Source: Right now we just have the 80, but more will come later I'm sure.  If you are into video, you will want a Zune.  The displays are awesome on the new Zunes"
The smaller, flash-based Zune will come in 4GB and 8GB sizes, while the existing 30GB will be replaced by an 80GB model.  ZuneScene have a full transcript of their conversation (minus the source's name, of course), but to be blunt it's all a little underwhelming.  Maybe this will be a case of a gadget exceeding the sum of its parts and proving so tactile, so easy to use and so addictive that it puts up a good fight against the competition, but that's something we'll have to wait to find out about come mid-October.