ZTE Overture marks Aio Wireless 4G LTE network launch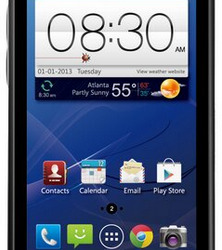 Last month, AT&T's recently launched Aio Wireless added the Nokia Lumia 620 to its modest lineup of devices, and today it has added another device, this time for a special occasion – the launch of its 4G LTE network, giving users access to faster mobile data. The handset is an Aio-branded ZTE Overture, which will hit shelves in July.
Aio Wireless is the prepaid subsidiary of AT&T, which it launched on May 9, helping it compete with other prepaid plans and carriers in the United States. The way it works is simple – subscribers buy a non-subsidized phone, sign-up for a contract-free prepaid plan, and then receive service via AT&T's towers. Until today, the subsidiary was only available in Tampa, Houston, and Orlando.
Today it announced that in those market locations, subscribers will now have access to 4G LTE, as well as two new markets it has expanded into today: Naples and Ft. Myers, Florida. This gives about 200 million people access to the network, with those who already subscribe getting an OTA update enabling LTE access – assuming their handset supports it.
And to mark the occasion, the launch is being done alongside the announcement of a new 4G LTE-capable smartphone: the ZTE Overture, which is slated to launch both online an in stores sometime next month. The phone is a mid-range offering, bearing a 4-inch display, a rear 5-megapixel camera, as well as a smaller front-facing camera, with Android Jelly Bean on board. There's a microSD expansion slot with support for up to 32GB.
Said Aio's President Jennifer Van Buskirk: "We're delighted to share the news of our 4G LTE service and our new LTE-capable device, as well as the addition of our two new Aio markets, bringing even faster data speeds and more choices to our growing family of Aio customers who are looking for a first-class wireless experience without an annual contract."
SOURCE: Aio Wireless and Twitter