ZTE Grand Era LTE Revealed With Dual-Mode LTE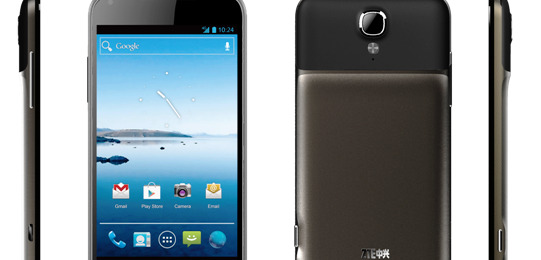 This week the ZTE Grand Era LTE has been revealed in Hong Kong with no less than the ability to connect to two different kinds of 4G LTE mobile data. This machine works with China Mobile Hong Kong's first commercial converged TD-LTE / LTE FDD network – but there's a hitch to this dual-connecting beast. Before we get to that though, it's all about the specifications: a 1.5GHz dual-core processor and 1GB of RAM under a 4.5-inch 1280 x 720 pixel resolution display with Gorilla Glass up front for hardcore scratch resistance.
This machine works with ZTE's own flavor of user interface over the top of Android 4.0 Ice Cream Sandwich by the name of Mifavor. This UI is not shown on the press photos, mind you, and will be revealed in full at the time of its final launch. You'll see an 8 megapixel camera on the back of this device along with a single LED flash and a mix of soft plastic up top and hard plastic through most of the body of the device, all in dark shades of gray.
The ZTE Grand Era LTE is set to help ZTE showcase it's FDD/TDD dual-mode MF93E uFi device and the MF825 data card on the new Hong Kong network throughout 2013. According to ZTE, the size and average power consumption of the MF93E and the MF 825 have both been reduced by "nearly a third" when compared to the first generation of LTE devices. This also means that they've been reduced in size and increased in speed.
We're not expecting this device in its current form to be visiting the shores of the USA any time soon as a consumer product, but we'll likely get to have a peek at it when we visit ZTE at CES 2013. Don't forget to visit our CES 2013 tag portal from here until early January to get all your favorite consumer electronics action right from the source, in Las Vegas, Nevada with SlashGear!
[via ZTE]