The ZTE Axon M has twin displays and we've a lot of questions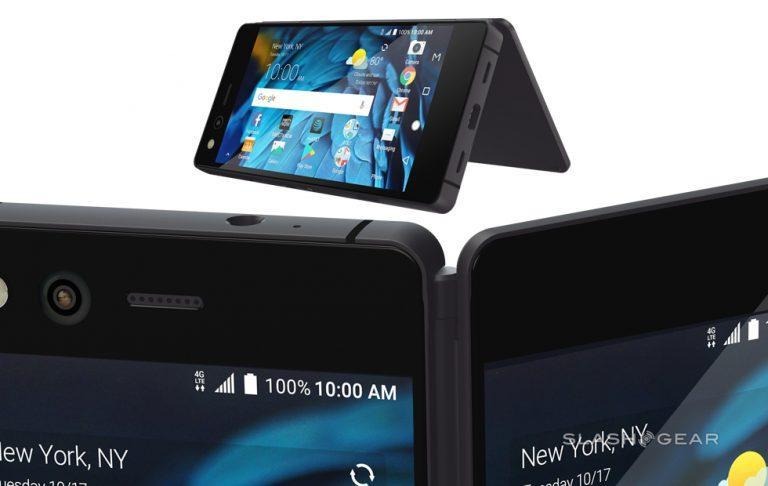 The ZTE Axon M is a smartphone with two displays – one on one half, and another on the other. This device isn't the sort of smartphone just any average user will want – instead it's made to provide for those users that want something completely out of left field. For those users that want to keep two smartphones in their pocket but would rather they were connected by a hinge – this is right along those lines.
ZTE really wanted to make an impression with this device. Not since 2011 have we seen something this near to complete oddity. Back then we had a peek at the Kyocera Echo with baffled looks on our faces. Sprint and Kyocera released a device with two displays that really, truly made the case for never coming back to this sort of device ever again.
It took 6 years for the industry return to this place, and a manufacturer who wanted to try a similar setup with a far more elegant hand in design. This isn't a hunk of plastic like that monstrous device. This is one of ZTE's most well put together devices to date.
This device has a full metal body. ZTE used "CNC Techniques for accurate and consistent milling of metal exterior for [an] ultra smooth finish." The device's exterior is mostly aluminum, with a full metal unibody design.
The ZTE Axon M features 2x (two) displays. These displays are identical, each of them working with 5.2-inches diagonally with TFT LCD technology. Both displays have 1920 x 1080 pixel resolution, bringing this device up to 426 PPI (pixels per inch). Over the top of these displays is a pair of panes of Gorilla Glass Gen 5.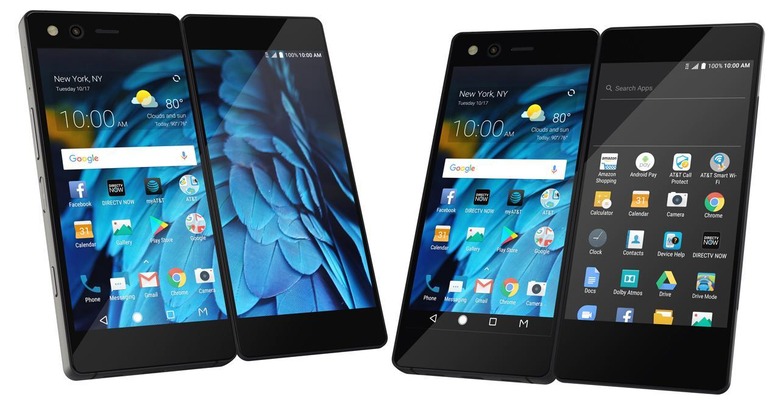 Right out the gate this device features Android 7.1.2 (Nougat) for some strange reason. No word yet on whether the device will reach Oreo in the near future. The ZTE Axon M has a Qualcomm Snapdragon 821 (MSM8996 Pro) processor inside – that's the same as the Pixel gen 1.
Internal storage is 64GB, while a microSD card slot allows for storage space expansion by 256GB. This device works with USB-C, Bluetooth 4.2, and Qualcomm's quick-charge 3.0 for fast battery charging. The battery in this device is 3180 mAh large and non-removable.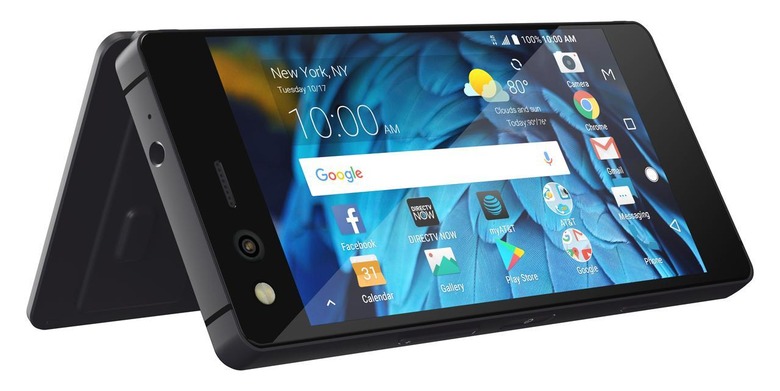 The back-facing camera on this device is a 20-megapixel shooter with PDAF, F/1.8, and image stabilization for both photos and video. This camera has an "alternate VCM for better auto focus", and Super Auto Mode (we'll see what this is all about when we get the device for our full review).
The front-facing camera works with 4K 30fps video as well as 720p at 240fps slow-motion. This device has dual speakers with Dolby Atmos sound playback codec, as well as a "dedicated audio chipset". ZTE suggests that this device has a "AKM 4962 HiFi main chipset to provide HiFi and recording features."
This device will be released with AT&T in the United States soon. UPDATE: This device will be available for $24.17 a month for 30 months on AT&T Next. That's $725 total.
UPDATE 2: More information has been released on the ZTE Axon M, including notes on four modes in which the device may be used:
• Dual Mode: One screen can be used to watch a video while the other is being used as a web browser.
• Extended Mode: Use both displays together as one big display.
• Mirror Mode: "sit across from your friends to watch the same content by simply folding the device and place it on a table for easy viewing from two separate sides"
• Traditional Mode: One screen off, the other on, like a normal phone – mostly.
Watch the full event at which this device was revealed in the video below – and stick around for our full review!