ZTE AXON 7 competes with the big boys in specs and price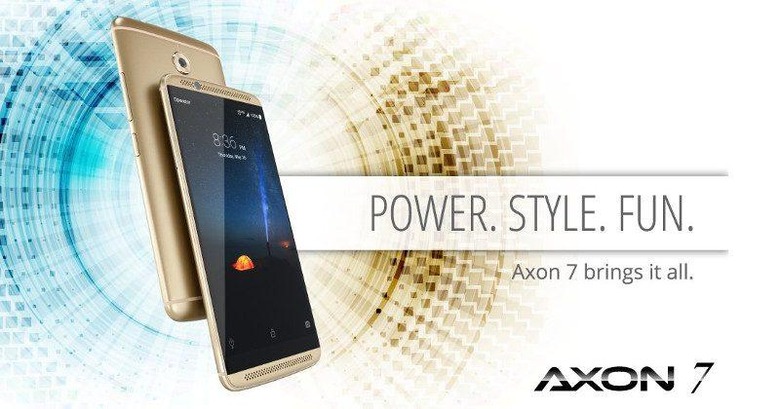 The stigma with Chinese smartphones, especially those sold in the US, is that they more often than not undercut features to keep things wallet-friendly. While true in the past, that is slowly changing, and ZTE, which does still sell mostly budget smartphones in the US, is definitely bucking that trend with its new ZTE AXON 7 flagship. Bearing 2016 flagship specs, a premium looking design, and a cornucopia of modern features, the AXON 7 also carries with it, at least in its highest model, a price tag that is also on par with those flagships.
Hardware-wise, the ZTE AXON 7 should sound familiar with anyone who has read about the Samsung Galaxy S7, the LG G5, the HTC 10, or the Sony Xperia X Performance. In short, it's very high-end, which some might find unusual for a usually budget brand like ZTE. Here's a quick rundown of those specs:
• OS: Android 6.0 Marshmallow (MiFavor 4.0)
• Size: 151.7 x 75 x 7.9 mm
• Weight: 175g
• Display: 5.5" WQHD Super AMOLED 535ppi
• Processor: Snapdragon 820 MSM8996
• RAM: 4GB RAM or 6GB RAM (premium version)
• Internal Storage: 64GB or 128GB (premium version)
• microSD card slot (dual sim or 1 sim + microSD)
• Camera (rear): 20MP (F1.8) with OIS, PDAF
• Camera (front): 8MP (F2.2)
• Connectivity: WiFi 802.11 a/b/g/n/ac (2.4/5GHz), Bluetooth v4.1 LE, NFC
• Battery: 3,250 mAh
There's a fingerpint scanner on the back, below the rear camera. The AXON 7 charges via a USB-C port that supports Quick Charge 3.0, no word on the USB Power Delivery standard spec. Curiously, it also a "Force Touch" feature on the premium version, though ZTE has yet to elaborate on that further.
Design-wise, the AXON 7 does look premium, thought not completely novel. It's hard not to draw parallels to older HTC One flagships, especially with the plastic lines on the rear cover and the dual front-facing speakers. Not that those aren't actually good designs. ZTE claims that it took its inspiration from the design of luxury cars and has even partnered with BMW's Designworks subsidiary to make that point.
ZTE puts a lot of focus on two major features of the AXON 7. Unsurprisingly, one of those is the camera. The smartphone does boast of a 20 megapixel rear sensor equipped with Phase Detection Autofocus, Optical Image Stabilization, and, impressively, a large f/1.8 aperture. The front camera is somewhat less impressive, with 8 megapixels and f/2.2 aperture. The other feature ZTE is boasting about is the AXON 7's audio and speaker quality. While it does sport Dolby Atmos, there are no big names mentioned, like Bang & Olufsen or any other heavy weight in the audio industry.
ZTE has definitely stepped up its game with the ZTE AXON 7 but has, unfortunately perhaps, also stepped up the price. The "Basic" model starts at 2,899 RMB, roughly $442, but the Standard configuration does go for 3,299 RMB, or $503. The Premium edition, which is really the flagship level, has a 4,099 RMB price tag, which translates to around $625. Sales start on June 2 but pre-orders have already via JD.com. As always, no news on whether ZTE plans to bring it to the US.
ZTE has also announced its own smartphone-powered VR headset called, what else, the ZTE VR. The company poises it as the perfect match to the AXON 7's high resolution screen and Dolby Atmos speakers. It also boasts that the company is one of the first to support Google's new Daydream VR platform. The ZTE VR sells for 518 RMB, or $79, which definitely makes it one of the more affordable ones in the market.