ZTE Anthem heads to MetroPCS with dual-core power for $219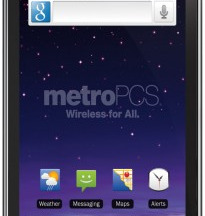 The folks from MetroPCS just announced another 4G LTE capable smartphone to grace their slowly expanding LTE lineup. The ZTE Anthem 4G will be a great budget friendly device with mid-range specs and a powerful dual-core processor all for the low price of $219 with no annual contract. Head past the break for more details.
The ZTE Anthem will be ZTE's first 4G LTE device to hit the US market, and while it isn't a beast by any means it offers a decent package given the price. It certainly isn't pretty to look at, and is that Gingerbread? Yup sadly this device is launching with a severely outdated OS. Running on the old Android 2.3 Gingerbread operating system.
Other specs include a 4.3-inch wVGA 480 x 800 resolution display, a Qualcomm 1.2 GHz dual-core processor, we'll assume 1GB of RAM (could be 768) and packing a 5 megapixel camera with flash on the rear. Other than the old and outdated Gingerbread this device is a rather attractive offering for the no contract 4G LTE plans at MetroPCS.
"As our first U.S. 4GLTE smartphone, we're proud to launch the Anthem 4G with our long-time partner MetroPCS because we share their goal of providing consumers with outstanding value and a strong 4G LTE experience," said Lixin Cheng, CEO, ZTE USA
Why ZTE or MetroPCS are allowing this out of the factory with Gingerbread is beyond me, but what do I know. You'll also get micro-SD support and HDMI-out for those looking to stream anything to the big screen. The ZTE Anthem 4G will be available in the coming weeks on MetroPCS with no annual contract for just $219.
[via PRNewswire]