ZOTAC GeForce 8200-ITX WiFi mini-ITX motherboard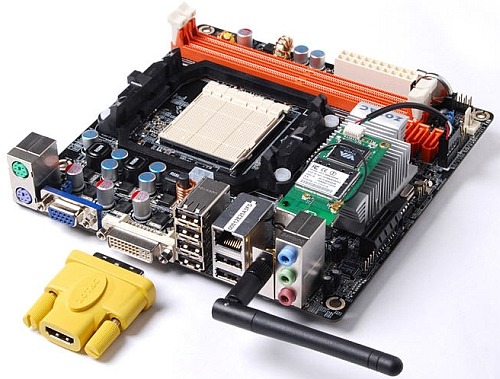 Motherboard manufacturer ZOTAC have unveiled the GeForce 8200-ITX WiFi, a mini-ITX 'board complete with integrated NVIDIA GeForce 8200 mGPU, WiFi b/g, an AMD Phenom, Athlon and Sempron-compatible AM2+ socket and support for up to 8GB of DDR2 memory.  Despite the compact size (mini-ITX boards measure 17cm square), the GeForce 8200-ITX WiFi is capable of playing back high-def video with hardware decoding together with upscaling regular-definition content.
Connections include DVI (with an included HDMI dongle) and VGA, one PCIe, four SATA 3.0Gbps (supporting RAID 0, 1, 0+1 and 5), gigabit ethernet and ten USB 2.0 ports (six on the rear panel, four via pin-headers on the 'board itself).  It's OpenGL 2.1 compatible, NVIDIA PhysX ready, NVIDIA CUDA ready and has PureVideo HD technology.
In addition there's 5.1 surround sound out of the box.  The ZOTAC certainly looks like a good starting point for a compact HTPC setup, although with just the one PCIe slot you'd be limited to a single tuner card.  No word on pricing, however. 
Press Release:
ZOTAC Unleashes Graphics Plus Mini-ITX Platform

New ZOTAC GeForce 8200-ITX WiFi delivers NVIDIA CUDA support to mini-ITX form factor

HONG KONG – Dec. 3, 2008 – ZOTAC International, a leading manufacturer of NVIDIA-based motherboards and graphics cards, today unleashes its first Graphics Plus capable mini-ITX motherboard – the ZOTAC GeForce 8200-ITX WiFi. Powered by an NVIDIA GeForce 8200 mGPU, the ZOTAC GeForce 8200-ITX WiFi delivers NVIDIA unified architecture, NVIDIA CUDA, NVIDIA PureVideo HD and integrated WiFi technologies rolled up into a miniature 170mm x 170mm platform. The ZOTAC GeForce 8200-ITX WiFi with NVIDIA unified architecture features 16 screaming-fast stream processors that are programmable for phenomenal visuals with DirectX 10 and OpenGL 2.1 enabled 3D games and applications or high-speed general computing tasks with NVIDIA CUDA-enabled applications.

NVIDIA CUDA technology enables the ZOTAC GeForce 8200-ITX WiFi to use its integrated graphics processor to accelerate complex mathematical calculations, image processing and video editing tasks.

"General purpose computing is the future of graphics processors. The performance gains with NVIDIA CUDA enabled applications are astonishing with GeForce series graphics processors. Our new ZOTAC GeForce 8200-ITX WiFi enables users to take advantage of CUDA technology while maintaining a small system foot print," said Carsten Berger, marketing director, ZOTAC International.

NVIDIA PureVideo HD technology transforms the ZOTAC GeForce 8200-ITX WiFi into a multimedia powerhouse. PureVideo HD enables the ZOTAC GeForce 8200-ITX WiFi to decode high-definition Blu-ray content using the integrated GeForce 8200 graphics processor for vivid, smooth and lag-free Blu-ray video playback.

NVIDIA PureVideo HD technology also breathes new life into existing DVD movie collections with advanced scaling and de-interlacing algorithms. Using the advanced algorithms, the ZOTAC GeForce 8200-ITX WiFi is able to render existing standard-definition DVDs to near-high-definition levels of video quality.

"Although high-definition is the future of multimedia, we can't neglect users with existing DVD collections. NVIDIA PureVideo HD technology allows us to deliver video processing that's beneficial to users that have standard and high-definition content with our ZOTAC GeForce 8200-ITX WiFi," Mr. Berger added.

Wireless 802.11b/g technology enables the ZOTAC GeForce 8200-ITX WiFi to connect to networks wirelessly, reducing the amount of wiring required to the system. The wireless adapter is integrated into the ZOTAC GeForce 8200-ITX WiFi, allowing wireless network connectivity without large external adapters or internal add-in cards, for easy wireless network connectivity.

It's time to play with the ZOTAC GeForce 8200-ITX WiFi.

General details

• New NVIDIA GeForce 8200-ITX WiFi platform

• NVIDIA GeForce 8200 mGPU

• 16 stream processors

• Microsoft DirectX 10 and OpenGL 2.1 compatible

• NVIDIA CUDA and PhysX ready

• NVIDIA PureVideo HD technology

• DVI with HDCP (w/Audio) and VGA outputs

• HDMI output with dongle (w/Audio)

• Integrated 802.11b/g WiFi

• AMD Phenom, Athlon and Sempron – Socket AM2+ support

• HyperTransport 3.0 compatible

• 2 DDR2 DIMM slots

• DDR2-800/1066 compatible

• Up to 8GB of DDR2 memory

• ZOTAC Extended Warranty (visit www.zotac.com for details) 
[via CrunchGear]