Zoom Q3 Handy Video Recorder from Samson Tech now shipping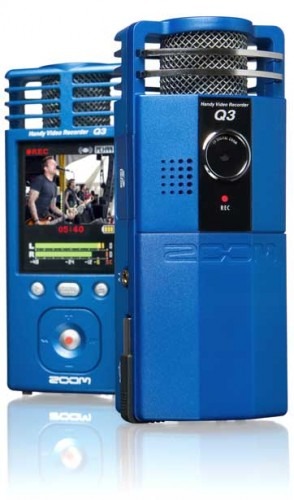 You may recall that somewhat odd looking Zoom Q3 camcorder that tipped up back in July. The camcorder was among the first of the small portable variety to focus as much on the sound quality of the recording as much as video quality with a built-in stereo microphone on top. I guess that is to be expected when the device comes from a company that makes pedals and other gear for musicians.
I could certainly see the Zoom Q3 being used by small groups to film performances and for music videos. When we first heard about the device it was set to ship then, but for one reason or another shipments never went out. The Zoom is now shipping in quantity so you can grab yours now.
In case you missed the earlier posts, the device records video to SD cards up to 32GB in MPEG-4 at 30 frames per second at640 x 480. The rear LCD is 2.4-inches and can display audio meters to allow users to set levels as they shoot video. The camcorder ships with a windscreen for the mic, carry pouch, 2GB SD card, cables, and a pair of AA batteries for $249.