Zoom Q3 Handy Video Recorder announced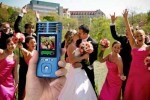 Zoom has announced today a brand new device called the Q3 Handy Video Recorder. This gadget offers pro-level audio and video recording for anyone that needs fantastic audio along with stunning video capture.
Intended for videographers and musicians, this Video Recorder comes with HandyShare software, making it easy to edit videos and upload them to you YouTube on the fly. Even better yet, the camcorder is lightweight and portable, making it perfect for on-the-go use.
It comes with two condenser microphones and the ability to record audio at 24-bit/48kHz HD quality. The mics can be focused as well, which is very similar to audio zoom. Other features include a 2.4-inch LCD display, a 32GB SDHC card and a USB cable. It's powered by 2 AA batteries and can record 640 x 480 rez video for up to two hours. The Q3 Handy Video Recorder is now available for $249.