Zoom H2n portable recorder packs five microphones [Video]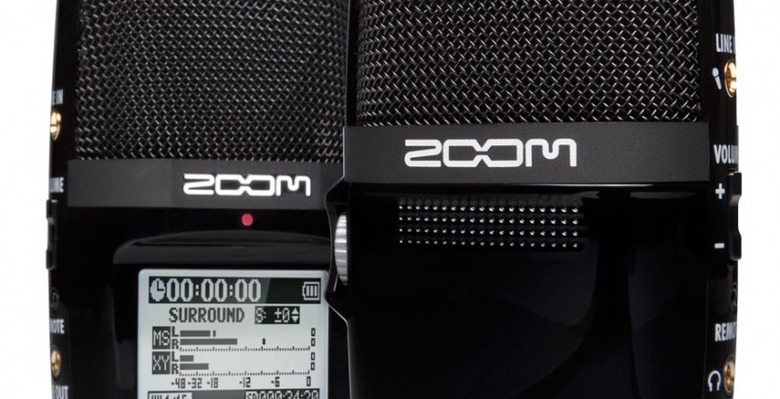 Zoom first showed us its H2 portable stereo recorder back at CES 2008, so the handheld is well overdue a refresh. The Zoom H2n keeps the pocket-sized portability but increases the number of microphones to five, adding four recording modes that can narrow down to capture a single speaker or vocalist, or broaden out to capture the full soundstage.
The four modes consist of Mid-Side stereo (with a front-directional pickup as well as pickup from the sides), 90° X/Y stereo (for more natural stereo recording), 2-channel and 4-channel surround sound (both with 360-degree recording). All of the settings for each mode are controlled on the 1.8-inch LCD display, to adjust how much each microphone picks up. If that sounds a little confusing, the video below should hopefully clear things up.
There's also the ability to use the Zoom H2n as a USB microphone, an integrated reference speaker and up to 20hrs of recording time from a couple of regular AA batteries. If you run out of power mid-session, there's a data recovery system that claims to be able to restore your files; Zoom also bundles a copy of WaveLab LE 7. Storage is onto SD card, with up to 32GB supported.
The Zoom H2n will go on sale in September, priced at $199. Optional accessories include a mini-tripod and remote control.