CES 2008: Zoom H2 Stereo Recording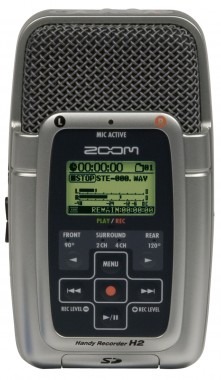 The Zoom H2 from Samson studio quality stereo recording in and ultra portable package. It weighs just over 4ounces, is both PC and MAC compatible, offers time stamping and gives 138 hours of MP3, 2 hours of recording at 96kHz and 6 hours at 44.1kHz. It comes with a 512MB SD card and has 4 onboard mic capsules.
You can record and share anything you like with a device like this, with anyone and anywhere. You can buy it now for around $200. There's also an H4 version which has can take a 1GB SD card and while it has considerably less recording time, only 34 hours, it can do double the work.