Zoom H1 Handy Recorder promises pro-audio for $99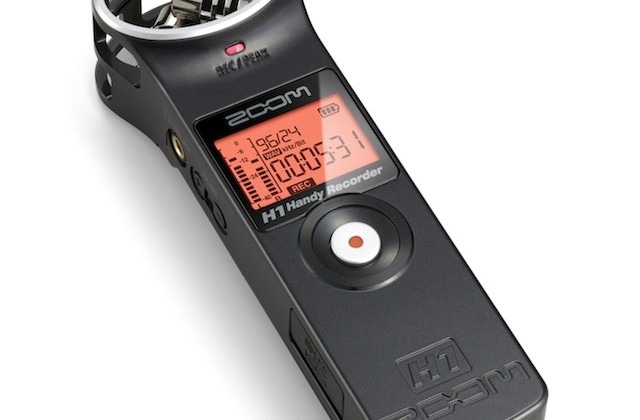 It's not paranoia if you insist on recording every conversation you ever have, it's just plain common sense.  Zoom obviously know that, since they've just outed their latest stereo recorder, the Zoom H1 Handy Recorder, and it's their smallest and cheapest to-date.  $99 gets you a 2oz handheld with twin stereo microphones capable of slapping down 24-bit/96 kHz stereo audio onto up to 32GB microSDHC cards.
It's supposedly easier to use, too, with Zoom ousting menus in favor of dedicated buttons that control track markers, auto record, low cut filters, level and volume controls.  A 32GB card is good for 50hrs of audio, an AA battery is good for 10hrs recording, and there are USB, tripod mount, 1/8-inch external mic input and stereo 1/8-inch line outputs along with a reference speaker.  Expect it to hit shelves on July 30th, priced at $99, alongside a $24.99 H1 accessory kit including windscreen, AC adapter (USB type), USB cable, adjustable tripod stand, soft carrying pouch and mic clip adapter.
Press Release:
Available July 30: Zoom's H1 Handy Recorder

Their smallest, most affordable recorder ever

The H1 puts professional stereo recording capabilities in your pocket

Hauppauge, NY – June 01, 2010 – Zoom is excited to announce availability and shipping dates for its smallest recorder to date, the new H1 Handy Recorder. Weighing in at about 2 oz, the H1 records big sound despite its tiny footprint and features the same studio-quality microphones as Zoom's renowned H2 – the most popular handheld recorder in the world. The H1 is priced at just $99, making it one of the most affordable professional recording solutions available.

Like all Zoom recorders, the H1's two onboard microphones are configured in an X/Y pattern, for stunning stereo imaging depth and clarity. The pocket-sized H1 delivers crystal clear 24-bit/96 kHz stereo recordings perfect for music, interviews, lectures, recitals, band practice and more.

"It's our smallest recorder ever," said Mark Wilder, Director of Marketing. "But don't let its size fool you. The H1 Handy Recorder features our studio-quality microphones and our award winning recording technology at a very affordable price."

The H1 is also the easiest Zoom recorder to use, sporting a newly designed user interface that places all its functions at the touch of a button. Zoom included access to the track marker, auto record, low cut filter, level and volume controls with onboard buttons and no menus.

The H1 can accommodate up to 32GB microSDHC memory cards, providing over 50 hours of recording time. The new pocket sized recorder is powered by a single AA size battery, which provides up to 10 hours or continuous operation. H1 users can purchase an H1 accessory kit for just $24.99 that includes a windscreen, AC adapter (USB type), USB cable, adjustable tripod stand, soft carrying pouch and mic clip adapter.

The Zoom H1 Handy Recorder will be available everywhere on July 30 for $99.

Stereo X/Y mic configuration captures perfect stereo images

Same frequency and SPL handling as popular Zoom H2

Records WAV 96kHz/48kHz/44.1kHz at 16-bit or 24-bit

Records MP3 from 48 to 320kbps for maximum recording time

USB 2.0 port and integrated reference speaker built-in

One AA size (LR6) battery – 10 hours operation

Includes 2GB microSD memory card and AA battery

Accommodates up to 32GB microSD memory cards

Auto record level setting

Track marker function

Low cut filter

1/8" external mic input

Stereo 1/8" line output

Built-in mounting joint for tripod and mic stand mounting

About Zoom Corporation

Zoom is renowned all over the world for its recording and guitar effects gear. Headquartered in Tokyo, Zoom has continuously created a diverse line of original, innovative audio products from effect processors, to rhythm machines, samplers and recorders. Samson Technologies is the exclusive U.S. distributor of Zoom products. Samson is based in Hauppauge, New York. zoom.co.jp /samsontech.com