ZiiLABS TRINITY Demos 1080p HD Skills [Video]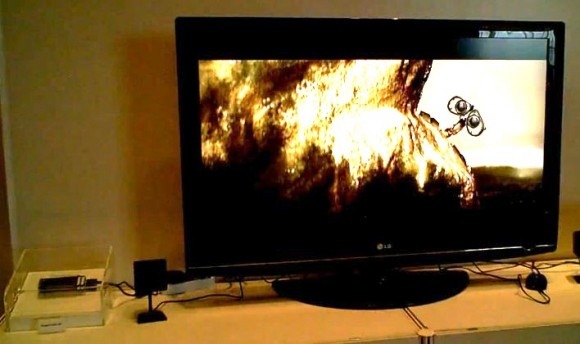 As video demos go we'd have preferred to see a little bit more of the ZiiLABS TRINITY smartphone, but a brief splash of the ZMS-05 based handset outputting 1080p High Definition video is not something to be sniffed at.  While the current TRINITY reference design has a proprietary docking connector on the bottom, Creative have already said that it's a simple matter to switch that to a mini HDMI and microUSB pair.
Video demo after the cut
It looks like the demo model in this video is still using the docking connector, with some sort of dual-headed HDMI and power cable.  Still, the important thing is that Wall-E looks pretty darned impressive on an HDTV, and of course the ZMD-05 supports accelerated OpenGL ES 3D graphics so mobile gaming should be an interesting experience on the TRINITY too.
Unfortunately Creative are still refusing to do the sensible thing and greenlight a production version of the TRINITY that we can actually, you know, buy.  Instead they're flaunting the handset to OEMs in the hope that someone will decide to build and sell it themselves.
[via MobileHub]