Zii TRINITY 3.5G ZMS-05 dev smartphone announced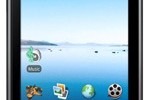 As promised last month, the ZiiLABS team have revealed their first smartphone development platform, the Zii TRINITY, based on the company's StemCell ZMS-05 processor and throwing in quadband GSM and triband WCDMA/HSDPA.  As before, 1080p Full HD is supported together with accelerated OpenGL ES 3D graphics, while up front the TRINITY has a 3.1-inch 800 x 480 OLED capacitive touchscreen.  In the future, ZiiLABS say, there'll be a 4G version supporting the even higher-speed mobile networks.
The Zii TRINITY also squeezes in WiFi b/g, GPS, Bluetooth 2.1+EDR and a 5-megapixel autofocus camera (plus a front-facing VGA camera for video calls), along with a microSD card slot.  Wired connectivity includes micro USB 2.0, mini HDMI and composite video output.  The battery is a 1,130mAh pack, and the TRINITY will run both Creative's own Plaszma OS or Google's Android platform.
Frustratingly, the Zii TRINITY won't be available to the general public – at least, not through a mobile phone store – but as a Zii Development Kit '3G Phone Edition', including schematics, Gerbers, mechanical drawings, Board Support Package, middleware and OS.  No word on pricing as yet.
Press Release:
ZiiLABS Announces TRINITY – A Next Generation Smart/Media Phone Platform for Android™ and Plaszma™ Operating Systems

Zii TRINITY Smart Phone Platforms Capable of Supporting 3.5G/4G Devices in Super High Definition Video and 3D Graphics

Singapore – 1st December 2009 : ZiiLABS, a cutting-edge media processor and platforms company and a wholly-owned subsidiary of Creative Technology Ltd., today announced Zii TRINITY, a complete 3.5G/4G Smart Phone and development platform supporting the Optimized Android and native Linux®-based Plaszma operating systems. The Zii TRINITY delivers superior High Definition 1080p video output and accelerated 3D graphics to enable OEMs and ODMs to quickly and cost effectively bring differentiated Android and Plaszma based solutions to market.

Superior multi-format media processing is enabled by ZiiLABS' StemCell Computing array which lies at the heart of ZiiLABS'

ZMS-05 and ZMS-08 media-rich applications processors, offloading the ARM® CPU to deliver the low-power, high performance media-rich processing required of next-generation mobile devices. Accelerated OpenGL ES 3D graphics enable developers to create rich 3D experiences in the form of enhanced user interfaces, games and pedestrian navigation.

"The growth in Smart Phone use to incorporate multimedia features is driving the demand for manufacturers and operators to deliver differentiated products and services faster than ever before," said Hock Leow, President of ZiiLABS. "The Zii TRINITY is a proven media-rich platform that offers our partners a complete market-ready solution with the built-in flexibility for customization. We are showcasing an exciting 3.5G concept phone at the Zii Summit 2009."

Features of the Zii TRINITY 3.5G Concept Phone

Quad-band GSM/GPRS/EDGE, Tri-band WCDMA, HSDPA Cat 8 at 7.2mbps

Full featured platform featuring ZMS-05 StemCell Processor

Linux-based Zii Optimized Android and Plaszma Support

Accelerated OpenGL ES 3D Graphics, Video and Imaging

3.1" 480x800 16M colour Active Matrix OLED with capacitive multi-touch

Mini HDMI port for 1080p video output

Xtreme Fidelity#8482 X-Fi audio technology

5M pixel rear facing, auto-focus camera

VGA forward facing camera for video conferencing

USB 2.0 Micro port for connectivity and charging

MicroSD storage expansion and SIM card slots

256MB low-power DDR memory

Integrated Wi-Fi 802.11 b/g, Bluetooth 2.1 EDR and Hardware GPS

Composite Video output

1130mAH lithium polymer battery

The Zii TRINITY Platform can be supplied to potential cellphone manufacturers as a complete design package including schematics, Gerbers, mechanical drawings, Board Support Package, middleware and OS.

A Zii Development Kit '3G Phone Edition' provides a modular development platform that enables developers the flexibility to innovate around the Zii TRINITY platform to create product solutions based on their own preference of hardware components. The Zii Development Kit supports both the ZMS-05 and the recently announced ZMS-08 processors.

Future versions of the Zii Development Kit Phone Edition will be made available for 4G networks such as WiMAX or LTE.

About Zii Optimized Android and Plaszma

Zii Optimized Android delivers the familiar Android OS but enhanced to provide a richer Android experience that leverages the capabilities of the

ZMS-05's StemCell Computing architecture; including seamless 3D OpenGL ES acceleration and High Definition video. The Plaszma OS enables native Linux based development via a rich set of highly optimized industry standard APIs that leverage a wide range of multimedia CODECs, Web 2.0 browser, 2D and 3D graphics, audio processing and a powerful gesture based user interface.

About the ZMS-05

The flexible ZMS-05 media-rich application processor utilizes the StemCell Computing array of 24 fully programmable floating point processing elements to off-load the media processing from the integrated ARM CPU to deliver superior media capabilities of delivering highperformance HD video, 2D and 3D graphics and multimedia capabilities within a low-power environment. A broad range of peripheral functions and I/Os are integrated on-chip to ease system design and reduce product costs.

About ZiiLABS

ZiiLABS is a worldwide leader in low-power, media-rich application processors, hardware platforms and advanced middleware that enable OEMs, ODMs, System Integrators and Software Developers to deliver best-in-class products across a broad range of consumer electronics and embedded markets. Originally founded in 1994 as 3DLABS, the company re-branded and joined with the Personal Digital Entertainment group of Creative Technology to form ZiiLABS in January 2009. ZiiLABS now has over 800 R&D engineers working on ZiiLABS related projects and has invested US$1 billion and 10,000 man years in media processing solutions. The company has offices in the UK, China, USA and Singapore.