ZER01 MVNO: Unlimited Calls & Data For $70, No Contract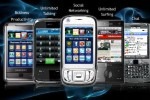 A new MVNO called ZER01 Mobile is promising unlimited voice and data access for just $69.95 per month, with no contract, using AT&T's network and a proprietary VoIP application.  Unusually for VoIP, ZER01's system promises successful voice calls even on GPRS and EDGE connections, something previously unseen.
Unlike other MVNOs who buy chunks of network capacity from one of the established carriers, ZER01 have bought their own IP backbone and have negotiated roaming agreements with AT&T; that's how, according to CEO Ben Piilani, they can get around the typical 5GB/month data caps mainstream carriers like AT&T impose.  The ZER01 software – which only currently works on select Windows Mobile devices – opens a VPN tunnel to the MVNO's servers, with each handset having its own IP address.
ZER01 will sell three HTC phones – the TyTnII (aka the AT&T Tilt), the Touch Diamond and the Touch 3G – but expects most users to bring their own smartphones.  The list of currently supported handsets is here, and according to Piilani they'll be announcing software for other platforms immediately after the launch.  A closed beta of ZER01 Mobile begins in April, with the commercial launch date expected to be announced on April 1st at CTIA.
[via PC Mag]